The 2005 Cusumano Syrah is a deeply colored potion that captures the brooding pulse of Sicily. Stoic and reticent upon first meeting, the 2005 Syrah slowly gathers itself in the glass to emit a luxuriant scent of black fruits, plum, licorice, and Mediterranean herbs. On the palate, the 2005 Cusumano Syrah expands and fills the mouth with all of the enticing fruit and spice that Syrah can conjure, to which is added a soft mineral quality on the finish – the hallmark of the finest wines of Sicily. All this pleasure adds up to a unique variation on Syrah and one very enjoyable red wine. Moreover, the 2005 Cusumano Syrah is a beautiful combination of power and seduction, very much like the majestic island from whence it comes. For optimal enjoyment, we suggest serving the 2005 Cusumano Syrah cool (60°-68° F) and then allowing it to breathe for at least fifteen minutes in the glass before serving. Salute!
Classic Sicilian and southern Italian specialties beg for a bottle or two of the 2005 Cusumano Syrah. Thick slices of Sicilian pizza, topped with black olives, fresh tomatoes, and thin slices of good pepperoni make for a treat. Eggplant Parmigiana, Lasagne, Manicotti, and simple homemade pasta, served with a thick heady tomato sauce provide other delectable choices with Cusumano's comely Syrah. Several other Sicilian favorites, Chicken Marsala and Grilled Tuna Steaks with an olive and artichoke tapenade, pair magnificently with this Syrah, too. However, last but certainly not least; we suggest you try the 2005 Cusumano Syrah with a classic Orzo and Garbanzo Bean Salad, made with red onion, fresh basil and mint. This combination is a real treat. And like all Cusumano wines, the estate Syrah is made with good old-fashioned enjoyment in mind, so enjoy!
Cusumano is a family owned and run winery that was born again in 2001, when brothers, Alberto and Diego, took over the management of the concern from their father Francesco. Since that time the estate has expanded and the quality of its wines has skyrocketed. We have been following the meteoric success of this family for the last five years and believe the Cusumano brothers are, indeed, on to something special, with both their red and white wines. In short, these two brothers have been performing magical feats with a variety of classic and indigenous varietals from more than half a dozen vineyards they own throughout Sicily. With a passion for terroir and the production of authentic expressions of Sicily's rich viticultural heritage, the Cusumano brothers have set about acquiring numerous vineyards in the western and southern regions of the Mediterranean's largest island in order to offer the world a glimpse of what this great land has to offer. The brothers have also reconstructed a 19th century family farmstead to handle modern wine production. The Cusumanos' handsome new facility, which was completed only in 2003, houses everything from the winery's offices to a new underground barrique cellar for aging wine – a novel undertaking in Sicily. Presently, the Cusumano brothers fashion a myriad of red wines that center around Syrah and the indigenous varietal Nero d'Avola. They also make what may be Sicily's finest white wine from the elegant and distinctive Insolia vine, an indigenous white Sicilian varietal that produces hauntingly beautiful wine. Chardonnay, Merlot, and Cabernet Sauvignon are also part of this fine estate's growing portfolio. The Cusumano brothers' most recent examples of Insolia as well as their limited offerings of varietal and proprietary reds constitute some of the very finest Sicilian wines we have had the pleasure to taste. Sicily: More a Continent than an Island Sicily is a large and varied land that wears as many faces as a circus harlequin. Its land and people are as diverse as any earthly realm. At the crossroads of Europe, Africa, and the Middle East, Sicily possesses a history and personality all its own. The Greeks called Sicily and nearby southern Italy Enotria, land of the vine, a description that is as apt today as it was 2,800 years ago. However, like its geography and people, viticulture in Sicily is an immensely varied proposition. In terms of wine, Sicily is, indeed, more a continent than an island. Its sheer variety of grapes, autochonous and otherwise, set it apart from the rest of Europe. In addition, Sicily's grape harvest is the longest in Europe. Harvest begins the first days of August in the island's western provinces and doesn't end until the vine-covered slopes of Mt. Etna have been picked in November. Due to the proliferation of mountains, the surrounding sea, Sirocco winds, and extreme temperatures, more climates and zones exist in Sicily than in any other single wine producing region on earth, and this doesn't even take into account what are popularly referred to as microclimates. And then there are the island's soils, a countless array of colors and textures that are capable of imparting infinite variations to the wines they render. Today as always, Sicily remains an exciting passionate place. From a wine grower's perspective, it remains a kin to an artist's palette or a blank canvas. Both canvas and palette speak forever of infinite potential and variety, they whisper the promise of greatness, and occasionally they give birth to a masterpiece for which a thirsty world is grateful.
What finer way is there to enjoy a bottle of wine than to start or finish a meal with some fine cheese? The 2005 Cusumano Syrah offers the ideal companion to some of Italy's most beloved cheeses. We highly recommend Parmiggiano Reggiano, Pecorino Toscano, and Provolone as accompaniments to Cusumano's Syrah. But why stop with just Italian cheeses? Danish Tilsit, a crumbly authentic English Lancashire, or aged Roquefort provides additional pleasure. To learn more about wine and cheese pairings, contact us at www.cheesemonthclub.com and discover the realm of gourmet cheeses from around the world.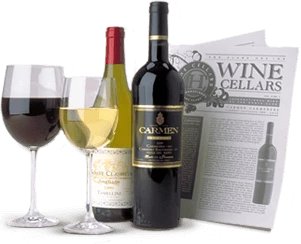 Enjoy Limited Production Estate
Bottled Wines
Discover limited production estate bottled wines such as Vergenoegd's internationally
acclaimed 2005 Cabernet Sauvignon, imported exclusively for our members.
DISCOVER OUR FOUR CLUBS