Cru's 2011 Appellation Series Santa Lucia Highlands Chardonnay earned a Gold Medal at the San Diego International Wine Competition, and for good reason. The wine highlights the quality and unique characteristics of a single vineyard and appellation. More importantly, it's delicious. Made from hand-picked fruit and barrel fermented, this mature Chardonnay offers an enticing nose of green apple, tangerine, melon and freshly baked bread. It displays an excellent balance of fruit and refreshing acidity in the mouth, and requires only a few minutes of aeration to reveal plenty of white peach, fig, and melon flavors – all wrapped in a subtle patina of oak. The gentle minerality of the Santa Lucia Highlands also comes through in this wine, which only adds to its overall appeal. Enjoy Cru's 2011 Santa Lucia Highlands Chardonnay now with a moderate chill (40°-45° F).
What is most impressive about Ken Post's Appellation Series Santa Lucia Highlands Chardonnay is how well it complements food, especially poultry, pasta, and rich seafood dishes. As a mature Chardonnay with the just the right touch of oak ageing, it provides the perfect foil to simply prepared foods as well as complex sauces. Grilled Sea Bass prepared with a red pepper beurre blanc and served over creamy tarragon infused polenta makes an excellent companion to this Santa Lucia Highlands Chardonnay. Grilled Shrimp served in a roasted red pepper and thyme sauce over risotto provides another fine accompaniment. Mushroom Caps, stuffed with crabmeat and topped with an herb and prosciutto cream sauce, get two thumbs up as well. Veal Portofino, tender veal scaloppini sautéed in butter, mushrooms, sage, shallots, artichokes and cream, as well as Pasta Primavera or other creamy vegetable laden pasta make good companions to Cru's prized Santa Lucia Highlands Chardonnay. If you prefer to savor Ken Post's premier Chardonnay as an aperitif, a plate of Muenster cheese and Bosc pear will only enhance the pleasure. Enjoy!
Cru specializes in the production of single vineyard Chardonnays from top Chardonnay producing appellations. Drawing from vineyards in Arroyo Seco and the Santa Lucia Highlands, winemaker Ken Post crafts exceptional California Chardonnays.
Cru's Appellation Series Santa Lucia Highlands Chardonnay (this month's feature) hails from the Paraiso Home Ranch Vineyard in the Santa Lucia Highlands. Paraiso Home Ranch Vineyard is owned and farmed by the Smith Family and is planted to one distinct clone of Chardonnay, Clone 96, a favorite of winemaker Ken Post. Paraiso Vineyards was the first vineyard in the Santa Lucia Highlands to earn California's Sustainability in Practice (SIP) certification in 2008. Taste and see the difference.
Sustainability in Practice (SIP) is a rigorous sustainable vineyard and wine certification with strict, non-negotiable requirements that are verifiable. Vineyards and wineries with SIP certification are committed to standards based on science and expert input, independent verification, transparency, and absence of conflict of interest.
SIP practitioners pride themselves on the program's rigor and integrity, which have earned SIP the reputation as being the gold standard for sustainable certification. It is also a reason why wines with SIP certification are some of the finest wines available and consumers can trust that they are made in a way that protects the people and the planet.
When consumers find a wine with the SIP seal, they can be assured that growers are preserving and protecting the natural environment, treating their employees and community with care, and have sound business practices with a long-term view that protects both the present and the future.
Chardonnay is not only the most widely cultivated white varietal on the planet; it is also the most treasured. Twice each year at harvest time (because the seasons are reversed in the northern and southern hemispheres) in its native France and in countless locales on six continents, Chardonnay grapes command premium prices. In tribute, Chardonnay produces the finest, most flavorful dry white wines in the world to which writers and connoisseurs devote countless columns and untold hours exalting its virtues and dissecting its flavors. Whether it be from Chablis or Champagne, Sonoma or the Santa Lucia Highlands, or from the most illustrious of vineyards perched atop the slopes of Corton and Montrachet, Chardonnay is the yardstick by which all other dry white wines have come to be measured.
With food, Chardonnay is a peerless match. Chablis and other Chardonnays that see little or no oak provide superb complements to seafood. Fuller, richer, and more heavily oaked renditions of Chardonnay, typified by the finest examples from California and France, pair beautifully with more complex fare, such as rich cream sauces, poultry and white meats. Moreover, the finest Chardonnay wines shine on their own and require nothing but a clean glass to please the palate.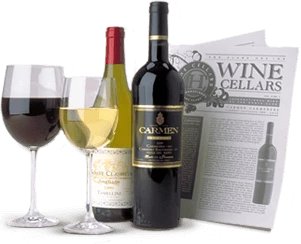 Enjoy Limited Production Estate
Bottled Wines
Discover limited production estate bottled wines such as Vergenoegd's internationally
acclaimed 2005 Cabernet Sauvignon, imported exclusively for our members.
DISCOVER OUR FOUR CLUBS