The 2019 Costers del Sió Celistia Tempranillo-Syrah is another outstanding effort from this serious producer. It's also the finest wine we have tasted from the quality-focused Costers del Segre DOC, surpassing even the region's's superb 2018 Celistia Tempranillo-Syrah. Regally robed in deep purple, aromatic, and extremely long on flavor, the 2019 Celistia Tempranillo-Syrah seamlessly weaves flavor and texture into one suave, jubilant glass of red wine. This delicious red blend (70% Tempranillo, 30% Syrah) from the heart of Catalonia's Costers del Segre offers an inviting bouquet of freshly picked raspberries and plums along with hints of forest floor. In the mouth, this Celistia's pure berry flavors meld with subtle earth tones, hints of sassafras, and wild violets, all of which are ably supported by smooth, ripe tannins that provide energy and lift. Purity, suavity, and a beam of vibrant energy make the 2019 Celistia Tempranillo-Syrah a joy to drink in any season. In true Catalan fashion, there is a refreshing degree of seny in this wine: equal parts body and style all adding up to a high degree of quality and drinkability. For optimal enjoyment, afford the 2019 Costers del Sió Celistia Tempranillo-Syrah at least 15-20 minutes of aeration before enjoying it at cool room temperature (58°-62° F). Salud!
The 2019 Costers del Sió Celistia Tempranillo-Syrah brings its welcome with the very first sip, which makes it a superb partner to a whole host of foods, including pasta, meat, and grilled vegetables. It is equally at home with a charcoal-broiled filet as it is with barbecued spare ribs, Mediterranean flatbreads, or Buffalo wings. Wild Mushroom Ravioli with a side of crispy Brussels Sprouts in the company of the 2019 Celistia Tempranillo-Syrah makes a winning combination. A traditional antipasti consisting of capicolla, pepperoni, prosciutto, salami, and hard Provolone cheese provides another hearty companion to this wine. Wood-roasted barbecue chicken with smoked Gouda, red onion, and cilantro offers another partner with which to enjoy this wine's savory flavors. The 2019 Celistia Tempranillo-Syrah provides a great companion to pizzas, stews, and tapas, too. Spanish cheeses, such as Manchego, Mahón, and Zamarano, pair superbly, as well, and require little or no preparation. Buon Provecho!
A bit of rare artisanal Farmhouse Cheshire, a slice of Spanish Mahón, or a bite of a full-flavored cheese such as a Swiss Appenzeller, a unique cheese replete with an infusion of twenty or more plants and spices, will make a fine companion to the suave, energetic 2019 Costers del Sió Celistia Tempranillo-Syrah. For more information on the world's finest cheeses, contact us at www.cheesemonthclub.com
"The love we feel for this land is what inspires us to look after our vineyards like precious jewels, and they, in return give us their best fruit in the form of wine." -Juan and José Maria, Costers del Sió
Nestled amid the mountains of Spain's Catalonia region, Costers del Sió fashions Celistia, exciting red and white wines from organic grapes grown on the family's Finca de Flix estate. Begun in 1992 when Juan de Porcioles took a leap of faith to fulfill his life's dream to cultivate his own land, raise his own livestock, and live in the heart of his beloved Catalonia, the Porcioles family were pioneers with a true sense of Catalan seny, the enviable ability to exercise good sense and get things done well.
With the help of his family and friends, Juan de Porcioles, a great wine lover, planted his first vineyard, Vinya Vella, by hand. The planting of the estate's vineyard began the revival of winegrowing in the region. Juan gradually expanded the cultivation of the vine on this impressive property, a place of fecundity and tranquility, which includes olive trees, the cultivation of grains, sheep and cattle raising, and a game preserve. All of these varying elements form a comprehensive project designed to achieve a perfect ecological balance. Costers del Sió produces wines with a distinct personality and of the highest quality. Juan de Porcioles's dream continues through the remarkable work and seny of his children.
A wide range of varieties are grown at Costers del Sió: Tempranillo, Garnacha Tinta, Syrah, Merlot, Chardonnay, Pinot Noir, Cabernet Sauvignon and Viognier all make their appearance at this growing estate. Costers del Sió's Celistia Tempranillo-Syrah (this month's feature) is an exciting, traditional blend that highlights Costers del Segre's acumen with two of Spain's most important red varietals, while Celistia's white, a blend of Viognier and Chardonnay, makes a fine companion to its superb red sibling. Costers del Sió also experiments with new varieties and clones for future releases. With a new comprehensive wine cellar and barrel ageing program, an excellent sparkling cava, too, is the next venture from this young overachieving winery.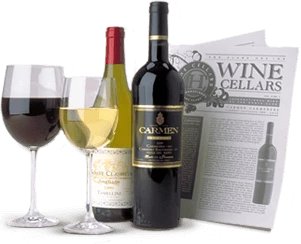 Enjoy Limited Production Estate
Bottled Wines
Discover limited production estate bottled wines such as Vergenoegd's internationally
acclaimed 2005 Cabernet Sauvignon, imported exclusively for our members.
DISCOVER OUR FOUR CLUBS