Costers del Sió's incisive 2018 Celistia Fuego is a delicious white blend comprised mostly of Viognier, while Macabeo, one of Spain's most important indigenous white varieties, plays a strong supporting role. The 2018 Celistia Fuego offers intriguing aromas, replete with hints of pear and peach. Tropical fruits and an ethereal floral background also make a happy appearance to delight the nose. In the mouth, the 2018 Celistia Fuego caresses the palate and dances across the tongue. Mouth-filling fruit and mineral flavors coupled with a refreshing acidity provide balance and complexity, but most importantly Celistia's Fuego is just plain fun to drink. Enjoy this delightful Viognier blend moderately chilled (38°-45° F) now and for the next year or two.
We truly enjoyed sitting and sipping the 2018 Costers del Sió Celistia Fuego, but, like most Viognier and Viognier blends, the 2018 Celistia Fuego is extremely food friendly and impressed us in the company of a variety of dishes, even those that ordinarily pose challenges to many wines. Thai Chicken with Basil, Spicy Hunan Chicken, and high powered seafood dishes took to this wine with ease. Sautéed Scallops and Pistachio Nuts, prepared in a cream sauce with shallots and herbs; Shrimp Provençal; Soft Shell Crabs, and even Lobster Stuffed Ravioli in a creamy tomato sauce will all attest to Celistia Fuego's acumen with a wide variety of flavors and foods. Simple, uncomplicated fare provides equally satisfying accompaniments to Costers del Sió's superb Celistia Fuego as Viognier acts like a chameleon: it has the ability to adapt to its surroundings. Consequently, don't be afraid to try new and unusual pairings with Fuego or to enjoy it on its own. Buon Provecho!
"The love we feel for this land is what inspires us to look after our vineyards like precious jewels, and they, in return, give us their best fruit in the form of wine." - Juan and José Maria, Costers del Sió
Nestled amid the mountains of Spain's Catalonia region, Costers del Sió fashions Celistia, exciting white and red wines from organic grapes grown on the family's Finca de Flix estate. Begun in 1992 when Juan de Porcioles took a leap of faith to fulfill his life's dream to cultivate his own land, raise his own livestock, and live in the heart of his beloved Catalonia, the Porcioles family were pioneers with a true sense of Catalan seny, the enviable ability to exercise good sense and get things done well.
With the help of his family and friends, Juan de Porcioles, a great wine lover, planted his first vineyard, Vinya Vella, by hand. The planting of the estate's vineyard began the revival of winegrowing in the region. Juan gradually expanded the cultivation of the vine on this impressive property, a place of quietness and tranquility, which includes olive trees, the cultivation of grains, sheep and cattle raising, and a game preserve. All of these varying elements form a comprehensive project designed to achieve a perfect ecological balance. Today, Juan's dream is being carried on by his wife and children. Costers del Sió produces wines with a distinct personality and of the highest quality.
A wide range of varieties are grown at Costers del Sió: Tempranillo, Garnacha Tinta, Syrah, Merlot, Chardonnay, Pinot Noir, Cabernet Sauvignon, Viognier, and more all make their appearance at this growing estate. Costers del Sió's Celistia Fuego, an exciting blend of Viognier and Macabeo, and Tierra, a delightful mélange of Tempranillo and Syrah, are two of the property's most prominent wines and exceptional values. Costers del Sió is also experimenting with new varieties and clones that will produce future wines. With a new comprehensive wine cellar and barrel ageing program, an excellent sparkling cava, too, is soon due from this superb young winery.
It is said that the Catalan is only half a Spaniard. Descended from ancient Iberians, Greeks, Carthaginians, Romans, Visigoths and more, Catalans retain their own language and culture. In this autonomous region of northern Spain, just south of France and the towering Pyrenees, the exuberant Catalans speak their own language – Catalan – a Romance language that is closely related to Provençal. Typically, Catalans speak Spanish only with outsiders. With Barcelona as its capital, Catalans have managed to transform their Mediterranean enclave into the leading economic region of Spain, accounting for more than 25% of Spain's gross national product.
In a tradition-steeped land, long repressed for its independent ways, Catalonia has come to epitomize the Catalan word seny, the ability to exercise common sense, make money and get things done, but with daring and panache.
An energetic, flavorful land, Catalonia never ceases to amaze us by how closely the wine of the region resembles its people. Is there any doubt that the cava of Catalonia is the finest in the land? It exhibits the fresh delicacy of Champagne without the harshness. Now, that's seny. And let's not forget the sophisticated, increasingly full-flavored wines of Priorat and Montsant, two appellations known for their outstanding red wines from old vine Garnacha (Grenache), Cabernet Sauvignon, and Cariñena (Carignan), while Catalonia's newest DOC, Costers del Segre, is turning out delicious red and white wines at prices that won't break the bank. Now, that's seny!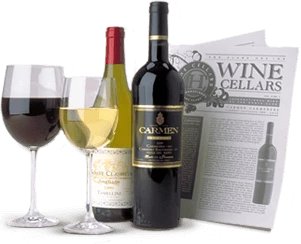 Enjoy Limited Production Estate
Bottled Wines
Discover limited production estate bottled wines such as Vergenoegd's internationally
acclaimed 2005 Cabernet Sauvignon, imported exclusively for our members.
DISCOVER OUR FOUR CLUBS