A glint of sun with flecks of yellow and gold, a taste of the sea, and a draught of mountain air, so clean and refreshing, all come center stage in the 2006 Costantini Massarosa. Light, fresh, and utterly satisfying, this Frascati provides the perfect summertime wine. It offers a very pleasant aroma and the savor of summer fruit, a subtle minerality, and a citrus twist, all of which conjure images of the glorious sun-drenched Alban Hills from whence it comes. This Frascati, also, finishes pleasantly dry, with a satisfying freshness that begs for another sip. Moreover, the 2006 Costantini Massarosa possesses a generosity and purity that are rarely seen in modern Frascati. We suggest serving this lovely, Roman treasure well-chilled and then allowing it to open slowly in the glass as it reaches towards a more ambient temperature. Although delicate and light on first impression, this Frascati will unfold gracefully in just a few minutes to reveal its many charms and facets. Enjoy!
Frascati is the wine of Rome, a drink for all occasions, the correct accompaniment in the Italian capital for fish and fowl. Frascati is, also, the companion to nearly all the savory pasta and peasant dishes that Rome serves up so well and it doubles as thirst quencher and aperitif extraordinaire whenever the need or desire requires. What may come as a surprise then to some is how the light, thirst quenching white wine of Rome stands up to the hearty fare of the la cucina romana. And indeed, good Frascati will stand and deliver in the company of many a culinary delight, so consider the 2006 Costantini Massarosa Frascati Superiore with spaghetti all'aio or spaghetti peperoncini (spaghetti with hot olive oil, garlic and chili peppers), slices of fresh buffalo mozzarella, olive oil, herbs, and vine ripe tomatoes. Pasta and peas; artichokes steamed with oil, garlic, and cheese; and just about every other savory dish can be happily washed down with a glass or two of the 2006 Costantini Massarosa Frascati Superiore. And as for the classics, Fettucine Alfredo and Pasta Primavera shine in the presence of Piero Costantini's Frascati, too, and feel free to create your own concoctions or none at all. And let us not forget that as the summer sun rises overhead, Frascati will take the edge off the heat of the day, so take a few bottles of the Costantini Massarosa to the mountains or the beach, or simply enjoy the glory of Rome right in your own backyard.
Costantini Massarosa is not your typical Frascati, but then again Piero Costantini is not your ordinary winegrower, nor is he emblematic of the industrialist mentality that pervades the production of so much of today's Frascati. At Costantini Massarosa, which was formerly known as Villa Simone, quality is supreme. All of Costantini's grapes are organically cultivated and all systemic treatments have been banished from this 55 hectare estate in favor of natural, sustainable methods of disease control. Furthermore, production per hectare is half the legal limit, and great care is expounded both in the vineyard as well as in the cellar to make the Frascati of Costantini Massarosa the finest in the region. Thanks to Piero Costantini and his winemaker nephew Lorenzo, Frascati remains the pride and joy of Rome. Latium (Lazio) Latium is the region of Rome. It is, also, the source of so much of the wonderful produce, meat, and especially wine that flows into the Eternal City to sustain Romans and visitors alike. Latium is unquestionably one of the most important wine regions in Italy, both in sheer volume as well as quality. And what may come as a surprise to many is that ninety percent of Latium's wines are white, including the region's best known wine – Frascati. Frascati is Latium's most famous wine, and so pervasive is its presence in Rome that the name Frascati has become synonymous with white wine and all that is Roman. Frascati does indeed produce the finest dry white wine from the hills around Rome, which are known alternately as Castelli Albani, Castelli Romani, and Colli Romani. The name notwithstanding, the Alban Hills offer a sun-drenched climate and a mineral rich volcanic soil, conditions that have proven ideal for the cultivation of Malvasia, Trebbiano, and a handfull of other local white wine varieties that constitute Frascati. Today, Frascati is most often made light, clean, and very dry. However, Frascati can still legally be made semi-sweet (amabile) or sweet (cannellino), but such versions are increasingly rare. The same can be said for the other notable white wines of the Alban Hills, including Marino and Colli Albani. In addition to Frascati and its siblings Marino and Colli Albani, Latium is home to Est! Est!! Est!!! and part of Orvieto. A growing number of select high quality red wines spring from the rural hills of Latium as well.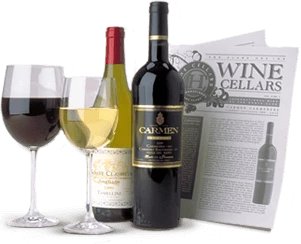 Enjoy Limited Production Estate
Bottled Wines
Discover limited production estate bottled wines such as Vergenoegd's internationally
acclaimed 2005 Cabernet Sauvignon, imported exclusively for our members.
DISCOVER OUR FOUR CLUBS