The 2011 Stepping Stone by Cornerstone North Coast Rocks! White really rocks. If nothing else, this formidable blend comes across as one of the most distinctive and enjoyable white wines in the market. Who would have thought that Chardonnay and Gewurztraminer would marry so well? Apparently, Cornerstone! Bright, seductively aromatic, rich and spicy on the palate, the 2011 Rocks! offers one tasty mouthful. Although even a minority share of Gewurztraminer can dominate any wine, the folks at Cornerstone have infused just the right amount of Gewurztraminer into this year's Rocks! to afford this seductive blend a broad, juicy mid palate, replete with deft touches of spice and plenty of zest. Better still, the wine remains dry and finishes with gentle acidity that allows the wine to linger pleasantly in the mouth. Enjoy this stylish mélange of apple, apricot, and melon fruit infused with exotic spices moderately chilled (40°-45°), and often.
The 2011 Stepping Stone Rocks! White makes the ideal accompaniment to appetizers, fresh spring rolls, and all kinds of Asian and Fusion specialties. Come to think of it, Stepping Stones Rocks! White goes with all kinds of simple and complex dishes. For starters, why not consider pairing the Rocks! White with Serrano Wrapped Halibut Tacos served with cabbage and guacamole or Spicy Tuna Tartare on cucumber chips with Dijon roasted red pepper and guacamole? Pan Seared Tilapia with Grilled Peach Salsa or Duck Confit Sliders on a toasted Gougere with melted Baby Swiss cheese accompanied by sweet potato fries makes another fine pairing. Pan Seared Scallops with a Strawberry Beurre Blanc over wild rice and sautéed asparagus won't disappoint, either. Hummus, eggplant, chicken, pork, and grilled root vegetables all accompany this wine with aplomb, too. And as the 2011 Stepping Stone Rocks! White provides a smorgasbord of haunting aromatics and flavors, it can easily double as a perfect aperitif, without a morsel, so enjoy!
Stepping Stone is the handiwork of Cornerstone Cellars, which has earned an enviable reputation for fashioning knock-out, super premium Napa Valley Cabernet Sauvignon since 1991. While Cornerstone's age worthy Cabernets are built for the long haul and demand time in the bottle to approach their apogee, the winery's Stepping Stone offerings deliver affordable luxury as well as immediate gratification, without sacrificing quality or abandoning Cornerstone's practice of using the finest grapes, barrels, and facilities to make the ultimate in drinking pleasure. Moreover, each of Cornerstone's Stepping Stone wines provides an exciting and unique taste experience.
While many California wineries produce one or two exceptional wines, typically from a single well known varietal, too many others still offer an overwhelming portfolio of monochromatic varietal offerings that hardly distinguish themselves from one another or from their neighbor's wines either. Not so at Cornerstone! Every wine Cornerstone makes bears a unique signature. Cornerstone produces two outstanding Napa Valley wines: Cabernet Sauvignon and Sauvignon Blanc. They also fashion beautiful Willamette Valley Chardonnay and Pinot Noir in Oregon. At the same time, Cornerstone's Stepping Stone line of wine offers two tiers and a modest number of offerings, all of which are distinct. The first tier includes an exceptional Cabernet Franc, Cabernet Sauvignon, and Syrah respectively. Less expensive but equally compelling are Stepping Stone's two terrific blends, which they call Rocks! Red and Rocks! White.
Rocks! are blended wines that are all about pleasure and being fun to drink, often! They are Cornerstone's most affordable wines. Yet, both Rocks!' blends offer bright, zesty mouth-watering flavors because wine, first and foremost, is meant to be enjoyed. From the winemakers' point of view Rocks! provides the freedom each vintage to blend whatever varieties the winemakers find to produce the best wine possible. Consequently, each vintage of Rocks! offers something new and unique. And in order to focus on the wine's unique flavors, Cornerstone does not share the exact percentage of the Rocks! blends "as they want everyone savoring the results vintage to vintage, not the statistics." Rocks! is Rocks!, as the folks at Cornerstone are fond of saying. And from our experience, both the white and red versions of Rocks! truly rock!
It's clear that in the varietal world of California wine, Stepping Stone's Rocks! draw their inspiration from their European counterparts, who see blending grape varieties as a means of enhancing the pleasure quotient for the taster as well as adding to the complexity of a wine. After all, the most successful marriages bring out the best in each of the partners. The same is true for wine. Although European in cépage, Rocks! Red and White retain distinctive California personalities with generous ripe fruit flavors framed by just the right amount of acidity to make the taster wants to come back again and again. And while the Rocks! blends may be a secret, the pleasure is all ours.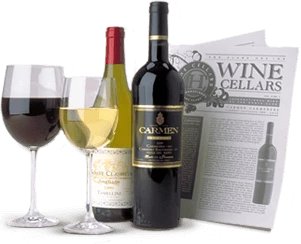 Enjoy Limited Production Estate
Bottled Wines
Discover limited production estate bottled wines such as Vergenoegd's internationally
acclaimed 2005 Cabernet Sauvignon, imported exclusively for our members.
DISCOVER OUR FOUR CLUBS