The youthful 2021 Colpaola Verdicchio di Matelica cuts a fine figure in a glass with its brilliant sun-struck color, including Verdicchio's telltale flash of green. Subtle scents of spring flowers, orchard fruits, dried fruit, and raw almonds waft from the glass to greet the nose. In the mouth, the wine's fresh fruit flavors mingle with subtle floral tones, an uplifting minerality, and a purity born of organic grapes that leaves the palate fresh and energized. In the 2021 Colpaola Verdicchio di Matelica, you won't find any flabby overbearing butter or oak tones, or harsh sulfite burn. Instead, the 2021 Colpaola Verdicchio di Matelica exhibits pure natural charm and youthful exuberance. Nevertheless, Colpaola's Verdicchio will mature gracefully for several more years, revealing greater definition and flavor. We suggest only moderate chilling (40°-45° F) of Colpaola's 2021 Verdicchio di Matelica in order to capture all of this wine's subtlety and charm. Anticipated maturity: 2022-2025. Enjoy!
The 2021 Colpaola Verdicchio di Matelica is the ideal accompaniment to almost any seafood dish, especially the fish specialties for which the Marches are famous. In the towns and villages of the Marches, it is widely acknowledged that the dry, aromatic, fuller bodied Verdicchios from Matelica highlight the province's heady seafood dishes better than the normally fruitier, more commercial wines of Castelli di Jesi. Even the local fish soup, a version of Cioppino, won't overpower Colpaola's 2021 Verdicchio di Matelica. The wine's subtle complexity lends itself to accompanying freshwater fish, too, especially trout, striped bass, and walleye. Saltwater fish such as flounder, grouper, snapper, and rockfish provide equally enjoyable companions, especially when prepared with a complex sauce. Colpaola's fine 2021Verdicchio Matelica makes an excellent companion to chicken, veal, and wild game birds, too, especially after a year to two in bottle. Mature versions of Colpaola's Verdicchio also make splendid partners to pork tenderloin and the Marches' renowned porchetta. Salute!
Tenuta Colpaola is a certified organic, impeccably run family estate in the heart of the Verdicchio di Matelica appellation in Italy's unspoiled Marches. The estate was purchased in 1967 by Francesco Porcarelli's grandfather as a country house for the family. For four decades the family tended the property's vines and sold grapes to the local cooperative, until 2007 when Francesco and his wife Stefania decided to produce their own wine. They set about renewing the vineyards using only local grape clones, converting the estate to organic viticulture, and equipping the wine cellar with modern steel temperature controlled tanks. In 2013, they produced the first Colpaola Verdicchio di Matelica with the help of renowned agronomist and winemaker Aroldo Bellelli.
Today, Colpaola comprises 10 hectares (approximately 25 acres) of certified organic vineyards that are planted at high altitudes (up to 2,200 feet) on calcareous soil. The vineyards are devoted almost entirely to Verdicchio grapes with one small plot of Merlot for red wine. The combination of soil and altitude creates a special terroir in which extreme fluctuations between daytime and nighttime temperatures provide the ideal conditions for producing fine, elegant white wine. The Marches' Matelica appellation has historically been dedicated to viticulture. An archaeological site close to Colpaola contains an ancient tomb where grape seeds were found dating back to the 7th century B.C.E. The first evidence of Verdicchio, the Marches signature grape varietal, can be traced to a 1579 contract. Although tradition plays an important part in Colpaola's philosophy and production of wine, Colpaola has chosen to use the safest, most modern closure for all of its Verdicchio, the screwcap, in order to assure freshness and prevent any taint from cork. Some wine drinkers may still view screwcaps with askance, but dedicated winemakers nearly all agree that screwcaps work better than cork and provide assurance that the wine arrives unscathed to consumers.
Verdicchio is a commonplace name among wines consumers, and so is the striking but hopelessly impractical fish-shaped bottle that encapsulates the most commercial of Verdicchio's wines from nearby Castelli di Jesi. However, very few consumers realize that there are two distinct appellations for Verdicchio – Castelli di Jesi and Matelica. Both appellations employ the same indigenous white Verdicchio varietal, but the similarity often ends there.
The majority of wines from the Castelli di Jesi appellation perpetuate Verdicchio's reputation for making light wines of refreshing simplicity and affordable price, even though the very best producers fashion wines of charm and depth. Conversely, the wines of Verdicchio di Matelica, which are grown at higher elevations further from the Adriatic Sea, often exhibit considerably more flavor and complexity than the more commercial and ubiquitous wines of Castelli di Jesi. Yet, the wines of Verdicchio di Matelica remain much less known outside of the Marches, as they are handcrafted in tiny quantities by local artisans, many of whom bear certified organic status such as Colpaola.
For the record, Verdicchio takes its name from the greenish yellow grape varietal that constitutes the mainstay of all Verdicchio wines; many critics would also add that Verdicchio renders heart and soul to the wines that bear its name because wines labeled Verdicchio from either the Jesi or Matelica appellations must contain at least 85%. Verdicchio. Up to 15% Trebbiano and or Malvasia from the region's other indigenous varietals are legally permitted in Verdicchio, but the finest versions such as this month's feature from Colpaola contain only 100% Verdicchio grapes.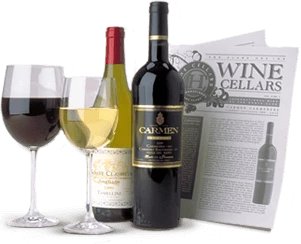 Enjoy Limited Production Estate
Bottled Wines
Discover limited production estate bottled wines such as Vergenoegd's internationally
acclaimed 2005 Cabernet Sauvignon, imported exclusively for our members.
DISCOVER OUR FOUR CLUBS