While in the Campania, we tasted many excellent Taurasi wines, but none more charming and ravishing than Colli di Lapio's 2010 Taurasi Vigna Andrea. From the deep saturated purple color of this formidable wine to the last sip, one would think all of Campania had been captured in a glass of Vigna Andrea. There was no spitting of this wine. Yet, make no mistake about it, Taurasi, even Colli di Lapio's gracious 2010 Vigna Andrea, is a big powerful wine – a wine born and bred on the rugged hills of the Campania and destined to live a long life. Scion of a superb vintage, the 2010 Vigna Andrea exudes scents of woodland truffle, anise, rose petal, and a sensual autumnal sweetness. On the palate, this wine continues to delight with layer upon layer of black fruits, rose petal, tobacco, and subdued earth tones before culminating in a long, dry finish that is imbued with ripe tannin and round subtle wood tones. This Taurasi is absolutely stunning now, but we suggest it be afforded an hour or more to breathe in a decanter before consuming at cool room temperature (60º-65° F). In an ideal world, one would have a bottle of the 2010 Colli di Lapio Vigna Andrea on the table now and a case in the cellar to enjoy over the next decade or more.
No finer wine and food pairing can be had than copious quantities of the 2010 Colli di Lapio Vigna Andrea paired with Clelia Romano's Campanian Eggplant Parmigiana and Eggplant Rollini, followed by a pork or lamb roast studded with roasted garlic and fresh Mediterranean herbs. Grilled lamb in particular provides the traditional companion to Taurasi in the Campania. However, almost any meat, homemade pasta in a thick red tomato sauce laden with plenty of garlic and olive oil, or cheese provides a splendid complement to the 2010 Colli di Lapio Taurasi Vigna Andrea. Lentil and bean dishes such as Pasta e Fagioli complement this heady wine, too. And at the end of a special meal, a most satisfying way to finish a bottle of Taurasi is in the company of authentic aged Parmesan or Provolone cheese; the pairing makes for a splendid finale. Buon Appetito!
A visit to Clelia Romano and her beloved Colli di Lapio provided the highlight of a recent trip to Italy's majestic Campania. Not only do Clelia and her family exude the warmth and welcome of the Campania, a face with an open smile, tasting Colli di Lapio's wines never fails to be a sensual delight that lingers in the mind and on the palate long after the wine has been consumed. And in the company of the copious quantities of delicious Campanian specialties that flow continuously from Clelia's kitchen, one might think, or at least wish, he had died and gone to heaven – a paradise where the wine and food are of the highest caliber and the love that made it possible surrounds you. Many thanks to Clelia, her husband Angelo, and son and daughter Federico and Carmela for providing a taste of heaven!
As longtime members of the club will attest, we have been fond of Colli di Lapio's exceptional wines for quite some time and have occasionally featured Clelia's outstanding Fiano di Avellino, a wine critics have dubbed "the finest wine of Fiano di Avellino," and that should speak volumes as southern Italy produces no greater white wine than Fiano di Avellino. Yet, there is more to this mere 19 acre estate than Italy's finest Fiano di Avellino. Add Greco di Tufo, another special white wine and two outstanding red wines from the Campania's finest and oldest red variety: Aglianico. Like the estate's Fiano and Greco, Colli di Lapio's Aglianico thrives in sustainably tended vineyards and the wine from those grapes is made in tiny lots in the Romano's immaculate, postage stamp size winery. What we did not find out on our recent trip is how Clelia and oenologist Angelo Pizzi manage to make four exceptional wines in a winery not much bigger than a two car garage, but no matter. The wines can speak for themselves.
Colli di Lapio's two highly lauded red wines are Irpinia Aglianico "Donna Chiara" and Taurasi "Vigna Andrea." Both wines reflect the nobility of Aglianico, the quintessential red varietal of southern Italy that the Greeks planted there when much of the Italian peninsula and Sicily were part of Magna Graecia. Aglianico is a superb varietal, perfectly suited to Italy's Campania, most especially the appellation of Taurasi and the surrounding province of Irpinia, both of which lie in the mountains just inland from the Amalfi Coast. Colli di Lapio's Taurasi Vigna Andrea is the winery's rarest and most highly allocated wine. It is the product of an exceptional single vineyard tended by the Romano family and their agronomist, Maurizio Petrillo.
Italy's Campania retains the allure and magic of ancient mythology. From the mystifyingly beautiful Amalfi Coast that still manages to conjure visions of gods and sirens, pleasure and lore, to the volcanic, fog shrouded spine of the Appenines that bisect the Italian peninsula, the Campania never fails to enchant. Known to the Romans as the Campania Felix, meaning the "joyous country" or the "face with an open smile," the Campania is the ancient province of the Roman Empire that sits just south of Rome and neighboring Latium. As its name implies, this region produces friendly, gregarious wines in addition to an abundance of high quality produce.
At the height of the Roman Empire, the Campania served as the granary of Rome, supplying sustenance to the capital and provisions to the legions of soldiers and magistrates who administered an empire. Today, Campania continues the tradition by furnishing Rome and Naples with a host of culinary delights, most notably fresh, delicious fruit, vegetables, and of course wine. And although Campania languished for more than a century from the deleterious effects of war, political neglect, and phylloxera, it has in the past few decades witnessed a real renaissance in its wine industry. Specifically, Campania has re-focused its attention on its traditional assets: a host of premium grape varieties, both indigenous and transplanted, such as Aglianico, Piedirosso, Falanghina, Greco di Tufo, and Fiano di Avellino to name just a few. Aglianico, the highly flavorful red variety the Greeks brought to southern Italy more than 2,500 years ago, has in this century emerged as one of Italy's greatest red grapes, yielding staggeringly rich wines of depth, power, and age-ability. In the Taurasi DOCG, Aglianico can match the finest red wines made anywhere in Italy, including the best wines of Tuscany and Piedmont. And what could be more exemplary of the good nature and open character of the land and people of the Campania than the region's fabulous white wines? Greco di Tufo and Fiano Di Avellino have re-claimed their rightful places among the finest seafood wines in the world, and the list goes on. So no matter if red or white is your preference, the wines of Campania are sure to put a smile on your face.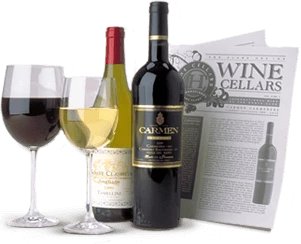 Enjoy Limited Production Estate
Bottled Wines
Discover limited production estate bottled wines such as Vergenoegd's internationally
acclaimed 2005 Cabernet Sauvignon, imported exclusively for our members.
DISCOVER OUR FOUR CLUBS