Ciacci Piccolomini d'Aragona's 2006 Rosso di Montalcino is an exuberant, polished wine that exudes an abundance of charm in the form of lush, round fruit and concentrated flavor, which makes it easy to see why critics are already heralding the 2006 vintage in Montalcino and eagerly awaiting this estate's Brunello di Montalcino – a wine that will not be released until 2011. Deep ruby red in color and bursting with ripe red fruit flavors, spice, and subtle earth tones that mirror the estate's spectacular scenery and terroir, Ciacci's 2006 Rosso di Montalcino is a superstar among the many outstanding Rosso di Montalcino wines that were produced in 2006. This Rosso di Montalcino glides across the palate with elegance, irresistible flavor, and silky tannins. It is a beautiful wine to drink now and for the next several years. We suggest uncorking this wine a few minutes before serving and allowing it to open in the glass. Enjoy!
Grilled beef, lamb, veal, and roasted game birds provide the traditional pairings in Tuscany with Rosso di Montalcino, and Ciacci's 2006 Rosso di Montalcino will do great justice to these Tuscan favorites. However, this Rosso di Montalcino offers more than a traditional accompaniment to a few local dishes. Hearty stews; herb infused risottos served with fresh pork tenderloin sausage; and rotisserie chickens prepared with butter, garlic, and just about any Mediterranean herb you can imagine also provide wonderful accompaniments to Ciacci's sophisticated Rosso di Montalcino. Lentils, roasted vegetables, and pastas that are served with light cream-based sauces, rather than simmered red tomato sauces, provide superb accompaniments to this wine, as well. Good old-fashioned American fare will more than fill the bill, too, so don't be afraid to rustle up your favorite home-cooked meal, served with mashed potatoes and green beans. In fact, the polished, silky 2006 Ciacci Rosso di Montalcino tastes terrific all by itself or in the company of a small platter of French or Italian cheeses, so no need to fuss. Buon Appetito!
The Ciacci Piccolomini d'Aragona name is one of the grandest and most revered names in Tuscany. The importance and stature of the Ciacci Piccolomini d'Aragona family dates back to the Middle Ages, and this name remains one of the most prominent among Sienese nobility. One can even find perched on the ancient family tree a pope's tiara. Enea Silvio Piccolomini, a 15th century scion of this noble family, was crowned pope in 1458 and reigned as Pope Pius II until 1464. He was renowned for his diplomacy, frank open spirit, merciful nature, and enthusiastic patronage of the arts. He was also a poet and writer. His most famous work, Commentaries, remains the only autobiography ever written by a reigning pope, and it is still widely read today. Moreover, he and his family are responsible for revitalizing and transforming his home town of Pienza into one of the finest Renaissance jewels in all of Italy. The Ciacci Piccolomini d'Aragona estate in Brunello di Montalcino is another gem and a family legacy that dates back to the 16th century. The most recent member of this renowned family, Contessa Elda Ciacci Piccolomini d'Aragona, died without a direct heir in 1976. In the magnanimous spirit of her ancestor Pius II, the Contessa Elda Ciacci Piccolomini d'Aragona willed the entire estate, vineyards, olive groves, and 1250 acres to Giuseppe Bianchini, the estate's long time administrator, whom she considered a member of the family. The erudite Giuseppe Bianchini quickly began transforming his newly acquired domain, a huge estate by Montalcino standards, into one of Montalcino's agrarian masterpieces. When he acquired the property, only a tiny fraction of it was planted in vines – 12 acres to be exact. So Giuseppe began his renovation by planting additional vines in the choicest areas of the estate, most especially in the spectacular tract of land known as Pianrosso that faces south from the winery and slopes down from the palazzo and the commanding hill town of Montalcino to the shimmering Orcia River below. Here, in this southeastern corner of Montalcino, the famous galestro soil of Tuscany works its charm and imbues both polish and power to Ciacci's wines. Since Giuseppe's passing in 2004, his son Paolo Bianchini has been the guiding force behind Ciacci Piccolomini d'Aragona's success. The Italian National Amateur Cycling Champion and an expert winemaker, Paolo has with the help of his sister Lucia redoubled the family's effort to renovate this historic property. Moreover, Paolo has succeeded in moving Ciacci Piccolomini d'Aragona to the top echelon of producers in Montalcino. Today, the Ciacci Piccolomini d'Aragona estate counts at least 100 acres under vine. Most of the estate's production is devoted to Rosso di Montalcino and Brunello di Montalcino, but Ciacci also maintains a significant holding in nearby Montecucco, from which the Bianchinis fashion one of the finest wines of this relatively new and up-and-coming appellation. Yields are kept very low at this estate, at least 25% below legal limits. Only organic fertilizers are ever used, and no systemic pesticides are employed. In addition, the ancient Ciacci Piccolomini d'Aragona estate now contains over 100 acres of olive trees and is home to a bee farm, which draws nectar from the thousands of blossoms that appear throughout the property in the form of acacia, chestnut, clover, and the many other types of flowers planted there.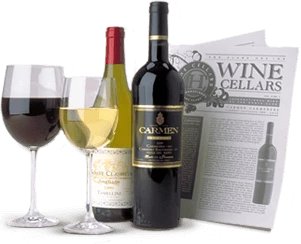 Enjoy Limited Production Estate
Bottled Wines
Discover limited production estate bottled wines such as Vergenoegd's internationally
acclaimed 2005 Cabernet Sauvignon, imported exclusively for our members.
DISCOVER OUR FOUR CLUBS