The 2010 Château Ollieux Romanis Corbières comes across as classic Corbières; it's a full-bodied, traditional blend of 40% Carignan, 30% Grenache, and 30% Syrah from an outstanding vintage throughout the South of France. And as a traditional cuvée comprised of Corbières's three primary grape varieties that see little or no oak barrel ageing, the 2010 Château Ollieux Romanis earns the moniker Classique. What one smells and tastes in this classic Corbières is a profound, deeply colored wine that is uniformly ripe, ample and packed with flavor. Upon first opening, black currant and raspberry fruit, hints of wild herbs, and plenty of healthy tannins greet the nose and palate. After 10-15 minutes of aeration, the wine's youthful tannins begin to recede and take on a supple quality, revealing one of the great attributes of the 2010 vintage as well as Château Ollieux Romanis' juicy, charming personality. We suggest drinking this splendid Corbières at cool room temperature (at no more than 65° F) with hearty foods.
Given the amplitude and wealth of flavors inherent in the 2010 Château Ollieux Romanis Corbières, we appreciate this wine as an ideal companion to rich hearty dishes. Beef, lamb, savory stews, Italian specialties and good old-fashioned American classics top our list of favored accompaniments to serve with Château Ollieux's satisfying Corbières. Texas barbecue and its distant Carolina cousin – pulled pork barbecue – rank high on our list of foods to serve with this Corbières. A Braised Pork Shoulder served in a savory carrot and lentil stew is another tasty entrée that pairs especially well with the 2010 Château Ollieux Romanis. Grilled sausages, thick juicy steaks and barbecued chicken complement this wine as well. And let's not forget the All-American Classic – the hamburger. Hamburgers topped with fresh organic greens, ripe summer tomatoes and crumbles of creamy Gorganzola cheese offer simple but tasty accompaniments to classic Corbières. We also enjoy a good pizza with Corbières. The classic pepperoni or three cheese pizza provides yet another gratifying accompaniment to the 2010 Château Ollieux Romanis, but almost any hearty, stick to your ribs food make us want to reach for a bottle of the 2010 Château Ollieux Romanis. Salut!
Château Ollieux Romanis occupies a privileged site in Boutenac, at the heart of Corbières and France's fabled Languedoc. The present owners, the Bories family, settled on the property in the mid 19th century and subsequently constructed the domain's existing winery in 1896 from stones quarried on the property. The domain's privileged vineyards run along the south facing exposures of the sheltered Roquestière hillsides and, depending upon the hills' varied soil compositions, are planted with the grape varieties most suited to their content. Carignan, Mourvèdre, Grenache, Syrah, Marsanne, Roussanne, Sauvignon Blanc and Merlot all make their appearance at Château Ollieux Romanis and figure in one or more of this property's wines. The domain's famous Classique bottling is nearly always a blend of Carignan, Grenache and Syrah that includes a portion of grapes from 100 year old vines.
For nearly a decade Pierre Bories has controlled the direction at Château Ollieux Romanis, where he has struck a critical balance between tradition and innovation in fashioning authentic Corbières wines of distinction and individuality. Since he took over the reins at Château Ollieux Romanis, Pierre has converted almost his entire property to organic viticulture, instituted the composting of all organic matter, and recycled the domain's water. In the cellar Pierre has increased the number of wines allowed to ferment spontaneously with natural yeasts and curtailed the winery's use of sulphur during fermentation. Moreover, all of the grapes at Château Ollieux Romanis are harvested by hand and the resulting musts are fermented and aged entirely in modern temperature controlled concrete tanks to ensure freshness and provide the most authentic expression to consumers of Corbières.
Corbières is an ancient viticultural area and one of the oldest and most important appellations of France's sprawling Languedoc. It is to Corbières that archeologists and historians trace some of the earliest evidence of the vine in France. The Phoenicians and ancient Greeks were drawn to the beauty of Corbières, which had long been renowned for its captivating scenery, and began colonizing this dramatic sweep of Mediterranean coastline in the fifth century BC. Greek colonists planted the first vines in Corbières, making this enchanted land a cradle of French viticulture for over 2,500 years.
For centuries Corbières produced some of Languedoc's most treasured wines until phylloxera, the most dreaded of all vine diseases, devastated the vineyards of Corbières and the surrounding Languedoc in the 19th century. Following the phylloxera outbreak, the Languedoc lost most of its premier hillside vineyards, old vines and premium varietals. Subsequent replanting in the late 19th century was undertaken using inferior grape varietals that would quickly bring high yields and much needed cash. Moreover, many of the great hillside vineyards descended to the plains, where soil, drainage and exposure (terroir) were inferior to the older, loftier heights of legend and lore. Sadly, it wasn't until the 1970s that Corbières and the other prime appellations in the Languedoc began the long march back to glory. The decades old Renaissance in the Languedoc has done much to restore Corbières to its former glory.
The vast majority of wine produced in Corbières is red, with Carignan the appellation's most widely planted grape variety. However, Grenache, Syrah, Mourvèdre and other local grapes figure significantly in the make-up of red Corbières. At least two grape varieties must be included in the blend, with no more than 50% from Carignan. White and rosé wines constitute less than 5% of the appellation's total production from a myriad of grape varieties.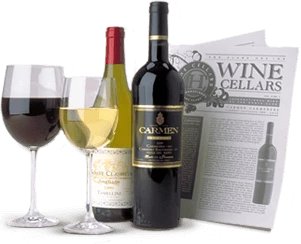 Enjoy Limited Production Estate
Bottled Wines
Discover limited production estate bottled wines such as Vergenoegd's internationally
acclaimed 2005 Cabernet Sauvignon, imported exclusively for our members.
DISCOVER OUR FOUR CLUBS