The 2004 Château Laronde Desormes is an exclusive offering of The International Wine of the Month Club™ and a few of the nation's finest French restaurants, which pour Château Laronde Desormes at $18.00 per glass. Before tasting this wine, we were frankly skeptical, as most Petits Châteaux have peaked by their 5th or 6th birthday. But not Château Laronde Desormes, thanks to Claude Gaudin's draconian selection and the wine's cépage consisting primarily of low yield Cabernet Sauvignon cut with a healthy dose of Petit Verdot. Given the wine's still youthful color, elegant haunting bouquet, pretty cassis fruit, and velvety texture, the 2004 Château Laronde Desormes is downright irresistible. In recent panel tastings of much more expensive Haut-Médoc wines, the 2004 Château Laronde Desormes stole the show. Just to be sure we hadn't dreamt how good this wine is, we ordered more. We were never disappointed. Au contraire! Drink this fabulous mature red Bordeaux at cool room temperature after at least 15-20 minutes of aeration, though we found that it continued to improve for up to two hours or more after opening. Salut!
Frankly, there may be no better meditative wine than mature red Bordeaux, which means we could easily sit around and sip the delicious 2004 Château Laronde Desormes until our heart's content, with or without food. When young, fine red Bordeaux provides the perfect foil to red meats, rich sauces, and hearty stick to your ribs kinds of dishes. But when mature, there is no better accompaniment to veal, chicken, or duck than mature red Bordeaux. Consequently, we suggest serving the gracious, mature 2004 Château Laronde Desormes with roast duckling, prepared with a blackberry sauce and served with wild rice, or grilled veal chops topped with wild herbs. In our experience, simple but elegant partners provide the most rewarding accompaniments to Château Laronde Desormes, but as you like it. Bon Appétit!
Château Laronde Desormes fashions one of the finest and longest lived of Bordeaux Petit Château wines. This little gem of a property produces only a few thousand cases of Bordeaux wine each year from the estate's nearly 9 hectares (22 acres) of vines. But unlike most Petit Château offerings, which hail from far flung corners of the sprawling Bordeaux appellation, Laronde Desormes is located in Macau in the Haut-Médoc. The Haut-Médoc is Bordeaux's most renowned appellation for Cabernet Sauvignon and home to the world's finest wine addresses: Château Margaux, Château Latour, Lafite Rothschild, Mouton, and many more. As is the case with real estate, location is everything in the world of wine. Laronde Desormes as it turns out is the "small house" in a wonderful neighborhood. It's separated from the prestigious Margaux commune by just a row of trees and a few meters, and because Laronde Desormes's vineyards are located alongside the river Garonne, the resulting wine can only be labeled as Bordeaux Supérieur and nothing more. Not so lucky for Laronde Desormes but very fortunate for wine drinkers who are searching for top notch Bordeaux at a price they can afford. If Château Laronde Desormes were positioned just a few more meters away from the river, its price would be at the very least double or triple of what it is now.
Château Laronde Desormes is under the expert guidance of winemaker Claude Gaudin. Gaudin is renowned for his viticultural expertise and enormous success with a half dozen of the Haut-Médoc's most illustrious Petits Châteaux, including nearby Château Barreyre. His success at Laronde Desormes lies in extracting extremely low yields from dense plantations in the vineyard and a strict selection process. Laronde Desormes's yields are much lower than their more famous and much more expensive Cru Classé neighbors a few meters away in Margaux, which is mind boggling when you think about it. In addition, Gaudin selects only the best barrels for inclusion in the château's grand vin (this month's feature), and the rest is un-oaked and sold in Europe for early consumption. All these factors contribute to the quality of wine produced at Laronde Desormes. The cépage or blend at Château Laronde Desormes is typically 60% Cabernet Sauvignon, 35% Merlot, and 5% Petit Verdot, which is nearly identical to the nearby Margaux properties. The strict selection process practiced by Gaudin and the predominance of Cabernet Sauvignon allow Château Laronde Desormes to age beautifully for up to a decade or more.
Red Bordeaux is so often paired with a meal that it is easy to lose sight of the fact that a fine mature Bordeaux such as the 2004 Château Laronde Desormes provides the ideal complement to many of the world's most exquisite cheeses. What could be better than sitting down with a friend to a glass full of velvety 2004 Château Laronde Desormes and a plate laden with perfectly aged gourmet cheeses? Aged Gouda, Morbier, Muenster, and most soft creamy cow's milk cheeses provide beautiful complements to this wine. To learn more about the world's finest cheeses, visit us at www.cheesemonthclub.com.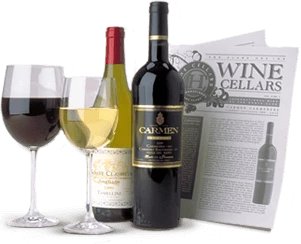 Enjoy Limited Production Estate
Bottled Wines
Discover limited production estate bottled wines such as Vergenoegd's internationally
acclaimed 2005 Cabernet Sauvignon, imported exclusively for our members.
DISCOVER OUR FOUR CLUBS