Ethereal, flavorful, and delightfully uncomplicated, the 2008 Château Lamothe de Haux Bordeaux Blanc embodies all the attributes of the finest white Bordeaux. A glint of the sun and a pale yellow hue capture in each glass of this wine the radiance of summer, and then set the table for more sprightly pleasure to come. Although always consistent in quality from vintage to vintage, the 2008 Château Lamothe appears to be this estate's finest Bordeaux Blanc to date. For starters, this wine's seductive aroma is worth the price of admission. It offers up a delightful mélange of grapefruit, melon, pineapple, aromatic herbs, and freshly mown grass. Elegant, round, and immediately ingratiating, the 2008 Château Lamothe Blanc slips ever so easily down the thirsty throat and begs the unresisting arm to bend in order to have the pleasure of another quaff. In short, the 2008 Château Lamothe is simply irresistible, from its enticing olfactory to its gratifying finish. For optimum enjoyment, we suggest serving the 2008 Château Lamothe Blanc fairly well chilled (about 40° F). However, we must confess to enjoying this classy white Bordeaux equally at a more ambient temperature, so as you like it!
The 2008 Château Lamothe Bordeaux Blanc needs only a clean glass to shine; it could easily compete for top billing as the perfect aperitif. In an ideal world, we would place a glass of the 2008 Château Lamothe Blanc in every hand to start the evening's festivities, refill that glass, and then set a second bottle at table to be consumed after dinner with soft, creamy cow's milk cheeses such as Brie, Camembert, or Comté. On second thought, why wait until so late in the evening to re-serve this seductive white Bordeaux? It pairs beautifully with smoked salmon, sautéed oysters, grilled shrimp or scallops, and most other seafood specialties as well. Heartier fare won't cause it to fade either. We are especially fond of the Lamothe Blanc in the company of a baked breast of chicken, stuffed with a breadcrumb, herb, and Parmesan dressing, so as you like it. Bon appétit!
Château Lamothe de Haux is a splendid wine estate and country manor whose origins date to the 17th century. It is one of the most impressive, poetic pieces of the picturesque Premières Côtes of Bordeaux. Château Lamothe was renovated in the 19th century and is now the charming home of the Néel-Chombard family who own and manage this property along with neighboring Château Sauvage and nearby Château Manos. The splendor of Château Lamothe de Haux begins with its imposing position. It sits atop a rocky spur that is surrounded by vines. When viewed from the vineyard, the Château and nearly two hundred acres of surrounding vines appear as a ship, plying the open waters of the sea. Situated in an undulating sea of vines, Château Lamothe is caressed by the light of the rising and setting sun – the perfect Bordeaux terroir for the cultivation of the vine. Although Château Lamothe itself dates only to the 17th century, the vine and the spirit of wine have thrived in the picturesque part of the Premières Côtes de Bordeaux where Château Lamothe now sits since Gallo-Roman times. This area was also once an important stop-over for the annual throng of pilgrims on their way to Santiago de Compostella, one of medieval Christendom's greatest pilgrimage sites. Today, the fusion of sun and earth produce the alchemy that draws visitors to its caves and render the wines of Château Lamothe so endearing. The Néel-Chombard family and their trained winegrowers and enologists, Anne, Fabrice, Maria, and Damien, fashion wonderful white and red Bordeaux at Château Lamothe. As with many family owned Bordeaux estates, there is equal attention paid to white and red wine here and both are made in considerable quantity. The Château Lamothe Blanc is a traditional blend of three white Bordeaux grape varieties: Sauvignon Blanc (40%), Sémillon (40%), and Muscadelle (20%). The latter varietal is an authentic Bordeaux variety from which dry white wine is fashioned; it bears no relation to Moscatel, the sweet insipid wine of old. Similarly, the Château Lamothe Rouge combines the three long-established red Bordeaux varietals into an artful blend. In a normal vintage, the traditional red cuvee is comprised of Merlot (60%), Cabernet Sauvignon (30%), and Cabernet Franc (10%). As impressive as Château Lamothe is above ground, it is even more remarkable from below. From hidden entrances carved into solid rock, the cellars of this château descend nearly two hundred feet beneath the ground. Originally excavated in the 17th century, the stone from this enormous cellar was used to construct many of the classic elegant buildings that today render the nearby city of Bordeaux so attractive. In the place where rock alone once resided, there now rests the elegant and generous wines of Château Lamothe. The Néel-Chombard family best captures this transformation in the last line of an ode composed by the family: "Every bottle of our wine perpetuates a long love story Between sky, earth, and men…"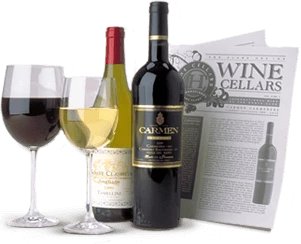 Enjoy Limited Production Estate
Bottled Wines
Discover limited production estate bottled wines such as Vergenoegd's internationally
acclaimed 2005 Cabernet Sauvignon, imported exclusively for our members.
DISCOVER OUR FOUR CLUBS