Imbued with a deep ruby and purple hue, heady aromatics, and a well of deep-down flavors, the youthful 2019 Château Lalande Saint Julien (93 Points – Wine Enthusiast) is a tour de force in winemaking and a magnificent Saint Julien Bordeaux, composed of 55% Cabernet Sauvignon and 45% Merlot. Elegance meets power in this highly structured wine. Savory scents of crushed blackberry, mulberry, dark chocolate, and vanilla greet the nose. Powerful and concentrated on the palate, this wine's savory scents carry through in the mouth. Ripe tannins add energy and vigor, all of which bode well for a long and illustrious life. In true Saint Julien fashion, the 2019 Château Lalande is a wine to lay down, meaning it will continue to improve and mature in bottle and pay dividends over the next decade or more. For optimal enjoyment now, we strongly suggest decanting an hour or two before consuming at cool room temperature (58°-62° F). Anticipated maturity: 2023-2034. Salut!
The 2019 Château Lalande Saint Julien is classic claret. It charms the senses with a deep eye-catching robe, savory scents, and a palate profile that leaves no mistake as to why the wines of Saint Julien are so highly sought after. And like the finest red Bordeaux, the 2019 Château Lalande prefers simple preparations of the highest quality. Sous Vide Duck Breast in a blackberry reduction over wild rice with a side of root vegetables provides an ideal companion to this youthful classic. A perfectly grilled Veal Chop served with wild mushrooms, potato soufflé, and haricots verts makes another splendid accompaniment. Filet mignon, rabbit, and venison in light sauces also provide memorable pairings. Finishing a meal with some delicious Edam, Port Salut, or similarly styled soft cheese provides another superb accompaniment to the exuberant, full-bodied 2019 Château Lalande Saint Julien. Bon Appétit!
Château Lalande is one of the Médoc's most prized small family-owned estates. Surrounded by illustrious neighbors (Château Gruaud Larose, Château Talbot, Château Lagrange, and Château Ducru-Beaucaillou) along the Gironde estuary and situated on a bed of gravel in the illustrious village of Saint-Julien-Beychevelle, Château Lalande was carved out of Château Lagrange, a Grand Cru classified estate, and acquired by Gabriel Meffre in 1964. One continuous, unbroken parcel of 38 acres, Château Lalande is of classified growth provenance and could be snatched up and again attached to one of its classified neighbors.
Château Lalande remains in the hands of the Meffre family. Gabriel Meffre's grandsons Julien and Ludovic run and manage the family property with great care with assistance from consulting winemaker Christophe Ollivier. The farming is sustainable and great care is taken in the cellar. Château Lalande is aged for 12 months in French oak barrels of which 35% are new, much like its classified Saint Julien neighbors. The result is a powerful wine of considerable finesse from Cabernet Sauvignon and Merlot vines that average 30 years of age. The wine's grace and power are much in evidence in this month's feature, the estate's 2019 Château Lalande Saint Julien, a wine every bit as exciting as its neighbors.
Bordeaux is the world's largest fine wine producing region, encompassing nearly 300,000 acres, 60 individual appellations, and more than 7,300 châteaux. Appellations such as Margaux, Pauillac, Saint Julien, Pomerol, and St. Émilion are legendary, as are the scores of collectible wines that flow from their vineyards. Indeed, the wine wares of Bordeaux (both the region and its wines are referred to as Bordeaux) are some of the finest and most expensive on earth. Furthermore, this renowned viticultural region, which has become synonymous with full-bodied red wine, is also the traditional home of Cabernet Sauvignon, Merlot, and Cabernet Franc, the three musketeers of almost all red Bordeaux and the basis for Meritage blends around the world. Malbec, Petit Verdot, and even Carmenère are other red Bordeaux varietals that may figure into the cépage or blend of many Bordeaux châteaux. And, what remains unknown to many consumers is that Bordeaux is also one of the planet's largest and greatest sources of white wine, principally from Sauvignon Blanc and Semillon.
Bordeaux, meaning beside the waters, refers to the region's proximity to the Atlantic Ocean and the broad estuary, the Gironde, for which the entire viticultural department (the equivalent of a county or state in the United States) is named. Bordeaux, both the region as well as the department's leading city, lie at the center of the confluence of the Dordogne and Garonne Rivers, which flow into the Gironde, which redoubles Bordeaux's effort to live up to its name. Moreover, it is Bordeaux's proximity to the sea that provides a stable, moderate climate, which is favorable to the production of fine wine. This marriage to the sea has also provided the historical highway by which Bordeaux wines have traveled the world, gaining esteem and recognition long before most other landlocked wine regions were able to safely transport their wines overland to eager markets.
Since the first century BCE, when the Romans established themselves in Bordeaux and referred to the area as Biturigiaca, this ancient viticultural paradise has been a constant source of fine wine. Known to the emperors of Rome, popes, and poets (most notably Pliny and Ausonius), Bordeaux has enjoyed the envy of the wine producing world longer than any other wine region on earth. From Pliny to the most contemporary wine critics, including Robert Parker Jr., Bordeaux wines have never gone out of favor. Besides, what other wine region can claim three millennia of continuous production and millions of satisfied customers?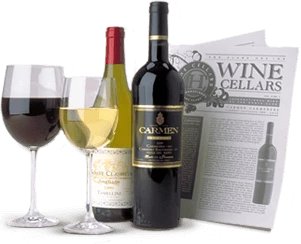 Enjoy Limited Production Estate
Bottled Wines
Discover limited production estate bottled wines such as Vergenoegd's internationally
acclaimed 2005 Cabernet Sauvignon, imported exclusively for our members.
DISCOVER OUR FOUR CLUBS