The 2022 Château la Genestière Les Petits Cailloux Viognier Pays d'Oc had us on the first sniff. "What a gorgeous nose!" uttered one tasting panel member. "This wine smells so good it's almost a shame to drink it," commented another. In true Viognier fashion, the aroma alone of this Les Petits Cailloux Viognier is worth the price of admission. Pure juicy peach and apricot aromas waft from the glass. Add a spray of spring flowers and the bouquet on this wine is nothing short of mildly intoxicating. In the mouth, the wine's fruit and floral tones meld with fresh acidity and gentle mineral tones, delivering considerable palate pleasing pleasure. Stylish and utterly charming, Château la Genestière's 2022 Les Petits Cailloux Viognier exits with grace, leaving all of us begging for more. Textured and pleasantly dry, it's hard to ask more of this lovely Viognier. For optimal enjoyment, we suggest affording Château la Genestière's 2022 Les Petits Cailloux Viognier a moderate chill (38°-45° F) before allowing it to unfold slowly in the glass. Enjoy! Anticipated maturity: 2023-2025.
One of the attributes of Viognier is how it complements a wide variety of foods, yet it needs nothing to stand out. For starters, Château la Genestière's 2022 Les Petits Cailloux Viognier makes a splendid aperitif, but this is no frivolous little wine. La Genestière's Viognier is equally adept at table where it shines in the company of seafood, poultry, veal, and an array of bruschette and flatbreads, including a delicious Peach and Goat Cheese Flatbread. Tostada Camarones, a combination of crispy corn tortilla, blackened shrimp, grilled pineapple pico, cilantro, lime crema, cotija, and avocado, provides another tasty accompaniment. Salade Niçoise and Provençal bouillabaisse make splendid companions, too. Free range chicken, game birds, and sautéed veal medallions marinated in lemon, white wine, butter, and herbs provide additional complements. However, let your imagination and culinary acumen serve as your guide. Bon Appétit!
Château la Genestière embodies the living memory and colorful history of nearby Avignon and France's Southern Rhône Valley. Beginning in the 16th century the domain functioned as a silkworm farm before its acquisition in 1930 by the Garcin family who converted the 100-acre property to viticulture and winemaking. Remnants of the region's sericulture remain on the property in the cultivation of textile broom and the body of water used to supply the old mill used for silk weaving. In the 18th century when France was the world's leading exporter of silk, the area around La Genestière employed as many as 15,000 people in the trade. Today, Château la Genestière is devoted completely to fashioning a bevy of outstanding red, white, and rosé wines from the Southern Rhône and Pays d'Oc.
In the early years under Monsieur Garcin, Château la Genestière focused on the production of Tavel Rosé, France's deeply colored and most renowned rosé wine. Subsequently, red and white wines bearing the Lirac appellation (Lirac and Tavel are neighboring villages) came to fore. Lirac faces Châteauneuf-du-Pape across the swiftly flowing Rhône River and, like Châteauneuf-du-Pape, Lirac benefits from a deep bed of large flat stones called galets, which have helped define the quality and style of the finest wines of Lirac and Châteauneuf-du-Pape. The Garcins continuously made improvements and expanded the domain to include holdings in Châteauneuf-du-Pape and Côtes-du-Rhône, as well as Tavel and Lirac.
In 2015, Christian Latouche, the proprietor of two Provençal estates, purchased La Genestière, raising the domain's wines to an even greater height and fashioning outstanding wines in the nearby Pays d'Oc, including Château la Genestière's Les Cailloux Viognier 2022 (this month's feature). He continues to push the envelope on quality, establishing Domaine la Genestière as one of region's finest purveyors of red, white and rosé wines from traditional southern French grape varieties.
France's Pays d'Oc boasts 26 centuries of continuous wine growing. This sprawling sea of vines stretches from the Rhône River to the Pyrenees Mountains through France's largest wine producing region, Languedoc-Roussillon. Although once the bastion of mostly blended red wines, the Pays d'Oc has specialized in varietal offerings of superb red and white wines since 1987, including Viognier, southern France's prized white grape variety. In all, 58 grape varieties are entitled to Pays d'Oc IGP status and varietal wines now comprise 50% of the Pays d'Oc IGP production. The region is home to thousands of growers and a growing array of family owned wineries as well as 120 cooperatives. Since its inception, the quality and variety of wines emerging from the Pays d'Oc is nothing short of extraordinary. Today, the Pays d'Oc reigns as a treasure trove of quality and value and the source of many of France's finest country wines.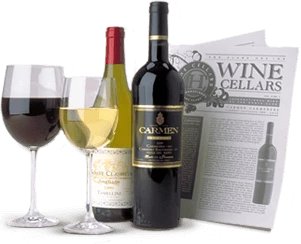 Enjoy Limited Production Estate
Bottled Wines
Discover limited production estate bottled wines such as Vergenoegd's internationally
acclaimed 2005 Cabernet Sauvignon, imported exclusively for our members.
DISCOVER OUR FOUR CLUBS