Comporting itself much like a fine Châteauneuf-du-Pape Blanc, the 2021 Château La Genestière Lirac Blanc (70% Grenache Blanc, 30% Clairette) embodies the best of both worlds. It offers a glimmering straw color, which betrays more than a hint of the shimmering Provencal sun, along with seductive scents of Asian Pear, starfruit, and lime infused with subtle hints of wild herbs and minerals. Yet, it is in the mouth that the wine truly blossoms, revealing a fine texture and a delightful blend of fruits, both sweet and savory, all backed by an engaging minerality and a bright citrus vivacity that we found hard to resist. Unlike many other white wines whose flavor profiles are either wrapped in butter and oak, or display a searing grapefruit-like acidity from unripe grapes, the 2021 Château La Genestière Lirac Blanc balances its sweet and sour components and is a delight to drink from start to finish. And, much like a fine red wine, the 2021 Château La Genestière Lirac Blanc will benefit from a few minutes of aeration and a good swirl as it will develop further length, depth, and complexity with a little air, so there is no need to guzzle this white wine. Serve moderately chilled at 40°-45° F. Anticipated maturity: 2022-2025. Enjoy!
One of the attributes of white Lirac is how it complements a wide variety of foods, including hearty, even spicy, dishes. Château La Genestière's 2021 Lirac Blanc won't be confused for a frivolous aperitif; rather, it begs to be brought to table where it will shine in the company of chicken, seafood, veal, and more. Grilled halibut prepared with a roasted garlic and lemon beurre blanc sauce in the company of herb and pesto mashed potatoes makes for a wonderful accompaniment. Seared wild caught salmon on a bed of shaved fennel, radish, and organic greens with a light citrus and pomegranate dressing provides another tasty treat, while a traditional Provencal bouillabaisse or fish stew is a perennial favorite. Free range chicken, game birds, and sautéed veal medallions marinated in lemon, herbs, and butter will also do justice to Château La Genestière's superb 2021 Lirac Blanc. However, let your imagination and culinary acumen serve as your guide. Bon Appétit!
Château la Genestière embodies the living memory and colorful history of nearby Avignon and France's Southern Rhône Valley. Beginning in the 16th century the domain functioned as a silkworm farm before its acquisition in 1930 by the Garcin family who converted the 100-acre property to viticulture and winemaking. Remnants of the region's sericulture remain on the property in the cultivation of textile broom and the body of water used to supply the old mill used for silk weaving. In the 18th century, when France was the world's leading exporter of silk, the area around La Genestière employed as many as 15,000 people in the trade. Today, Château la Genestière is devoted completely to fashioning several of the region's finest red, white, and rosé wines.
In the early years under Monsieur Garcin, Château la Genestière focused on the production of Tavel Rosé, France's deeply colored and most renowned rosé wine. Subsequently, red and white wines bearing the Lirac appellation (Lirac and Tavel are neighboring villages) came to fore. Lirac faces Châteauneuf-du-Pape across the swift flowing Rhône River and, like Châteauneuf-du-Pape, Lirac benefits from a deep bed of large flat stones called galets, which have helped define the quality and style of the finest wines of Lirac and Châteauneuf-du-Pape. The Garcins continuously made improvements and expanded the domain to include holdings in Châteauneuf-du-Pape and Côtes-du-Rhône as well as Tavel and Lirac.
In 2015, Christian Latouche, the proprietor of two Provencal estates, purchased Château La Genestière. He continues to push the envelope on quality, establishing Château La Genestière as one of region's finest purveyors of red and white Lirac as well as Tavel rosé, all from the Southern Rhône's traditional grape varieties.
The Rhône River makes a hasty exit from Switzerland's Lac Leman, better known to Americans as Lake Geneva, and cuts a swift path through southern France to the Mediterranean Sea. As a source of many of France's greatest wines, the wine growing region of the Rhône Valley begins just south of Lyon around the city of Vienne and terminates far south, near Aix-en-Provence. The length of the river allows for two quite distinct wine producing sub-regions in the Rhône Valley; one north and the other south. In the Northern Rhône, one finds granite and gneiss-based soils, coupled with a continental climate. Here, Syrah is king of the cultivars, where it reigns as the only permitted red variety. The Northern Rhône is home to such illustrious wines as Côte Rôtie and Hermitage, among others. Marsanne, Roussanne and Viognier are the permitted white grape varieties in the Northern Rhône, and the wines of this sub-region tend to be highly structured and firm, and often capable of great aging.
The Southern Rhône sub-region announces a warmer Mediterranean climate with substantially varied terroirs. Here alluvium, sand, limestone, marl, pebbles, large flat stones known as galets, and more are found throughout the valley. Grenache is the dominant red variety, but there is an incredible wealth of cultivars used for blending, among them Syrah, Mourvèdre, Cinsault, and Carignan. The wines of the Southern Rhône are often aromatic and beautifully perfumed, juicy, supple in texture and endowed with considerable weight. Red wines dominate the production in the Southern Rhône, with Châteauneuf-du-Pape, Gigondas, Lirac, Vacqueyras, and Côtes-du-Rhône being the names to look for. But, one should not discount the wonderful rosé and white wines that increasingly flow from the Southern Rhône, especially from Châteauneuf-du-Pape and Lirac. Grenache remains the mainstay for rosé, while Grenache Blanc, Marsanne, Roussanne, and Viognier yield the region's finest white wines.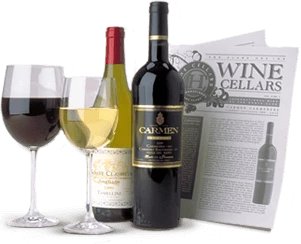 Enjoy Limited Production Estate
Bottled Wines
Discover limited production estate bottled wines such as Vergenoegd's internationally
acclaimed 2005 Cabernet Sauvignon, imported exclusively for our members.
DISCOVER OUR FOUR CLUBS