Lalande de Pomerol. Deeply colored and scented with the fragrances of red currants, wild berries, and clean forest woodlands, the bouquet of the 2018 Château La Gabarre Bordeaux Supérieur hints at the layers of flavor and ultimate panache to follow in this well-made red. Juicy and delightful from the first sip, Château La Gabarre's 2018 Bordeaux Supérieur only gets better with a bit of aeration, offering deep red and black currant fruit and firm tannins that meld perfectly with the wine's ripe berry flavors. With aeration, the 2018 Château La Gabarre Bordeaux Supérieur truly begins to strut its stuff, revealing a rich center and a suavity that is rarely seen at this level. Fresh, layered, and artfully balanced, the 2018 Château La Gabarre Bordeaux Supérieur not only offers plenty of flavor throughout, it finishes with verve and vigor. For optimum enjoyment of this superbly crafted red Bordeaux, we suggest at least 15-20 minutes of aeration before serving at cool room temperature (58°-62° F). Anticipated maturity: 2021-2024. Enjoy!
The words flavor and elegance sum up both the 2018 Château La Gabarre Bordeaux Supérieur and our choice of accompaniments. A simple rotisserie chicken or perfectly sautéed duck breast provides an ideal accompaniment to Château La Gabarre's superb Bordeaux Supérieur. However, those endowed with greater culinary acumen may want to try their hand at a traditional Bordelaise recipe, Chicken Barigoule, a rotisserie fried chicken breast prepared with braised artichokes, garlic, pearl onions, carrots, asparagus, and tomatoes – a simple but very elegant meal that will showcase the flavors and the panache of this delightful red. Most white meats, including pork tenderloin, present other wonderful gastronomic opportunities with this superbly crafted Bordeaux Supérieur. With that said, the 2018 Château La Gabarre Bordeaux Supérieur also makes a fine companion to lightly breaded veal cutlets as well as to a perfectly grilled filet mignon, especially when served with shitake mushrooms, crispy pommes frites, and haricots verts. Soft cheeses provide exceptional companionship, too. Bon appétit!
Although the red wines of Bordeaux are often paired with poultry and red meats, it is easy to lose sight of the fact that such well-crafted wines as the 2018 Château La Gabarre Bordeaux Supérieur also provide equally compelling complements to many of the world's finest cheeses. Consequently, we suggest pairing a variety of international cheeses with the 2018 Château La Gabarre Bordeaux Supérieur. Gouda, Gruyère, Havarti, Morbier, Muenster, and Port Salut are just a few gourmet cheeses that will complement this wine. To learn more about the world's finest cheeses as well as wine and cheese pairings, contact us at www.cheesemonthclub.com.
Château La Gabarre is located in the commune of Galgon within the greater Fronsac district of Bordeaux, very near Lalande de Pomerol. Château La Gabarre is very much a Right Bank estate (meaning the property sits north of the Dordogne River along with St. Émilion and Pomerol) where the region's fine terroir consists of clay and stony soils that are ideal for the production of first-rate white and red Bordeaux. The estate's vineyards have been in the Gabard family since the 1800's and are now being run by Stéphane and Paola Gabard, a delightful young couple who took charge of the château in 1999.
Château La Gabarre operates as a true family enterprise. Stéphane oversees the vineyards and the cellar, while Paola takes charge of the administration and marketing while keeping an eye on the couple's young daughters. The château produces very fine red Bordeaux Supérieur Rouge (this month's feature) and Bordeaux Blanc as well as small amounts of Bordeaux Rosé and, most recently, sparkling Crémant de Bordeaux. Stéphane's wines have won numerous medals at major Paris and Bordeaux competitions and have been cited for distinction in the Guide Hachette and Gault et Millaut, France's two most prestigious food and wine publications.
The undisputed king of France's wine regions, Bordeaux sits amidst and astride the Dordogne and Garonne Rivers. The sprawling Bordeaux region accounts for some 800 million bottles of wine each year. Bordeaux has built a reputation on quality, as many of the world's most sought-after wines are crafted along its river banks. Bordeaux boasts over 10,000 winemakers working in the region's 57 appellations. Known mostly for red blends comprised primarily of a combination of Merlot, Cabernet Sauvignon, and Cabernet Franc, Bordeaux also enjoys great notoriety for its excellent dry and sweet white wines, comprised mostly of Sauvignon Blanc and Semillon, which emanate primarily from the central appellations of Bordeaux between the area's two great rivers.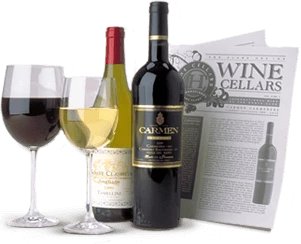 Enjoy Limited Production Estate
Bottled Wines
Discover limited production estate bottled wines such as Vergenoegd's internationally
acclaimed 2005 Cabernet Sauvignon, imported exclusively for our members.
DISCOVER OUR FOUR CLUBS