The 2012 Château Ducasse Graves displays a deep purple robe to entice the eye, but it is this Graves' classic aroma that truly seals the deal: a delightful array of berry fruit and supple earth tones immediately ingratiate themselves to the nose and thirsty palate. With 20-30 minutes of aeration in a glass or decanter this charming red Graves begins to unfold, offering layers of satisfying flavor. Dry, yet rich with the quintessential savor of Graves, the 2012 Château Ducasse offers a wealth of blackcurrant fruit, cedar, herbs and wood smoke to complement the wine's soft, ripe tannins. And as one has come to expect from fine red Graves, the 2012 Château Ducasse finishes with just enough tannic structure to frame the beautiful fruit and earth tones in the wine. The 2012 Château Ducasse Graves can be enjoyed now or laid down for additional ageing. Anticipated Maturity: 2016-2020. For optimal enjoyment, we suggest serving the 2012 Château Ducasse Graves at cool room temperature (60°-64° F).
The 2012 Château Ducasse Graves is supple red Bordeaux that makes a splendid partner to almost any meal. It graciously accompanies a variety of dishes, from the simple to the sublime. One of our favorite pairings with young Graves is veal. Tender cutlets of milk-fed veal stuffed with cheeses and herbs provide wonderful accompaniments to Château Ducasse's quintessential 2012 red Graves. Almond Encrusted Pork Tenderloin, served with a dried cranberry and apple conserve and savory wild rice, offers another tasty complement. Cornish game hens and fine cuts of beef served with roasted root vegetables offer equally rewarding pairings to Château Ducasse's red Graves. And red Graves in the company of a platter of soft cheeses makes for a simple but satisfying combination, without having to spend hours in the kitchen. Bon appétit!
Château Ducasse is estate bottled red Graves from Château Beauregard Ducasse. Marie-Laure and Jacques Perromat are the sixth generation to make wine at Château Beauregard Ducasse, as the family has been in possession of this venerable château since 1850. Located in the village of Mazères in the southern most rural section of the Graves region on a bed of gravel (from which the name Graves is derived), this 27 acre estate produces exceptional white and red Graves.
The majority of the estate's production is white Graves from Semillon and Sauvignon Blanc, while the two red Graves of Château Beauregard Ducasse consist of Merlot, Cabernet Sauvignon, Cabernet Franc, and in some vintages a small quantity of Petit Verdot. In order to provide the highest quality wine, Château Beauregard-Ducasse produces two white Graves, an easy drinking wine meant for early consumption and the age-worthy Cuvée Albertine Peyri, a barrel fermented white Graves from the finest barrels. Two exceptional red Graves are also grown and produced at the château, Château Ducasse (this month's feature) and Château Beauregard Ducasse.
Graves is the oldest and most historic of all the Bordeaux communes. Before Latour, Lafite, Margaux, and the rest of the well-known names of the Médoc even existed or had even seen a cultivated vine, there was Graves. In fact, Graves has been the home of cultivated vines since as early as the 1st century AD, due at least in part to the Romans inability to grow other crops in the graveled soil from which the name Graves is derived. The stone and gravel deposits are vestiges of the last Ice Age, a bane to most farmers but a boon to grape growers, whose vines struggle deep into the thin porous soil to draw life and subtle complex flavors from the nutrients below.
The wines of Graves appear to be the first Bordeaux wines to be exported, with archeological evidence that Roman garrisons in Britain were the happy recipients of Bordeaux's quintessential wines. And by the early 12th century, Graves was the most sought after wine in England and beyond for its quality as well as its proximity to the city and port of Bordeaux itself, which lay just a few kilometers from Graves.
Graves is rightly famous for both its red and white wines. At their best, the red wines of Graves are unsurpassed for their aromatic beauty as well as their smooth, rich flavors. Earthy fragrant aromas that resemble cedar, a classic cigar box scent, blackcurrant, and tobacco emanate from red Graves and form a bouquet that is frequently described as enchanting and profound. Moreover, fine red Graves is often the supplest of Bordeaux on the palate. It is also the most flavorful and easily appreciated of all Bordeaux reds.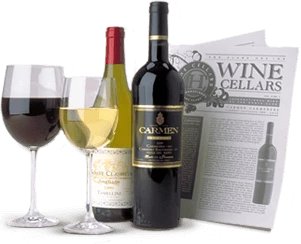 Enjoy Limited Production Estate
Bottled Wines
Discover limited production estate bottled wines such as Vergenoegd's internationally
acclaimed 2005 Cabernet Sauvignon, imported exclusively for our members.
DISCOVER OUR FOUR CLUBS