Born of another splendid vintage in Bordeaux, and composed of 80% Merlot and 10% each of Cabernet Franc and Cabernet Sauvignon, the Chariol family's 2018 Château de Lescours Saint-Émilion Grand Cru (92 Points – Wine Enthusiast) offers a beautiful purple and garnet tinged robe, enticing aromatics, and layers of black currant and berry fruit. Opulent, yet elegant, the concentrated 2018 Château de Lescours Saint-Émilion Grand Cru fills the mouth with juicy plush fruit, underlined with deft touches of dark chocolate, coffee, and forest floor – all of which come nicely cloaked in rich, ripe tannins. This is classic Saint-Émilion: complex, full-bodied, and ready to drink, yet capable of ageing gracefully for up to a decade or more. For optimal enjoyment, we suggest affording this wine at least 20-30 minutes of aeration before consuming it at cool room temperature (58°-62° F). Anticipated maturity: 2023-2030. Enjoy!
The rich, full-bodied 2018 Château de Lescours Saint-Émilion Grand Cru provides the ideal companion to fine cuts of meat as well as complex gourmet fare, which makes it the consummate choice to serve at an elegant dinner party. Prime Rib au jus or a perfectly grilled aged Ribeye á la Bordelaise affords Château de Lescours' concentrated Saint-Émilion Grand Cru the ideal partner with which to shine. When served with mashed potatoes, fresh green beans, and braised pearl onions, a finer pairing would be hard to find. Venison tenderloin provides another fine companion. On a lighter note, a bone-in veal chop prepared with a tasty brown sauce offers another delicious accompaniment. Plump roasted chickens and Cornish hens served with wild rice or an onion and sage stuffing offer more palate-pleasing accompaniments. And, for those who save the best for last and are disciplined enough to have bit of this classic wine left in their glasses, we suggest they drain those glasses in the company of a selection of French cheeses that include Cantal and Port Salut. A votre santé!
Château de Lescours is one of the oldest and most renowned properties in the venerable appellation of Saint-Émilion. Château de Lescours was constructed in 1341 by a squire of King Edward III during the 100 Years War in which England and France fought for control of Bordeaux and the Duchy of Aquitaine. In the 14th century, wine was the oil of the Middle World. Everyone wanted it and Aquitaine was Western Europe's biggest and best source. This gem of an estate is comprised of a veritable castle, replete with a moat, and is set in the midst of a 100-acre forest which provides biodiversity and a special microclimate for the estate's prestigious Saint-Émilion Grand Cru.
Château de Lescours's Saint-Émilion Grand Cru is produced from a pristine 18-acre vineyard, which has earned this château a High Environmental Value Certification (HVE). Saint-Émilion Grand Crus are the only wines produced by Château de Lescours. For 5 generations the Chariol family have owned Château de Lescours and they are responsible for bringing the esteemed Château de Lescours Saint-Émilion Grand Cru to its present pinnacle of quality.
Saint-Émilion is Bordeaux's most important wine town and the region's hottest attraction. This walled medieval village, perched atop a series of hills and surrounded by vines, is unquestionably the most beautiful wine village in all Bordeaux. Indeed, it is arguably the most beautiful wine village in all France. Nearly everything about Saint-Émilion is centered on wine; even the church in Saint-Émilion is a cellar. And, lest you think that Saint-Émilion has just recently succumbed to contemporary commercialism or sold itself to the modern mania for all that is Bacchanalian, rest assured that very little has changed in principle in this village since antiquity: Saint-Émilion was founded by the Romans, who used it as a viticultural bastion in the burgeoning area they named Burdigala.
Interestingly, there are two distinct districts of Saint-Émilion, each possessing a special terroir. Both districts produce compelling red wines, but of a different sort. Typically, the côtes or hills upon the escarpment yield the fullest, slowest to mature wines of Saint-Émilion. Here the soil is nearly all limestone and the resulting wine is more apt to act like a great Cabernet-based wine of the Médoc. The other distinct district of Saint-Émilion lies on the plateau adjoining Pomerol, where the soil is comprised of sand and gravel. Here the wines tend to be fleshier and quicker to mature. Each style is authentic Saint-Émilion, which allows the savvy consumer double the pleasure. Merlot is the predominant grape here, but Cabernet Franc and to a lesser extent Cabernet Sauvignon play important supporting roles. However, Saint-Émilion can be produced from Merlot alone or from any combination or percentage of the six traditional red Bordeaux grape varieties (Cabernet Franc, Cabernet Sauvignon, Merlot, Malbec, Petit Verdot, and Carmenère). No commercial white wine is made in Saint-Émilion nor is any white wine permitted to be sold as Saint-Émilion. Many of Bordeaux's most illustrious wines hail from Saint-Émilion, including the legendary Château Cheval Blanc.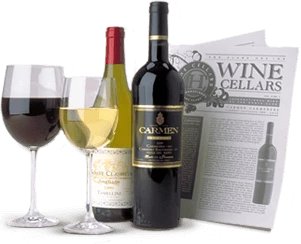 Enjoy Limited Production Estate
Bottled Wines
Discover limited production estate bottled wines such as Vergenoegd's internationally
acclaimed 2005 Cabernet Sauvignon, imported exclusively for our members.
DISCOVER OUR FOUR CLUBS