Deep in color and wonderfully complex in bouquet and flavor, the 2016 Château de Haute-Serre Grand Vin Seigneur Cahors Malbec (which features 7% Merlot and 3% Tannat in support of 90% Malbec) ranks among the finest Cahors wines we have ever tasted and has caught the attention of critics as well (92 Points – Wine Enthusiast). Endowed with sensuous aromatics resplendent with the scents of Morello cherry, blackcurrant, and exotic spices, the scent alone of this wine is worth the price of admission. Fresh and inviting on the palate, the wine's well-integrated fruit and deep spice tones are beautifully carried on silky tannins, allowing the wine's deep down wealth of flavors to slowly unfold in the mouth. Although rich in flavor, the 2016 Château de Haute-Serre Grand Vin Seigneur Cahors Malbec exhibits great finesse, making it an ideal companion to any fine meal. Serve cool at 58°-62° F. Anticipated maturity: 2020-2030. Enjoy!
Traditional sophisticated Cahors such has the 2016 Château de Haute-Serre Grand Vin Seigneur Cahors Malbec is a wine to drink with a perfectly grilled T-bone steak, hearty country cooking, or as a means to ward off the chill of night. Cassoulet, sausage and bean dishes, game, and thick, heady meat and vegetable stews provide delicious traditional fare to accompany the finest Malbec wines of Cahors. Braised Short Ribs served with root vegetables and Slow Cooked Pot Roast with spaetzle make especially tasty companions to Georges Vigouroux's 2016 Château de Haute-Serre Grand Vin Seigneur Cahors Malbec. Roast leg of lamb, marinated lamb kabobs, and sizzling chicken or beef fajitas also provide tasty accompaniments to this flagship Cahors Malbec. Mushroom Stuffed Peppers in the company of thick slices of cow or sheep's milk cheeses with plenty of crusty French bread make for good company, too, but then again the 2016 Château de Haute-Serre Grand Vin Seigneur Cahors Malbec should shine in the presence of any fine meal. Bon Appétit!
The name Georges Vigouroux has become synonymous with fine Malbec and the fabled "black wine" of Cahors. With an estate of over 370 acres of vines in southwest France, including some of finest terroir in Cahors, no one in France has more experience with the prized Malbec varietal than the Vigouroux family. Since 1887 the Vigouroux family have purveyed fine Cahors wines, and today they fashion several excellent Cahors Malbec offerings from both the plateau and steep, terraced hillsides above the river Lot, but none is grander than Georges Vigouroux's premier offering and this month's feature, the 2016 Château de Haute-Serre Grand Vin Seigneur Cahors Malbec.
In 1971, the same year Cahors gained its Appellation Control status, Georges Vigouroux began re-planting Château de Haute-Serre and its prized hillside vineyard, which had lain fallow since phylloxera ravaged Cahors and nearly all the vineyards of Europe. Under the present leadership of Bertrand-Gabriel Vigouroux, who has pursued his passion for Malbec in his native Cahors as well as Argentina, Château de Haute-Serre has emerged as the Vigouroux's premier Cahors and the source of their Grand Vin. It possesses one of the highest vineyards in the appellation, a site blessed with an abundance of Cahors' stony red clay soil and superb southern exposure, where the grapes bask in sunshine from sun up to sun down. Viticulture is sustainable and wine making traditional, including maturation in oak barrels for up to 12 months.
Malbec is an important red grape variety traditionally associated with the wines of Southwest France. It is also one of the original red wine grapes of Bordeaux where it is often referred to as Cot or Pressac. While Malbec is used sparingly today in Bordeaux to add additional color and body to less stalwart grapes, it remains one of the six grapes permitted in red Bordeaux along with Cabernet Sauvignon, Cabernet Franc, Carmenère, Merlot and Petit Verdot. However, southeast of Bordeaux along the river Lot in the region of Cahors, Malbec still reigns supreme. It is the chief grape used in what historically has been called the "black wine" of Cahors. Malbec owes its rich color profile to its ability to synthesize large amounts of anthocyanins, the natural pigments of red grapes, resulting in wines whose colors range from deep red and purple to black. The wines of Cahors have been highly coveted since Roman times and continue to stand as reference points for Malbec, even as more Malbec now grows in Argentina than in France. The finest contemporary wines of Cahors offer a wealth of complex flavors along with a suavity rarely seen in New World versions. Such versions can also age beautifully for up to a decade or more.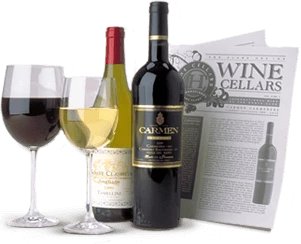 Enjoy Limited Production Estate
Bottled Wines
Discover limited production estate bottled wines such as Vergenoegd's internationally
acclaimed 2005 Cabernet Sauvignon, imported exclusively for our members.
DISCOVER OUR FOUR CLUBS