Deep, juicy, and redolent with the savory scents of crushed berries and wild herbs, the 2019 Château Cabezac Minervois Tradition Rouge epitomizes the hedonistic pleasure one can expect from the Dondains and the venerable appellation of Minervois. Round and full in flavor, yet delightfully silky and supple in texture, this red blend (50% Syrah, 30% Grenache, 20% Carignan) graces the palate with beautiful fruit-forward flavors imbued with hints of fennel, rosemary, and pepper. Fresh, clean, and packed with flavor, Château Cabezac's 2019 Tradition Rouge presents itself as a real crowd pleaser. Although anything but ordinary, Gontran Dondain's 2019 Minervois Tradition Rouge makes a strong case for becoming our new everyday go-to wine. Enjoy this delightful red early and often at cool room temperature (58°-62° F). Anticipated maturity: 2021-2025. Enjoy!
For aficionados of Côtes-du-Rhône and GSM blends, the 2019 Château Cabezac Minervois Tradition Rouge will need only a clean, large glass to please, but given the affinity that this wine has for food and the rich culinary traditions of southern France, why settle for only half of the pleasure? This splendid red is made to accompany the comfort foods of Languedoc, Provence and beyond. This Minervois possesses a natural affinity for grilled meats, including beef, lamb, and pork, and it does equal justice to traditional Mediterranean favorites, including most cheese and tomato-based southern Italian favorites such as lasagna and manicotti. Pasta Bolognese and Three Cheese Agnolotti Stuffed with Braised Short Ribs and King Trumpet Mushrooms provide truly noteworthy accompaniments to Château Cabezac's mouth-filling Tradition Minervois. However, almost any hearty pasta dish made with fresh tomatoes, herbs, and wild mushrooms will provide a tasty companion. Flatbreads topped with chicken and pesto, and flavorful risottos pair beautifully, too. Smoked meats such as salami, pepperoni and soppressata offer other tasty pairings, especially in the company of aged hard cheeses. Bon appétit!
Château Cabezac's 2019 Minervois Tradition Rouge makes an ideal companion to cow, goat, and sheep's milk cheeses. Muenster, Pecorino, and Chèvre all pair beautifully with this memorable Minervois. Add toasted walnuts to the cheese selection and you'll almost certainly need to have an additional bottle of this tasty red on hand. For more specific wine and cheese pairings or to discover more about the world's finest cheeses, contact us at www.cheesemonthclub.com.
Château Cabezac has emerged as one of the stars of Minervois, an ancient viticultural area that has enjoyed an enviable reputation for continuously producing fine wine since Roman times. Under the guidance of the late Gontran Dondain who acquired Château Cabezac in 1997, Château Cabezac has joined a growing number of prized Languedoc estates in fashioning high quality, crowd pleasing wines at a price most of us can afford. Gontran's highly competent daughter Stéphanie has taken over the helm at Château Cabezac since Gontran's passing in early 2020.
Father and daughter worked for years to bring this 185-acre property to its present state. Located in the heart of Languedoc-Roussillon, the estate is located in 5 different localities, all within the AOP Minervois. All of the vineyards are farmed using sustainable agricultural practices and the Dondains modernized the property's ancient winery in order to fully exploit the estate's excellent terroir. Red wine predominates at this well-run property as it does throughout Languedoc-Roussillon. Château Cabezac is best known for its Minervois Tradition Rouge (this month's feature), though Château Cabezac's Blanc Alice, a delicious blend of Grenache Blanc, Maccabeu, and Roussanne, is equally compelling. We invite you to taste and enjoy!
The Languedoc, whose name is synonymous with the language of southern France, was the first part of ancient Gaul to be extensively planted to the vine. And long before Caesar's Roman legions had subdued the Gallic tribes, wine was big business in Languedoc. The Phoenicians passed this way, and not surprisingly the region's beauty and superb conditions for the cultivation of the vine did not escape the first Greek colonists who planted vines there, making Languedoc the cradle of French viticulture in the fifth century BCE. For nearly two thousand years, Languedoc remained the "big dog" and premier purveyor of wine to France and the world. However, the glory of France's most historic wine region – the birthplace of troubadours and Provençal, the lyrical language of poetry – came to a screeching halt at end of the 19th century with the advent of phylloxera, the most dreaded of all vine diseases.
Throughout the late 19th century and most of the early 20th century the Languedoc languished, becoming the planet's greatest source of bulk wine, known unceremoniously as vin ordinaire or plonk. It was not until the 1970s that Languedoc began the long march back to glory. With no longer a demand at home or abroad for cheap, coarse wines, the emphasis in Languedoc shifted back to quality rather than quantity. Many of the region's oldest vineyards were restored, premium varietals replanted, and vines began moving back to ancient hillside sites to produce less wine of greater quality. The results have initiated a veritable Renaissance in the Languedoc, especially in the favored appellations of Fitou, Corbières, Minervois, Pic St. Loup, and Saint-Chinian where choice hillside vineyards have produced fine wine for millennia.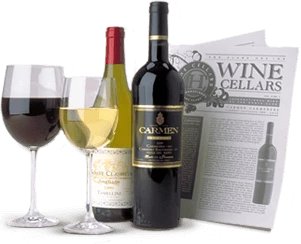 Enjoy Limited Production Estate
Bottled Wines
Discover limited production estate bottled wines such as Vergenoegd's internationally
acclaimed 2005 Cabernet Sauvignon, imported exclusively for our members.
DISCOVER OUR FOUR CLUBS