In what many, including Forbes Magazine, have called a "stellar" vintage, Château Bellevue Claribes has again fashioned an exceptional Prestige Bordeaux Supérieur in 2020 to rival nearby Saint-Emilion's more expensive Grand Crus. The 2020 Château Bellevue Claribes Prestige Bordeaux Supérieur hails from 100% old-vines, which average more than 40 years of age. There is no wimp in these low yielding old vines as the 2020 Château Bellevue Claribes Prestige aptly attests with its dark rich color and concentrated flavors. Imbued with the savory scents of dark cherry and cassis the youthful 2020 Château Bellevue Claribes Prestige Bordeaux Supérieur explodes on the palate with juicy fruit, superb concentration, layers of flavor, and polished tannins. The wine's concentration and ripe tannins provide energy and zip – all of which bodes well for this well-crafted Bordeaux's ageing potential. For optimal enjoyment, we suggest at least 30 minutes of aeration before serving at cool room temperature (58°-62° F). Anticipated maturity: 2022-2026. Enjoy!
The 2020 Château Bellevue Claribes Prestige Bordeaux Supérieur makes an enviable companion to a perfectly grilled filet mignon, sirloin, or ribeye steak topped with a savory portabella mushroom sauce. Another favorite accompaniment is Chicken Barigoule, a rotisserie fried chicken breast with braised artichokes, garlic, pearl onions, carrots, asparagus, and tomatoes – a simple but very flavorful meal that highlights the rich flavors as well as the suavity inherent in the 2020 Château Bellevue Claribes Prestige. Sous Vide Duck Breast with a dark cherry or blackberry gastrique served with a side of grilled broccolini also makes a splendid companion. And given this wine's concentration, one need not fear serving it with barbequed chicken or pork basted with savory sauces. It also makes a splendid companion to Morbier, Port Salut, and most other soft and semi-soft cow's milk cheeses. Bon Appétit!
Château Bellevue Claribes, a superlative 20-acre property owned by the Fontana family, sits atop the côtes of Bordeaux's Entre-Deux-Mers. This dynamic little château specializes in fashioning exceptional Merlot based wines, including the estate's award winning flagship offering, from old vines, Château Bellevue Claribes Prestige Bordeaux Supérieur (this month's feature). The vineyards at Château Bellevue Claribes enjoy an enviable terroir in the southern part of Entre-Deux-Mers where the high ground affords considerable protection against the all too frequent killing spring frosts that ravage Bordeaux. Moreover, Château Bellevue Claribes' calcareous soil and southwest facing slopes provide the ideal conditions for the cultivation of Merlot. In addition to the château's flagship Prestige offering, Château Bellevue Claribes also fashions from each vintage a second wine, an excellent lighter wine that also carries Bordeaux Supérieur appellation status.
Bordeaux is the world's largest fine wine producing region, encompassing nearly 300,000 acres, 60 individual appellations, and more than 7,300 châteaux. Appellations such as Margaux, Pauillac, and St. Emilion are legendary as are the scores of collectible wines that flow from their vineyards. Indeed, the wine wares of Bordeaux (both the region and its wines are referred to as Bordeaux) are some of the finest and most expensive on earth. Furthermore, Bordeaux remains a treasure trove of excellent, affordable full-bodied red wines as this renowned viticultural region is the traditional home of Cabernet Sauvignon, Merlot, and Cabernet Franc, the three musketeers of almost all red Bordeaux and the basis for Meritage blends around the world. Malbec, Petit Verdot, and even Carmenère are other red Bordeaux varietals that figure into the cepage or blend of many Bordeaux châteaux. And what remains unknown to many consumers is that Bordeaux is also one of the planet's largest and greatest sources of white wine, principally from Sauvignon Blanc and Semillon.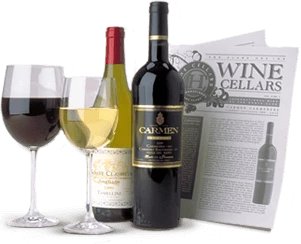 Enjoy Limited Production Estate
Bottled Wines
Discover limited production estate bottled wines such as Vergenoegd's internationally
acclaimed 2005 Cabernet Sauvignon, imported exclusively for our members.
DISCOVER OUR FOUR CLUBS