Château Bellevue Claribes' 2017 Prestige Bordeaux Supérieur from 100% Merlot vines averaging 40 years of age could easily be mistaken for a Saint Émilion Grand Cru. This should come as no surprise given Château Bellevue Claribes' terroir, low yielding old vines, and the fact that Entre-Deux-Mers sits just across the Dordogne River from Saint Émilion. Dark and deep in color and perfumed with the savory scents of blackberry, cassis and aromatic cedar, the 2017 Château Bellevue Claribes Prestige Bordeaux Supérieur explodes on the palate with juicy fruit, superb concentration, layers of flavor, and polished tannins. The wine's concentration and ripe tannins provide lift and a long lingering finish as well as good ageing potential. For optimal enjoyment, we suggest at least 30 minutes of aeration before serving cool (58°-62° F). Enjoy!
The words "simple elegance" sum up the 2017 Château Bellevue Claribes Prestige Bordeaux Supérieur as well as our choice of foods to accompany it. An herb-grilled breast of chicken provides a fine accompaniment to the 2017 Château Bellevue Claribes Prestige. An even more exciting companion is a traditional French dish, Chicken Barigoule, a rotisserie fried chicken breast with braised artichokes, garlic, pearl onions, carrots, asparagus, and tomatoes – a simple but very elegant meal that showcases the layered flavors of the 2017 Château Bellevue Claribes Prestige. Most white meats, including pork tenderloin, present other wonderful gastronomic opportunities with this superbly crafted Bordeaux Supérieur. However, given this wine's backbone and concentration, we are also happy to pair it with a perfectly grilled sirloin or ribeye steak topped with a savory portabella mushroom sauce. Bon Appétit!
Although Bordeaux reds such as the 2017 Château Bellevue Claribes Prestige Bordeaux Supérieur are often paired with poultry and red meats it is easy to lose sight of the fact that well-crafted Bordeaux wines provide equally compelling complements to many of the world's finest cheeses. Consequently, we suggest pairing the 2017 Château Bellevue Claribes Prestige Bordeaux Supérieur with a variety of international cheeses. Aged Gouda, Gruyère, Morbier, Muenster, and Port Salut are just a few gourmet cheeses that complement this wine. To learn more about the world's finest cheeses and wine and cheese pairings, contact us at www.cheesemonthclub.com.
Château Bellevue Claribes, a superlative 20-acre property owned by the Fontana family, sits atop the côtes of Bordeaux's Entre-Deux-Mers. This dynamic little château specializes in fashioning exceptional Merlot based wines, including the estate's award winning flagship offering from old vines, Château Bellevue Claribes Prestige Bordeaux Supérieur (this month's feature).
The vineyards at Château Bellevue Claribes enjoy an enviable terroir in the southern part of Entre-Deux-Mers where the high ground affords considerable protection against the all too frequent killing spring frosts that ravage Bordeaux. Moreover, Château Bellevue Claribes' calcareous soil and southwest facing slopes provide the ideal conditions for the cultivation of Merlot. In addition to the château's flagship Prestige offering, Château Bellevue Claribes also fashions a second wine in each vintage, an excellent lighter wine that also carries Bordeaux Supérieur appellation status.
Bordeaux is the world's largest fine wine producing region, encompassing nearly 300,000 acres, 60 individual appellations, and more than 7,300 châteaux. Appellations such as Margaux, Pauillac, and St. Émilion are legendary, as are the scores of collectible wines that flow from their vineyards. Indeed, the wine wares of Bordeaux (both the region and its wines are referred to as Bordeaux) are some of the finest and most expensive on Earth. Furthermore, Bordeaux remains a treasure trove of excellent, affordable, full-bodied red wines as this renowned viticultural region is the traditional home of Cabernet Sauvignon, Merlot, and Cabernet Franc, the three musketeers of almost all red Bordeaux and the basis for Meritage blends around the world. Malbec, Petit Verdot, and even Carmenère are other red Bordeaux varietals that figure into the cépage, or blend, of many Bordeaux châteaux. And what remains unknown to many consumers is that Bordeaux is also one of the planet's largest and greatest sources of white wine, principally from Sauvignon Blanc and Semillon.
Bordeaux, meaning beside the waters, refers to the region's proximity to the Atlantic Ocean and the broad estuary, the Gironde, for which the entire viticultural department (the equivalent of a county or state in the United States) is named. Bordeaux, the region as well as the department's leading city, lies at the center of the confluence of the Dordogne and Garonne Rivers, which flow into the Gironde, which redoubles Bordeaux's effort to live up to its name. Moreover, it is Bordeaux's proximity to the sea that provides a stable, moderate climate, which is favorable to the production of fine wine. This marriage to the sea has also provided the historical highway by which Bordeaux wines have traveled the world, gaining esteem and recognition long before most other landlocked wine regions were able to safely transport their wines overland to eager markets.
Since the first century BCE, when the Romans established themselves in Bordeaux and referred to the area as Biturigiaca, this ancient viticultural paradise has been a constant source of fine wine. Known to the emperors of Rome, popes, and poets (most notably Pliny and Ausonius), Bordeaux has enjoyed the envy of the wine producing world longer than any other wine region on Earth. From Pliny to the most contemporary wine critics, including Robert Parker Jr., Bordeaux wines have never gone out of favor. Besides, what other wine region can claim three millennia of continuous production and millions of satisfied customers?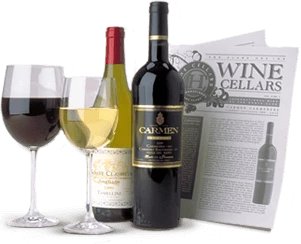 Enjoy Limited Production Estate
Bottled Wines
Discover limited production estate bottled wines such as Vergenoegd's internationally
acclaimed 2005 Cabernet Sauvignon, imported exclusively for our members.
DISCOVER OUR FOUR CLUBS