The 2016 Château Beauregard-Ducasse Albert Duran Graves provides ample evidence as to the quality and age worthiness of the much heralded 2016 Bordeaux vintage and why Graves remains a favorite among Bordeaux connoisseurs. In keeping with the vintage's great strength of character, the 2016 Château Beauregard-Ducasse Albert Duran offers intensity of flavor as well as a bright energetic core that will allow it to age gracefully for more than a decade. This Château Beauregard-Ducasse Albert Duran also displays a deep ruby robe and a delightful bouquet resplendent with enticing fruit and earth tones that made us wonder if the aroma alone isn't worth the cost of the wine. Although beautifully balanced and full of savory flavors that expand in the mouth, the youthful, full-bodied 2016 Château Beauregard-Ducasse Cuvée Albert Duran requires in true Bordeaux fashion some aeration to positively sing from the glass. With time to collect itself, it offers up a delightful mélange of blackberry and cassis fruit flavors tempered with touches of cedar, smoked herbs and finally toasted oak, which serves to frame the wine's firm tannins. This quintessential red Graves can be enjoyed now, though giving it several more years in the cellar will pay handsome dividends. For present consumption, we suggest at least 60 minutes of aeration (preferably in a decanter) for this exceptional age-worthy Graves to reveal its true depth and complexity before serving at cool room temperature (58°-62° F). Enjoy!
In authentic Graves fashion, the 2016 Château Beauregard-Ducasse Cuvée Albert Duran provides the quintessential accompaniment to an elegant dinner party. As a savory red Graves, the 2016 Château Beauregard- Ducasse Albert Duran truly shines at table. It graciously accompanies a myriad of well-prepared dishes from the simple to the sublime. Almost any veal dish, including Veal Pillows, tender cutlets of milk fed veal stuffed with cheeses and herbs, provide wonderful accompaniments to Château Beauregard-Ducasse's flagship red Graves. Duck Crépinettes topped with a lavender-orange sauce pairs beautifully, too. In the well-endowed 2016 vintage, the Perromat's 2016 Cuvée Albert Duran also provides the ideal foil to a grilled rib-eye or porterhouse steak. Almond Encrusted Pork Tenderloin served with a dried cranberry and apple conserve and savory wild rice offers another tasty complement. Cornish game hens, duck, and quail served with roasted root vegetables offer equally rewarding pairings with this vigorous, flavorful Graves. A platter of fine gourmet cheeses makes for a simple but satisfying combination, too, without having to spend hours in the kitchen. Gouda, Munster, Port Salut, and Reblochon are just a few savory cheeses to enjoy with the 2016 Château Beauregard-Ducasse Albert Duran. Bon appétit!
Château Beauregard-Ducasse Cuvée Albert Duran is an exceptional red Bordeaux named for the estate's founder. The young, affable Albert Perromat is now in charge of this family estate, making him the 7th generation in his family to make wine at Château Beauregard-Ducasse. Albert's family has been in possession of this venerable château since 1850 and Château Beauregard-Ducasse remains very much a family affair with Albert's parents still actively involved in the daily operation of the property located in the tiny Graves village of Mazères. Mazères lies in the southernmost rural section of the Graves region on a bed of gravel (from which the name Graves is derived). The Perromat's 27-acre estate occupies the highest ground in Graves, which serves to protect the surrounding vineyards from the late spring frosts that have recently decimated lower lying vineyards in Bordeaux, including those in the Médoc. Year in and year out, Château Beauregard-Ducasse produces excellent red and white Graves of exceptional value.
The majority of the estate's production is white Graves made from Semillon and Sauvignon Blanc, while the two red Graves of Château Beauregard-Ducasse consist of Merlot, Cabernet Sauvignon, Cabernet Franc, and in some vintages a healthy dose of Petit Verdot. In order to provide the highest quality wine, Château Beauregard-Ducasse produces two exceptional red Graves at the château, Château Ducasse and Château Beauregard-Ducasse Cuvée Albert Duran (the latter is the château's flagship wine and this month's feature). The Perromats also fashion two special white Graves, Château Ducasse Graves Blanc, a traditional white Graves meant to be consumed in the first five years of the vintage, and the more age-worthy Cuvée Albertine Peyri, a barrel fermented white Graves.
Bordeaux is the world's largest fine wine producing region, encompassing nearly 300,000 acres, 60 distinct appellations, and more than 7,300 individual châteaux. Appellations such as Graves, Margaux, Pauillac, and St. Émilion are legendary, as are the scores of collectible wines that flow from their vineyards. Indeed, the wine wares of Bordeaux (both the region and its wines are referred to as Bordeaux) are some of the finest and most expensive on Earth. Furthermore, this renowned viticultural region, which has become synonymous with full-bodied red wine, is also the traditional home of Cabernet Sauvignon, Merlot, and Cabernet Franc, the three musketeers of almost all red Bordeaux and the basis for Meritage blends around the world. Malbec, Petit Verdot, and even Carmenère are other traditional red Bordeaux varietals that frequently figure into the cépage, or blend, of many Bordeaux châteaux. And what remains unknown among consumers is that Bordeaux is equally adept at fashioning world-class white wines as well as red wines, most notably in Graves, the oldest and most historic of all the Bordeaux communes. In Graves, the traditional red varietals thrive along with Sauvignon Blanc and Semillon, the latter the source of the appellation's most compelling white wines.
Bordeaux, meaning beside the waters, refers to the region's proximity to the Atlantic Ocean and the broad estuary, the Gironde, for which the entire viticultural department (the equivalent of a county or state in the United States) is named. Bordeaux, the region as well as the department's leading city, lies at the center of the confluence of the Dordogne and Garonne Rivers, which flow into the Gironde, which redoubles Bordeaux's effort to live up to its name. Moreover, it is Bordeaux's proximity to the sea that provides a stable, moderate climate, which is favorable to the production of fine wine. This marriage to the sea has also provided the historical highway by which Bordeaux wines have traveled the world, gaining esteem and recognition long before most other landlocked wine regions were able to safely transport their wines overland to eager markets.
Since the first century BCE, when the Romans established themselves in Bordeaux and referred to the area as Biturigiaca, this ancient viticultural paradise has been a constant source of fine wine. Known to the emperors of Rome, popes, and poets (most notably Pliny and Ausonius), Bordeaux has enjoyed the envy of the wine producing world longer than any other wine region on Earth. From Pliny to the most contemporary wine critics, including Robert Parker Jr., Bordeaux wines have never gone out of favor. Besides, what other wine region can claim three millennia of continuous production and millions of satisfied customers?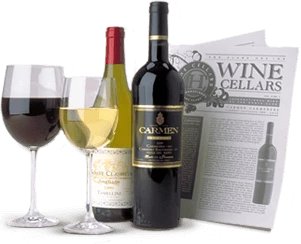 Enjoy Limited Production Estate
Bottled Wines
Discover limited production estate bottled wines such as Vergenoegd's internationally
acclaimed 2005 Cabernet Sauvignon, imported exclusively for our members.
DISCOVER OUR FOUR CLUBS