Chappellet's 2014 Double C Ranch Napa Chardonnay brings everything a Chardonnay lover could ask for in a wine. This is classic old-school Napa Chardonnay. It delights the nose with a bouquet of savory scents born of freshly picked apples and pears infused with delectable hints of toffee, vanilla, and spice. Juicy and silky smooth in the mouth, the 2014 Chappellet Double C Ranch Napa Chardonnay delivers pristine fruit flavors and a cornucopia of spice, toasted vanilla and more to make several of our most discriminating tasting panel members beg for a second and third glass. "A Chardonnay lover's dream," exclaimed several panel members to the resounding affirmation of the entire tasting panel. In the mouth, the wine caresses the palate with a harmonious mélange of flavors before exiting with charm, grace, and a lovely lingering finish. Kudos go to Phillip Corallo-Titus for his masterful winemaking skills and to the folks at Chappellet for their half century romance with the land, which has yielded many of Napa's finest wines. Enjoy the artfully crafted Chappellet Double C Ranch Napa Chardonnay with a moderate to light chill (40°-45° F). Salut!
What is most impressive about the 2014 Chappellet Double C Ranch Napa Chardonnay is how satisfying it is to sip and savor as an aperitif, yet it is equally gratifying at table with seafood, poultry and pasta. Although less prevalent than a decade ago, many premium California Chardonnays still seem built to shock and awe rather than ingratiate, but not Chappellet's Double C Ranch Chardonnay; it offers the ultimate in grace and charm as well as the perfect companion to Grilled Sea Bass prepared with a red pepper beurre blanc and served with a creamy tarragon infused polenta. Grilled Shrimp, served in a roasted red pepper and thyme sauce over risotto, makes another fine accompaniment. Mushroom Caps, stuffed with crabmeat and topped with an herb and prosciutto cream sauce, work magic with this wine, too. Veal Portofino, tender veal scaloppini sautéed in butter, mushrooms, sage, shallots, artichokes and cream also pairs nicely with the Double C Ranch Chardonnay. Pasta Primavera, a creamy vegetable-laden pasta, won't disappoint, either, in the company of the gracious 2014 Chappellet Double C Ranch Napa Chardonnay, but then again this Chardonnay can shine all by itself. Enjoy!
Hugh Johnson's quote says it all about Chappellet and the winery's Double C Ranch Napa Chardonnay, as well as just about every wine this iconic winery produces, which is one reason Chappellet has enjoyed a cult following for its rich, complex mountain-grown wines for nearly fifty years. Long time Chappellet winemaker Phillip Corallo-Titus deserves much of the credit for Chappellet's recent success, especially for the preeminence of the winery's award-winning Chardonnays.
Phillip Corallo-Titus is a passionate winemaker who has guided Chappellet's storied winemaking program for more than two decades. Building on Chappellet's legacy as one of California's preeminent producers of Cabernet Sauvignon, he has created Napa Chardonnays as compelling as the estate's legendary Cabernet Sauvignons. A gifted winemaker with a passion for experimentation, Phillip has not only embraced the diversity of Pritchard Hill and other select Napa AVAs to craft benchmark wines that authentically express the terroir-inspired complexity and character of their mountain origins, he has created additional offerings from several of Sonoma's most heralded vineyards, too. Finely crafted Chenin Blanc, Pinot Noir, Zinfandel, and Mountain Cuvee blends of Bordeaux varietals also merit serious attention from this winery, as one can always count on receiving vibrant, flavorful, and impeccably balanced wines from Phillip Corallo-Titus.
Chardonnay is the most widely cultivated white varietal on the planet. Twice each year at harvest time in its native France and countless locales on six continents north and south of the equator, Chardonnay grapes command premium prices. In tribute, Chardonnay produces the finest, most flavorful dry white wines in the world to which writers and connoisseurs devote countless columns and untold hours exalting its virtues and dissecting its flavors. Whether it be from Chablis or Champagne, Napa or Sonoma, or from the most illustrious of vineyards perched atop the slopes of Corton and Montrachet, Chardonnay is the yardstick by which all other dry white wines have come to be measured.
With food, Chardonnay is a peerless match. Chablis and other Chardonnays that see little or no oak provide superb complements to seafood. Fuller, fleshier, and more heavily oaked renditions of Chardonnay, typified by the best Argentinean and Californian versions, can more than hold their own with more complex fare, such as rich cream sauces, poultry and white meats. Moreover, the finest Chardonnay wines shine on their own, requiring nothing but a clean glass to please the palate, just like the Chappellet Double C Ranch Napa Chardonnay!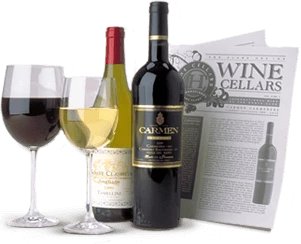 Enjoy Limited Production Estate
Bottled Wines
Discover limited production estate bottled wines such as Vergenoegd's internationally
acclaimed 2005 Cabernet Sauvignon, imported exclusively for our members.
DISCOVER OUR FOUR CLUBS