A brilliant, golden-yellow robe highlights the sprightly 2006 Caves des Grands Crus Blancs St. Véran, which makes a fine first impression. More importantly, this lovely round St. Véran follows through on the nose and exhibits a pronounced bouquet of soft scents: white fruits, citrus, minerals, and melted butter. In the mouth, one is struck by the tactile feel and soft texture of this medium-bodied, un-oaked Chardonnay that caresses the palate with hints of acacia, apple, pear, hazelnut, and more. In addition, the 2006 Caves des Grands Crus Blancs St. Véran is not to be outdone on the back end as it finishes with a long, crisp, refreshing afterglow. A finely balanced wine from the world's favorite white grape, the 2006 Caves des Grands Crus Blancs Saint Véran shines most intently when consumed only moderately chilled, so we suggest you give it few minutes to open in your glass in order for it to best strut its stuff.
Superb with grilled white meats and seafood, the 2006 Caves des Grands Crus Blancs St. Véran provides a splendid accompaniment to almost any table. For starters, it complements an array of tasty appetizers: Crispy Crab Rangoons or Wontons, Maryland Style Crab Cakes, Shrimp or Vegetable Rolls, even shrimp cocktail. Wasabi Sautéed Oysters, served with an anise sauce, baby spinach, prosciutto, and cashew vinaigrette in the company of this fine St. Véran make for an especially memorable start to an evening. Scallops and pistachio nuts, sautéed in a light cream sauce, is another perennial favorite. A simple crab cocktail or dip offers another fine pairing. In addition, almost any chicken dish prepared with cream sauce will highlight this wine. Light to medium flavored cheeses like Brick, Colby, or Monterey Jack with a loaf of crispy French bread provide plenty of companionship too. Furthermore, the 2006 Caves des Grands Crus Blancs St. Véran makes a compelling case as an aperitif – all by itself. Bon appétit!
The Caves des Grands Crus Blancs is one of the top wine cooperatives in France. Begun in 1929 as a union of small growers from the tiny Maconnais hamlets of Vinzelles and Loché, the Caves des Grands Crus Blancs has expanded over the years to represent growers in all the renowned appellations of southern Burgundy, including St. Véran, Pouilly-Fuissé, and Beaujolais. Its specialty, however, remains pure, unadulterated Chardonnay from the Maconnais. Although the International Wine of the Month Club rarely features wines by cooperatives or even negociants, the quality of the Burgundy wines that flow from the Caves des Grands Crus Blanc is not only on par with the quality we see from private estates in the Maconnais, it is even better. In the case of this winery's St. Véran, we found it a noticeable cut above the competition and even more compelling than many Pouilly-Fuissé – further evidence to support the adage that one cannot drink a label or a price tag, only the wine in the bottle. St. Véran: One of the Two Crown Jewels of the Maconnais St. Véran is one of the two finest appellations in the Maconnais of southern Burgundy; Pouilly-Fuissé is the other. St. Véran takes its name from the Macon village of Saint-Vérand; but, like most wine appellations in France, St. Véran encompasses a number of nearby villages in addition to its namesake, all of which sit upon the limestone-rich soil of an ancient sea bed, adjacent to Pouilly-Fuissé. Granted appellation status in 1971, St. Véran presently covers approximately 625 acres, devoted entirely to Chardonnay. Consequently, only white wine ever flows from the renowned appellation of St. Véran. Although quite similar in style to Pouilly-Fuissé, the wines of St. Véran typically exhibit a bit more flesh and fruit, and there is often added warmth to St. Véran that one rarely sees in Pouilly-Fuissé – a reminder that in this area of the Maconnais one has left northern France and is offered a first glimpse of the south, or Midi. And whereby Pouilly-Fuissé has built its reputation on supreme elegance and an ethereal quality that the French would describe as the preponderance of a certain je ne sais quoi, St. Véran wins admirers with a slightly rounder, more textured feel. Perhaps the best way to understand these two wines is to equate them with two sides of the same coin. Moreover, neither St. Véran nor Pouilly-Fuissé traditionally sees much oak barrel ageing, which serves to preserve the delicacy, roundness, and eminent drinkability that one has come to expect from the Macon's two crown jewels. Chardonnay: From the Maconnais to the World's Most Celebrated Grape Chardonnay is the most widely cultivated white varietal on the planet. Twice each year at harvest time (because the seasons are reversed in the northern and southern hemispheres) in its native Burgundy and in countless locales throughout the world, Chardonnay grapes command premium prices. In tribute, Chardonnay produces the finest, most flavorful dry white wines in the world, to which writers and connoisseurs devote countless columns and untold hours exalting its virtues and dissecting its flavors. Whether it be from the Maconnais or Champagne, Napa or McLaren Vale, or from the most illustrious of vineyards perched atop the slopes of Corton and Montrachet, Chardonnay is the yardstick by which all other dry white wines have come to be measured. From its origins in the Burgundy region of France, Chardonnay has traveled the globe. Today, Chardonnay is produced on all continents except Antarctica. In numerous locales Chardonnay now produces outstanding wine that reflects in every detail the climate and the soil (terroir) in which it is grown. Outside of Burgundy, Chardonnay's greatest success has been in California, where a number of areas stand out for quality. In the last decade Santa Barbara and Sonoma counties and Central California's Edna Valley have led the charge. With food, Chardonnay is a peerless match. Chablis and Macon-style Chardonnays provide superb complements to seafood and poultry. Meanwhile, fuller, fleshier Chardonnay wines, typified by the best Australian and Californian versions, more than hold their own with heavier complex fare, rich cream sauces, and even pork. Moreover, the finest Chardonnay wines shine on their own, requiring nothing but a clean glass to please the palate. Enjoy!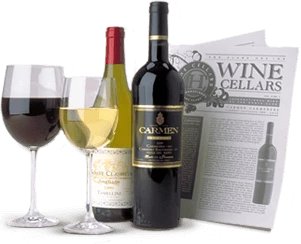 Enjoy Limited Production Estate
Bottled Wines
Discover limited production estate bottled wines such as Vergenoegd's internationally
acclaimed 2005 Cabernet Sauvignon, imported exclusively for our members.
DISCOVER OUR FOUR CLUBS