The 2006 Cavalchina Bianco di Custoza is as limpid and refreshing as a mountain stream. One panel member went so far to remark that "the 2006 Cavalchina Bianco di Custoza tastes like a cold draught of alpine spring water, with minerals and lemon zest." Indeed, this Bianco di Custoza weds quench ability to a host of distinctive, satisfying flavors. Bright, tangy, and brimming with nuanced flavors as well as more than a little bravado, the Cavalchina Bianco di Custoza remains the appellation's benchmark of quality. Although neither fat nor complex, it dazzles the senses with its scent and savor of lemon cream, lime sorbet, and eau de vie. And everything about this dry white wine conveys a satisfied air of simple elegance and personal comfort, which add to its charm and thirst quenching ability. We suggest serving the 2006 Cavalchina Bianco di Custoza well chilled (35°-40° F), at least initially, and then allowing it to slowly evolve in the glass as it warms. This is providing one doesn't consume the bottle in short order. For the too rapid consumption of the 2006 Cavalchina Bianco di Custoza there remains only one solution – another bottle. Enjoy!
The 2006 Cavalchina Bianco di Custoza is the natural scion of the local cuisine, which in this part of the Veneto draws heavily from the abundance of Lake Garda and nearby lakes and streams. The delicacy of trout and other delicate freshwater fish complement the elegance and distinction of Bianco di Custoza. Consequently, baked or grilled fish provide outstanding foils for this wine. However, heartier foods fare well, too, so why not try a three or four cheese pizza with fresh tomato and basil; a vegetable pizza, especially one with mushrooms, olives, or roasted red peppers; or even a classic pizza margherita? Thinly sliced prosciutto wrapped around balls of ripe honeydew melon offer another tasty treat with this refreshing wine. Yet one should not overlook the ability of the 2006 Cavalchina Bianco di Custoza to do double duty as an outstanding aperitif. Its fresh tangy flavors can set the stage for a rewarding meal and provide the perfect palate cleanser, too. Buon Appetito!
The Calvachina winery is located along the southern shore of majestic Lake Garda. It has belonged to the present owners, the Piona family, since the beginning of the 1900s. As far back as 1848 Cavalchina was registered officially as having the finest vineyards in the region, and they still do. After all, terroir is terroir and good winemaking remains the order of the day at Cavalchina. This is also an estate that is not afraid to experiment. Presently, the Piona family harvests grapes from two distinct sites: 16 hectares at the original Cavalchina estate in the Veneto and at La Prendina, a nearby parcel just over the regional border of Lombardia. Grapes from both estates are vinified at Cavalchina, but each is fermented and bottled individually. Cavalchina specializes in traditional regional wines, including the zone's finest Bianco di Custoza (a blend of Garganega, Tocai, and Trebbiano grapes) and several excellent Bardolino in varying styles. Giulietto Piona, the reigning family patriarch, invented Bianco di Custoza at Cavalchina in 1962; he is now considered the founder of that thriving DOC. Presently, his talented son Luciano makes all of the wine at Cavalchina. At Cavalchina and La Prendina, the estate wines are marvelously consistent and always delicious. Yet every vintage brings a new and interesting surprise from this ingenious proprietor: one barrel of an innovative and scrumptious dessert wine, a Bardolino Novello, an older vintage of something squirreled away in the cellar, or a wonderful vino da tavola. Luciano Piona always keeps life fun and interesting, just like the marvelous array of wines he and his family love to produce. And even though Luciano Pioni routinely fashions increasingly superlative wines from one vintage to the next (anyone who tasted Cavalchina's wines from the 2001 or 2004 vintages can readily attest to the ultimate quality of this estate's wines), the outstanding 2006 vintage may be responsible for Cavalchina's greatest efforts to date. Cavalchina's wines are enormously popular in their native Veneto, and they can be found in nearly all of the area's best restaurants and trattorias. One of the greatest pleasures of the regional Italian table (and in Italy there is only regional cooking; the concept of "Italian cuisine" is a myth of foreign invention) is to eat fresh lake fish and homemade pastas accompanied by a genuine Bardolino, Bianco di Custoza or estate bottled Soave. Wines of such breeding may be considered unassuming by those who have never tasted honest, estate bottled examples, but the traditional, authentic wines of the Veneto contribute so much to the splendor of the Venetian table and to the enjoyment of fine food, everywhere. Cavalchina's delicious wines are natural partners to northern Italy's culinary cavalcade. In fact, this estate's Bianco di Custoza and Bardolino are considered by consumers, critics, and local cognoscenti to be the consummate wines of their appellation and the finest accompaniment to the Veneto's regional fare, and we agree. Indeed, Cavalchina is in a class by itself.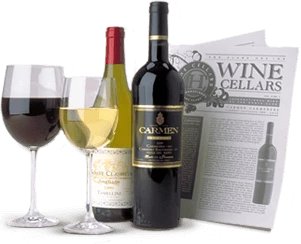 Enjoy Limited Production Estate
Bottled Wines
Discover limited production estate bottled wines such as Vergenoegd's internationally
acclaimed 2005 Cabernet Sauvignon, imported exclusively for our members.
DISCOVER OUR FOUR CLUBS