Bright, cherry-colored, fleshy, and round, the 2004 Cavalchina Bardolino is the perfect embodiment of all that is good and magical about authentic Bardolino – one of the Venteo's ultimate pleasures. As delicate as Venetian lace and as lusty as a Titian masterpiece, Cavalchina's 2004 Bardolino will have you reaching for a second bottle in no time. Simply stated, the 2004 Cavalchina Bardolino is the picture of style, elegance, and vivacity in a glass. Its compelling scent of black cherry fruit, marzipan and almond extract make for a most appealing olfactory profile. On the palate, warm round flavors married to youthful exuberance render the 2004 Cavalchina Bardolino the purest expression of the local Corvina, Rondinella, and Molinara grapes we have ever tasted. Medium bodied, refreshing, and immensely drinkable (the quintessential attributes of true Bardolino), the Cavalchina displays the ultimate Bardolino personality and a wealth of irresistible flavors. In short, this wine is downright huggable. Moreover, it has heart and soul to complement its forward, ever ingratiating personality. We suggest serving the 2004 Cavalchina Bardolino at cool room temperature in temperate climates (64°- 66° F) and at cellar temperature (55?- 60? F) in warm weather or less temperate locales in order to maximize enjoyment. We suggest thirty minutes of aeration in a decanter or just one or two minutes on AccelaBreathe, the amazing new wine tool that allows wines to air quickly, gently, and consistently. AccelaBreathe was developed by Dr. Michael Hunt, Ph.D. specifically for our wine tasting panel. Michael was formerly a Senior Research Chemist for E.I. Dupont de Nemours and is now a consulting member of our tasting panel. With AccelaBreathe you will never again have to open young red wines hours ahead in order for them to properly air or be on their best behavior. AccelaBreathe takes the time out of wine aeration and puts the fun back into tasting. AccelaBreathe is now available to our wine club members at a considerable cost savings. We heartily recommend this wonderful new wine tool. For more information on AccelaBreathe, contact www.accelabreathe.com
The 2004 Cavalchina Bardolino is a marvelously adaptable wine, with or without food. Its flavorful, medium bodied format suits most pastas and salads, so whether you are serving a simple chicken salad or homemade pasta with a complex sauce, the Cavalchina is ready and able to please. Heartier fare like risottos and grilled meats also offer appealing accompaniments. Stews, cassoulets, marinated grilled tuna steaks, and meatloaf are hardly too robust, either. In fact, a good hamburger or aged Angus sirloin are a treat with the 2004 Cavalchina Bardolino as well. Consequently, in spite of its fleshy, huggable nature, we suggest you not be fooled by this hedonistic effort because it packs a punch. It has plenty of flavor and alcohol and can stand up to piquant sauces and highly charged flavors, so as you like it.
The Calvachina winery is located along the southern shore of majestic Lake Garda. It has belonged to the present owners, the Piona family, since the beginning of the 1900s. As far back as 1848 Cavalchina was registered officially as having the finest vineyards in the region, and thankfully they still do. Presently, the Piona family harvests grapes from two distinct sites: 16 hectares at the original Cavalchina estate in the Veneto and at La Prendina, a nearby parcel just over the regional border of Lombardia. Grapes from both estates are vinified at Cavalchina, but each is fermented and bottled individually. Cavalchina specializes in traditional regional wines, including a very fine Bianco di Custoza and several excellent Bardolino (a blend of the local Corvina, Rondinella, and Molinara grapes) in varying styles. Giulietto Piona, the reigning family patriarch, invented Bianco di Custoza at Cavalchina in 1962; he is now considered the founder of that thriving DOC. Presently, his talented son Luciano makes all of the wine at Cavalchina. At Cavalchina and La Prendina, the estate wines are marvelously consistent and always delicious. Yet, every vintage brings a new and interesting surprise from this ingenious proprietor: one barrel of an innovative and scrumptious dessert wine, a Bardolino Novello, an older vintage of something squirreled away in the cellar, or a wonderful vino da tavola. Luciano Piona always keeps life fun and interesting, just like the marvelous array of wines he loves to produce. And even though Luciano Pioni routinely fashions increasingly superlative wines from one vintage to the next, the outstanding 2004 vintage may be Cavalchina's greatest effort to date, placing this estate into a whole other dimension. Cavalchina's wines are enormously popular in their native Veneto, and they can be found in nearly all of the area's best trattorias. One of the greatest pleasures of the regional Italian table (and in Italy there is only regional cooking as there is really no such thing as a national Italian cuisine) is to eat fresh lake fish and home made pastas accompanied by a genuine Bardolino, Bianco di Custoza or estate bottled Soave. Wines of such breeding may be considered unassuming by those who have never tasted honest estate bottled examples, but the traditional wines of the Veneto contribute so much to the splendor of the Venetian table and to the enjoyment of fine food, everywhere. Cavalchina's delicious wines are natural partners to northern Italy's culinary cavalcade. In fact, this estate's Bardolino is considered by consumers, critics, and local cognoscenti to be the consummate wine of the Bardolino appellation and the finest accompaniment to its regional fare. Certainly, we agree. Cavalchina is in a class by itself.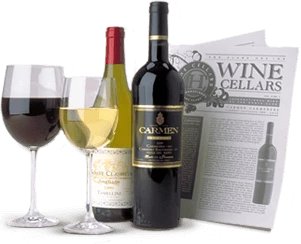 Enjoy Limited Production Estate
Bottled Wines
Discover limited production estate bottled wines such as Vergenoegd's internationally
acclaimed 2005 Cabernet Sauvignon, imported exclusively for our members.
DISCOVER OUR FOUR CLUBS