For centuries France dominated the production of world-class Pinot Noir. Burgundy and Champagne were the only games in town until California and Oregon got in the act, followed by Tasmania and others. Now, it is Chile's turn. Casas del Bosque has fashioned a riveting Pinot in their 2015 Casas del Bosque Reserva Pinot Noir from Casablanca Valley. Medium to full-bodied, this 2015 Pinot offers a savory nose along with plenty of juicy cherry and raspberry flavors, beautiful spice tones, fine texture, and ripe tannins. Youthful, exuberant and full of varietal flavor, it is easy to see why the 2015 Casas del Bosque Reserva Pinot Noir has received numerous 90+ ratings, including 92 Points from James Suckling. Enjoy this delicious world-class Casas del Bosque Pinot Noir at cool room temperature (60°-64° F) after a few minutes of aeration. Enjoy!
Fine Pinot Noir such as the 2015 Casas del Bosque Reserva Pinot Noir needs only time and a clean wine glass to delight. As a world-class Pinot Noir, Casas del Bosque's 2015 Reserva Pinot Noir constitutes a meal in itself. Nonetheless, there is no better wine to accompany food than Pinot Noir. Consider pairing the 2015 Casas del Bosque Reserva Pinot Noir with poultry, beef, lamb, pastas, cheeses, grilled vegetables, and even Ahi tuna. Lamb tenderloin served with Pinot Noir au jus offers an incomparable partner to this wine. Roast turkey with all of the trimmings provides another splendid accompaniment. Duck confit, herb encrusted pork tenderloins, smoked meats, and all kinds of charcuterie make excellent pairings, too. Poppy seed crusted Ahi tuna served with soba noodle salad and a lobster chipotle sauce creates more magic in the company of a bottle of 2015 Casas del Bosque Reserva Pinot Noir. A roasted turnip and leek soup or roasted root vegetables also make fine companions to Casas del Bosque's splendid Pinot Noir. Enjoy!
Chile continues to be a source of exceptional wines for quality, value and variety. This is due largely to the burgeoning number of boutique wineries such as Casas del Bosque that continuously push the envelope on quality through excellent vineyard management, site selection and meticulous attention in the cellar.
Casas del Bosque sprang to life in 1993 as a family boutique winery dedicated exclusively to the production of high quality wines. And by all accounts this boutique operation is ably fulfilling its mission, as the recent spate of 90+ point ratings from world renowned critics will attest. Casas del Bosque is located just 40 miles from Chile's capital of Santiago and a mere 18 miles from Chile's principal port of Valparaiso. This boutique operation cultivates its own vineyards in the nearby Casablanca Valley, the preferred place for premium Pinot Noir, Syrah, and white grape varieties. They also have significant vineyard holdings in the premier red wine producing valleys of Maipo and Rapel south of Santiago, areas noted for fashioning exceptional Carmenère and Cabernet Sauvignon. Casas del Bosque's meticulous attention to vineyard management and careful site and varietal selection guarantee superior fruit for the winery's portfolio of high quality wines. Such care has also earned Casas del Bosque the distinction of Chilean Winery of the Year at the International Wine and Spirits Competition in London for two years in a row and most recently Decanter magazine's Platinum Award for the estate's Syrah.
Presently, Casas del Bosque has approximately 500 acres of vines under cultivation, which are spread throughout Chile's best viticultural valleys and microclimates. Sauvignon Blanc, Chardonnay, Pinot Noir, and Syrah hail from the winery's superb Casablanca holdings, while Casas del Bosque's exceptional ultra-premium Carmenère and Cabernet Sauvignon red wines emanate from the warmer Rapel and Maipo valleys. The winery's Pequeñas Producciones (very limited productions) of Sauvignon Blanc, Pinot Noir, and Syrah are Casas del Bosque's ultimate luxury offerings.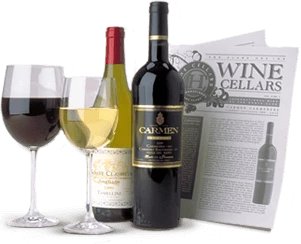 Enjoy Limited Production Estate
Bottled Wines
Discover limited production estate bottled wines such as Vergenoegd's internationally
acclaimed 2005 Cabernet Sauvignon, imported exclusively for our members.
DISCOVER OUR FOUR CLUBS