The 2021 Casas del Bosque Reserva Sauvignon Blanc continues the winery's Midas touch with Sauvignon Blanc, and it lends further credence to Chile's Casablanca Valley as a truly world-class source for Sauvignon Blanc. Casas del Bosque consistently fashions Sauvignon Blancs that rival those of Bordeaux and the Loire Valley, France's centuries-old bastions of Sauvignon Blanc. The 2021 Casas del Bosque Casablanca Reserva Sauvignon Blanc offers the crispness and minerality of French Sancerre, the juicy citrus flavors of New Zealand Sauvignon Blanc, and beautiful fig and melon flavors as well as an aromatic intensity that only Chile seems to impart to Sauvignon Blanc: a delightful mélange of citrus, melon, and herb that intensifies as the wine rests in the glass. Bright in color, captivating in aroma, and delicious in flavor, the exuberant 2021 Casas del Bosque Casablanca Reserva Sauvignon Blanc is mouth-filling and built along the same lines as its predecessors, which have earned multiple 90 point ratings and were Wine Spectator Recommended Selections. For optimal enjoyment, we suggest moderate chilling (40º-45º F). And, although gratifying from the moment it is poured, we also suggest affording Casas del Bosque's balanced, artfully crafted 2021 Reserva Sauvignon Blanc a few minutes of aeration in the glass in order to reveal its multitude of flavors. Anticipated maturity: 2022-2024. Enjoy!
As we have come to expect, Casas del Bosque's 2021 Casablanca Reserva Sauvignon Blanc makes a splendid aperitif. Consequently, it is easy to forget that this Sauvignon Blanc also thrives at table in the company of seafood, salads, pastas, white meats and many types of cheeses. Although ebullient and a pleasure to drink on its own or with just a few slices of cheese, apple or pear, the 2021 Casas del Bosque Casablanca Reserva Sauvignon Blanc, like its esteemed predecessors, truly shines in the company of seafood. A bowl of New Zealand Green Tip Mussels steamed in a tasty broth provides ideal companionship to Casas del Bosque's Reserva Sauvignon Blanc. Clams and oysters, sautéed or on the half shell, provide great foils, too. For those who prefer fish and shellfish: filets of cod, flounder, grouper, and halibut poached in white wine, garlic, herbs, and a dash of mustard also offer tasty accompaniments. Light tempuras and herb encrusted shrimp or prawns provide more tasty treats. For those who eschew seafood, Casas del Bosque's Sauvignon Blanc complements tasty Asian dishes, including Hunan Chicken, fresh Thai or Vietnamese spring rolls, and lightly curried vegetarian specialties. Charcuterie that's artfully cured and sliced thin, soft and hard cheeses, and raw vegetables provide other tasty accompaniments. And, for those who prefer simple salads, consider serving the 2021 Casas del Bosque Casablanca Reserva Sauvignon Blanc with a personal favorite, Mediterranean Chicken Salad, which is made with walnuts, grapes and goat cheese and served over a bed of arugula or mixed organic greens. Is anyone hungry and thirsty? Bon Appétit or should we say Buen Provecho?
Casas del Bosque continues to be a source of exceptional wines for quality, value and variety, but nowhere is this more the case than with Sauvignon Blanc. Always Chile's go-to white varietal, the world is just now tasting how good Chilean Sauvignon Blanc is in the wake of New Zealand's inability to deliver much of its mass-produced Sauvignon Blanc after poor vintages. The burgeoning interest in Chilean Sauvignon Blanc also owes much to Casas del Bosque, an award winning winery that continuously pushes the envelope on quality through excellent vineyard management, site selection and meticulous attention in the cellar. No mass-produced plonk emanates from this winery, only quality wine at prices wine lovers can afford.
Casas del Bosque sprang to life in 1993 as a family boutique winery dedicated exclusively to the production of high quality wines. And, by all accounts, this boutique operation is ably fulfilling its mission, as the recent spate of 90+ point ratings from world renowned critics will attest. Casas del Bosque is located just 40 miles from Chile's capital of Santiago and a mere 18 miles from Chile's principal port of Valparaiso. This boutique operation cultivates its own vineyards in the nearby Casablanca Valley, the preferred place for growing premium Sauvignon Blanc and other white varietals. They also have significant vineyard holdings in the premier red wine producing valleys of Maipo and Rapel south of Santiago, areas noted for fashioning exceptional Carmenère and Cabernet Sauvignon. Casas del Bosque's meticulous attention to vineyard management and careful site and varietal selection guarantee superior fruit for the winery's portfolio of high quality wines. Such care has also earned Casas del Bosque the distinction of Chilean Winery of the Year twice in recent years at the International Wine and Spirits Competition in London.
Presently, Casas del Bosque has more than 500 acres of vines under cultivation, which are spread throughout Chile's best viticultural valleys and microclimates. Sauvignon Blanc, Chardonnay and Riesling hail from the winery's superb coastal Casablanca holdings and form the backbone of the estate's white wine portfolio. Exceptional Pinot Noir and Syrah are also cultivated by Casas del Bosque in Casablanca. Casas del Bosque's exceptional ultra-premium Carmenère and Cabernet Sauvignon red wines emanate from the warmer Rapel and Maipo valleys to the south of Santiago. The winery's Pequeñas Producciones (very limited productions) of Sauvignon Blanc, Pinot Noir, and Syrah are Casas del Bosque's ultimate luxury offerings and constitute several of South America's most prestigious wines.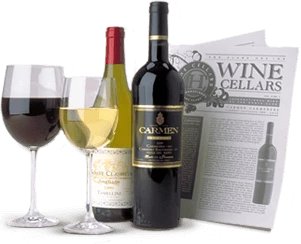 Enjoy Limited Production Estate
Bottled Wines
Discover limited production estate bottled wines such as Vergenoegd's internationally
acclaimed 2005 Cabernet Sauvignon, imported exclusively for our members.
DISCOVER OUR FOUR CLUBS