Malbec by nature produces a deeply colored wine and most premium Malbecs can be counted on to capture the eye with a deep purple robe that emits flashes of ruby and violet, but few beckon the taster to linger over Malbec's aromatics the way the 2014 Casarena Estate Malbec does. Brilliant to the eye and amplifying in aroma, the 2014 Casarena Estate Malbec offers an enticing bouquet of plum and raspberry fruit, spice and forest woodlands, which makes one pause and wonder why all Malbecs are not created equal. Upon tasting, the 2014 Casarena Estate Malbec solidifies its lofty reputation by offering plenty of berry and leaf flavors as well as savory spice tones and touches of orange peel to delight the palate – all without mouth-ripping tannins. The 2014 Casarena Estate Malbec offers a mouth-filling glass of Malbec without the rusticity and splintery tannins that too often accompany lesser Malbecs. Instead, Casarena's Estate Malbec demonstrates that Malbec can be more than a glass of big red wine; it can be balanced and beautiful, and finish on a satisfying note. Afford this young Malbec at least 15 minutes of aeration and enjoy it at cool room temperature (60º-65º F).
In Argentina, there would be little doubt as to the proper accompaniment to the 2014 Casarena Estate Malbec. It would be beef, beef, and more beef, and perhaps a bit of chicken or pork before the beef. We can't argue with the logical pairing, but we have enjoyed Casarena's 2014 Estate Malbec with a host of other foods in addition to Prime Rib au jus, Grilled Filet Mignon, and Beef Tenderloin encrusted with black pepper and herbs. Grilled Stuffed Veal Chops served with roasted Red Bliss potatoes and caramelized Brussels sprouts with pancetta provide wonderful companionship to Casarena's Estate Malbec, too. Rack of Lamb and Crown Roast of Pork make fine accompaniments as well. Eggplant or Chicken Parmigiana offers another tasty accompaniment. And a heart healthy vegetarian dish of black beans and brown rice served with a dash of Tabasco and good Extra Virgin Olive Oil won't disappoint, either. In fact, we like this simple combination so much that it's become a staple with Malbec. Buen Provecho!
Casarena is a young boutique winery that enjoys a well-deserved reputation for producing wines of uncompromising quality at all levels of its portfolio. In a land of extremes and in a viticultural region known equally for oceans of cheap, hunky, one-dimensional wines as well as expensive, complex, full-bodied masterpieces, Casarena shines as a beacon of quality and value. Situated in Mendoza's premier viticultural areas of Agrelo and Lujan de Cuyo, Casarena's ultimate goal is to become Mendoza's greatest vineyard project. Casarena utilizes Mendoza's finest terroirs at differing elevations to produce world class wines.
Eno Rolland (renowned Bordeaux oenologist Michel Rolland's team of consultants) oversees the vinification at Casarena. So, not surprisingly, Casarena's definitive mantra is "less quantity, more quality." All of the grapes for Casarena's wines come from the estate's own vineyards and the resulting wines are made by controlling every aspect of the vinification process. Casarena sets high standards for its wines. It sells in bulk any juice that does not come up to its standards in order to maintain the consistency, quality and integrity of the wine sold as Casarena – a rarity in Argentina. Alejandro Sejanovich, of Catena fame, spearheads the viticulture at Casarena, ensuring that every plant reaches its maximum potential.
The Casarena line of wine hails from carefully selected parcels of vineyards, and has been aged in French Oak. Cabernet Sauvignon, Chardonnay and Malbec constitute the lion's share of the estate's production, with Casarena's Malbec being the perennial star. Much of the estate's grapes come from a parcel of old vines that Casarena purchased shortly after founding the winery. Casarena's Estate Malbec offerings provide unsurpassed quality and value.
Malbec is one of the original red wine grapes of Bordeaux, France (where it is called Cot or Pressac). While Malbec plays a purely supporting role today in Bordeaux, adding color and body to the region's Merlot and Cabernet blends, it remains one of the six legal grape varieties permitted in red Bordeaux (along with Cabernet Sauvignon, Cabernet Franc, Merlot, Petit Verdot, and Carmenère). However, south of Bordeaux in the region of Cahors, Malbec still reigns supreme. It remains the chief grape used in what historically has been called the "black wine" of Cahors.
Despite its deep French roots, Argentina has come to fore as the contemporary champion of Malbec, where the varietal reigns as the most important grape variety, both in terms of quality and quantity. The best Argentinean Malbecs and Malbec blends offer considerable flavor and body at a relatively young age, yet they remain age-worthy wines capable of true distinction.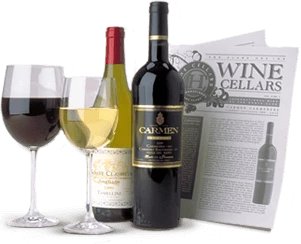 Enjoy Limited Production Estate
Bottled Wines
Discover limited production estate bottled wines such as Vergenoegd's internationally
acclaimed 2005 Cabernet Sauvignon, imported exclusively for our members.
DISCOVER OUR FOUR CLUBS