Casarena's 2011 Estate Chardonnay reminds us of traditional white Burgundy from the prestigious commune of Puligny-Montrachet. For starters, this wine catches the eye with its radiant robe, a sun-struck color tinged with a glint of green. Elegant and inviting to the nose, it offers more than a few alluring hints of what is to follow. Beautiful, aromatic, and long on the palate, Casarena's Estate Chardonnay has it going on. It delivers delicious crisp stone fruit flavors and a long, deep draught of fruit and spice that ever so gently seem to ebb and flow like the tide to tantalize the taste buds. The 2011 Casarena Estate Chardonnay is not one of those blockbuster monolithic offerings that upon first sip wows the palate and then quickly begins to wear on it like a damp, wool blanket. Instead, it offers elegance and complexity in its formidable flavor profile, and it evolves with time: at first the wine's evolution in the glass is nearly imperceptible, but with just a bit of aeration the 2011 Casarena Estate Chardonnay begins to unfold and reveal more of itself with each successive sip. Unlike some monster Chardonnays, Casarena's Chardonnay exhibits a beautiful integration of oak and crisp natural acidity to balance its formidable fruit. We suggest moderate chilling (40°-45° F) and a few minutes in the glass to collect itself before imbibing. Enjoy!
The 2011 Casarena Estate Chardonnay offers an ideal complement to a fine meal, although many of us will attest to sipping and savoring this delightful Chardonnay all by itself. However, given the wine's affinity to enhance the taste of food, one might want to pair it with a classic appetizer such as salmon pâté, a creamy crab dip, or savory scallop appetizer. Crab Imperial, lobster bisque, and Prince Edward Island mussels in a creamy broth provide especially tasty complements. For pairing with a main course, why not consider Chicken Cordon Bleu or a Northern Italian pasta or rice dish such as Fettuccine Alfredo or Risotto Milanese? The latter provides an especially savory accompaniment in which the saffron in the Risotto Milanese and the spice from the Casarena Chardonnay play off each other. Another pleasing accompaniment includes Prosciutto wrapped Alaskan halibut, served with a roasted red pepper relish. Ham and pork make good companions as well. And one of the simplest accompaniments is also one of our favorites – cheese. Gouda, Gruyere, and most un-smoked cheeses afford an ideal way to begin or end an enjoyable meal in the company of Casarena's 2011 Estate Chardonnay.
Casarena is a young boutique winery that enjoys a well-deserved reputation for producing wines of uncompromising quality at a fair price. In a land of extremes and in a viticultural region known equally for oceans of cheap, hunky one dimensional wines as well as expensive, complex full-bodied masterpieces, Casarena shines as a beacon of quality and value. Situated in Mendoza's premier viticultural areas of Agrelo and Lujan de Cuyo, Casarena's ultimate goal is to become Mendoza's greatest vineyard project. Casarena utilizes Mendoza's finest terroirs at differing elevations to produce world class wines.
Eno Rolland (renowned Bordeaux oenologist Michel Rolland's team of consultants) oversees the vinification at Casarena. So, not surprisingly, Casarena's definitive mantra is "less quantity, more quality." All of the grapes for Casarena's wines come from the estate's own vineyards and the resulting wines are made by controlling every aspect of the vinification process. Casarena sets high standards for its wines. It sells in bulk any juice that does not come up to its standards in order to maintain the consistency, quality and integrity of the wine sold as Casarena – a rarity in Argentina. Alejandro Sejanovich, of Catena fame, spearheads the viticulture at Casarena, ensuring that every plant reaches its maximum potential.
The Casarena line of wine hails from carefully selected parcels of vineyards that have been aged in 100% new French Oak. Cabernet Sauvignon and Chardonnay constitute the winery's two most important players, though Malbec and Sauvignon Blanc provide the raw materials for other splendid Casarena wines. Much of the estate's Cabernet comes from a parcel of old vines that Casarena purchased shortly after founding the winery. In coming years, Casarena plans to introduce several additional single vineyard varietals and blends.
Chardonnay is the most widely cultivated white varietal on the planet. Twice each year at harvest time (because the seasons are reversed in the northern and southern hemispheres) in its native France and countless locales on six continents, Chardonnay grapes command premium prices. In tribute, Chardonnay produces the finest, most flavorful dry white wines in the world, to which writers and connoisseurs devote countless columns and untold hours exalting its virtues and dissecting its flavors. Whether it be from Chablis or Champagne, Mendoza or Napa, or from the most illustrious of vineyards perched atop the slopes of Corton and Montrachet, Chardonnay is the yardstick by which all other dry white wines have come to be measured.
With food, Chardonnay is a peerless match. Chablis and other Chardonnays that see little or no oak provide superb complements to seafood. Fuller, fleshier, and more heavily oaked renditions of Chardonnay, typified by the best Argentinean and Californian versions, can more than hold their own with more complex fare, such as rich cream sauces, poultry and white meats. Moreover, the finest Chardonnay wines shine on their own, requiring nothing but a clean glass to please the palate.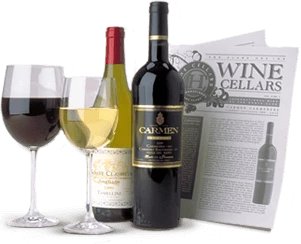 Enjoy Limited Production Estate
Bottled Wines
Discover limited production estate bottled wines such as Vergenoegd's internationally
acclaimed 2005 Cabernet Sauvignon, imported exclusively for our members.
DISCOVER OUR FOUR CLUBS