The 2005 Casa Silva Reserva Viognier is, indeed, the finest Viognier wine we have ever tasted from South America. Moreover, it is also one of the finest New World examples of the mercurial Viognier grape that we have ever tasted. Kudos to winemaker Mario Geise and the Casa Silva team for fashioning such a splendid Viognier! Up front, in your face, amplifying Viognier, the 2005 Casa Silva Reserva sports a knockout nose that is loaded with pure ripe fruit, the heady scents of the first spring flowers, and a haunting subtle spice that conjures images of an Oriental bazaar. The aroma alone on the Casa Silva Viognier is worth the price of the bottle. "This wine smells so good it's almost a shame to drink it," was a comment uttered by more than one taster. Yet, for those who are willing to take the plunge, there is plenty of mouth filling flavor: pear, tropical fruits, haunting spice, and much more. Add sublime texture and a pleasantly dry finish and you have world class wine that dazzles.
In the Old World as well as the New World, Viognier is considered by connoisseurs to be the quintessential aperitif. Good Viognier is strong and vinous, yet hauntingly delicate, which makes it a fine way to start or make a special evening. The 2005 Casa Silva Viognier is no exception. Indeed, Mario Geise's most recent release can more than stand or be sipped on its own. To its credit, it also pairs well with simple foods as well as hard to match specialties or dishes that ordinarily overwhelm less endowed examples of Viognier. We suggest you try the Casa Silva Reserva Viognier with delicately prepared Asian specialties, such as a Thai Crab Ran goon or an Oriental Lump Crab Roll. Traditional western style crab dips make excellent accompaniments, too. Baked, poached or sautéed white fish, especially when served with a light cream sauce or fruit based chutney, provide interesting and palate pleasing accompaniments, too. Pork Tenderloin can also provide a handsome companion, providing it is roasted rather than grilled, and served with a delicate, fruit based salsa. Mild cheeses and pâtés provide other winning combinations with the 2005 Casa Silva Reserva Viognier. Enjoy!
Casa Silva continues to astound with the quality as well as the variety of the wines it produces. Indeed, this is a very clean, well run winery that is not afraid to ratchet up the quality with each passing vintage. Undoubtedly, Casa Silva is one of a hand full of South America's very finest wine estates. Located some two hundred kilometers south of Santiago, in the heart of Colchagua, an area many are now calling Chile's Napa Valley, Casa Silva has garnered more recognition and awards at international wine competitions than any other Chilean winery. Furthermore, Catad'Or Hyatt, Chile's most prestigious wine competition, has named Casa Silva "the Best Chilean Producer" three consecutive times. And that's not all, the International Wine & Spirit Competition recently named Casa Silva as "The best South American Producer." Kudos to the Silva family, father Mario and sons Mario Pablo, Gonzalo, and Francisco, and Mario Geise, the winery's outstanding consulting enologist, for taking this beautiful property to such lofty heights in just ten years time. Surprisingly, Casa Silva's inception dates back to only 1997, the year this property began bottling premium wines under its own name. However, historical accounts tell us that the Silva family's predecessors were pioneers in Colchagua more than a century ago, when they brought the first grape varieties from France to their Angostura estate at the base of the towering Andes. Today, the Silvas remain pioneers: they are Colchagua's foremost experts on Carmenère, Chile's emblematic red grape variety, and they produce the finest Sauvignon Gris and Viognier in South America. Moreover, this great property is at the vanguard of South America's success with many other grape varieties, including Sauvignon Blanc, Semillon, and Cabernet Sauvignon. Casa Silva contains many old vines, some approaching 100 years of age, which helps account for quality. The Casa Silva estate is located at the northern edge of the Colchagua Valley at the foot of the Cordilleran Andes. This is a magical place that is steeped in sheer physical beauty as well as Chilean tradition. Colchagua's natural climatic conditions and terroir make it an extraordinary place to produce wine, which in no small way accounts for the great number of award winning wineries now in Colchaugua. This pioneering Chilean valley actively promotes its appellation and was the first to establish a bona fide wine route for visitors. Today, it is Chile's most important wine region, and nearly all of its grapes are premium varietals: is there any longer a doubt as to why the wines of Colchagua are the most highly acclaimed in South America? As pioneers in viticulture, the Silvas, along with their masterful winemaker Mario Geise, have established several vineyard estates in Colchagua, each specializing in the production of one or more varietals that are especially suited to that estate's terroir. From these individual estates, single vineyard offerings are produced that reflect the best that Casa Silva produces, and that is saying a lot. From Los Lingues comes a very flavorful and sophisticated Cabernet Sauvignon as well as the estate's classic Carmenère. Meanwhile, Lolol specializes in a big, chewy Syrah that has recently been released in North America. Presently, Viognier is winemaker Mario Geise's personal project and his most recent coup de grace.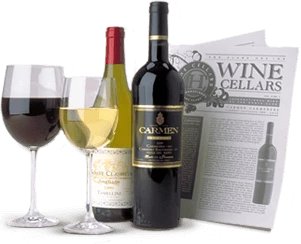 Enjoy Limited Production Estate
Bottled Wines
Discover limited production estate bottled wines such as Vergenoegd's internationally
acclaimed 2005 Cabernet Sauvignon, imported exclusively for our members.
DISCOVER OUR FOUR CLUBS