Mario Geise enjoys an international reputation as the "King of Carmenère," but he is equally adept with Cabernet Sauvignon and other French varietals, which he demonstrates unequivocally in the 2004 Quinta Generacíon, a blend of 40% Cabernet Sauvignon, 40% Carmenère, 15 % Syrah, and 5% Petit Verdot. The 2004 Quinta Generacíon from Casa Silva is simply knockout stuff. From the wine's deep purple robe to its long, illustrious finish, the 2004 Quinta Generacíon is testimony to just how stunning the wines of Colchagua can be in the hands of a master winemaker. This special offering from Casa Silva is barely three years old, yet already it possesses Bordeaux like finesse and tremendous depth of flavor. Presently, blueberry, cassis, dark chocolate, and oriental spice form a seductive olfactory attack, which intensifies on the palate and finishes in a crescendo of flavor as it rides a wave of ripe, soft tannin. At the moment, the wine's majestic Carmenère component, with its forward fruit and herbal, woodsy tones are most in evidence, but given another year or two in bottle, the very forward, spicy component in this wine from Carmenère will recede slightly as it integrates into the suave, mouth filling flavors of Quinta Generacíon's Cabernet Sauvignon, Syrah, and Petit Verdot. Furthermore, the essences of blackberry, blueberry, cedar, and roasted coffee will come to fore and reveal a whole new dimension to this special wine. Perhaps, what is most impressive about the 2004 Quinta Generacíon is that one can unequivocally sit and enjoy it now, in all its youthful ardor, or one can wait a year or two or more and partake of a legend. Although already layered, textured, and immediately appealing, the 2004 Quinta Generacíon will only continue to improve in bottle. Enjoy this expressive luxury offering from Casa Silva at cool room temperature (60°-66° F), after at least thirty minutes of aeration. Anticipated maturity: 2008-2012.
The deeply colored, richly endowed 2004 Casa Silva Quinta Generacíon offers almost any meat or cheese dish the opportunity to shine in its company. However, winemaker Mario Geise has a penchant for fashioning full-flavored wines at Casa Silva that not only pair well with a host of foods but also offer tremendous drinking pleasure on their own, even when young. Not surprisingly, this is again the case with the 2004 Quinta Generacíon. Unadorned, one has the full effect of all the rich flavor and subtle nuances of scent and savor that Quinta Generacíon has to offer. Nonetheless, wine is food, and well-chosen companions will not only complement and enhance a meal, they will allow a wine like the 2004 Quinta Generacíon to reach its ultimate potential. With this in mind, we suggest pairing the 2004 Casa Silva Quinta Generacíon with such classics as Beef Wellington, Duck à l'Orange, or Grilled Loin Lamb Chops. In other words, treat this wine like classified Bordeaux or the finest California Meritage. However, what may come as a surprise to some is that Quinta Generacíon will also shine when paired with tapas and other Mediterranean favorites such as Pork Shoulder with lentils or Valencia Style Paella, with saffron rice, mussels, shrimp, chicken, and chorizo sausage. And that is just for starters. Contemporary cuisine favors full robust flavors, for which Quinta Generacíon is well suited, so no need to fear experimentation. After all, five generations of pioneering Silvas can't be wrong. Enjoy!
Casa Silva is the most exciting winery in South America. From the top of its very long list of award winning wines to the very bottom, this outstanding winery continues to astound with the quality as well as the variety of the wines it produces. Unquestionably, this is one immaculate, well-run family affair that is not afraid to ratchet up the quality with each passing vintage. Undoubtedly, Casa Silva is among the growing number of elite, world class wine estates in South America. Located some two hundred kilometers south of Santiago, in the heart of Colchagua, an area many are now calling Chile's Napa Valley, Casa Silva has garnered more recognition and awards at international wine competitions than any other Chilean winery. Furthermore, Catad'Or Hyatt, Chile's most prestigious wine competition, has named Casa Silva "the Best Chilean Producer" three consecutive times. And that's not all, the International Wine & Spirit Competition recently named Casa Silva as "The best South American Producer." Kudos to the Silva family, father Mario and sons Mario Pablo, Gonzalo, and Francisco, and Mario Geise, the winery's outstanding consulting enologist, for taking this beautiful property to such lofty heights in just ten years' time. Surprisingly, Casa Silva's inception dates back to only 1997, the year this property began bottling premium wines under its own name. However, historical accounts tell us that the Silva family's predecessors were pioneers in Colchagua more than a century ago, when they brought the first grape varieties from France to their Angostura estate at the base of the towering Andes. Today, the Silvas remain pioneers: they are Colchagua's foremost experts on Carmenère, Chile's emblematic red grape variety, and they produce the finest Sauvignon Gris and Viognier in South America. Moreover, this great property is at the vanguard of South America's success with many other grape varieties, including Sauvignon Blanc, Semillon, and Cabernet Sauvignon. Casa Silva contains many old vines, some approaching 100 years of age, which help account for the quality and intensity of their wines. The Casa Silva estate is located at the northern edge of the Colchagua Valley at the foot of the Cordilleran Andes. This is a magical place that is steeped in sheer physical beauty as well as Chilean tradition. Colchagua's natural climatic conditions and terroir make it an extraordinary place to produce wine, which in no small way accounts for the great number of award winning wineries now in Colchagua. This pioneering Chilean valley actively promotes its appellation and was the first to establish a bona fide wine route for visitors. Today, it is Chile's most important wine region, and nearly all of its grapes are premium varietals. Is there any longer a doubt as to why the wines of Colchagua are the most highly acclaimed in South America? As pioneers in viticulture, the Silvas, along with their masterful winemaker Mario Geise, have established several outstanding vineyard estates in Colchagua, each specializing in the production of one or more varietals that are especially suited to that estate's terroir. From these individual estates, several single vineyard offerings are produced along with an outstanding luxury grand vin called Quinta Generacíon. Quinta Generacíon reflects the best that Casa Silva produces, and that is saying a lot. Quinta Generacíon is a special wine that is made to commemorate the experience of five wine making generations within the Silva family. It hails from the family's prized single vineyard estates. From the Los Lingues vineyard come very flavorful and sophisticated Cabernet Sauvignon, the finest barrels of Petit Verdot, and the estate's classic Carmenère. Meanwhile, the Lolol vineyard furnishes big, chewy Syrah. Together, these varietals combine majesty with power for which winemaker Mario Geise deserves high praise. In Quinta Generacíon Geise has created a stunning Meritage style wine that ranks among the elite.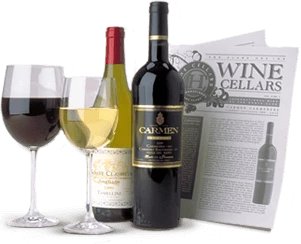 Enjoy Limited Production Estate
Bottled Wines
Discover limited production estate bottled wines such as Vergenoegd's internationally
acclaimed 2005 Cabernet Sauvignon, imported exclusively for our members.
DISCOVER OUR FOUR CLUBS