With the release of Casa Silva's 2005 Los Lingues Gran Reserva Carmenère there is no doubt as to Mario Geisse's reputation as the "King of Carmenère." The 2005 Casa Silva Los Lingues Gran Reserva Carmenère is simply the most stunning example of Chilean Carmenère available. As good as this estate's regular 2005 Reserva Carmenère was, the 2005 Los Lingues Gran Reserva is even better. It is knockout stuff upon which legends are made. Truly, aficionados of Chile's emblematic varietal will be talking about this wine for years to come. The 2005 Los Lingues Gran Reserva sports a deeply saturated purple robe with ruby highlights and a bouquet that can fill a room with its breath. Deep woodsy scents, entwined in rich blackberry fruit, and edged with hints of dark chocolate, leather, and spice form a savory olfactory attack. In the mouth, herbal, woodland flavors mingle with plenty of ripe, solid fruit to add complexity and intrigue – in typical Casa Silva fashion. The essences of blackberry, blueberry, and cherry dominate the wine's deep center and are mingled with fine grained notes of coffee and cocoa. And to make matters even more attractive, all this goodness lies wrapped in a blanket of soft, ripe tannin and toasty oak. Layered, textured, and immediately appealing, the 2005 Casa Silva Los Lingues Gran Reserva Carmenère has just taken Chile's finest grape variety and moved it several more steps forward. Enjoy this tantalizing red wine at cool room temperature (60°-66° F), after a few minutes of aeration.
The 2005 Casa Silva Los Lingues Gran Reserva Carmenère could cause many a wine lover to miss a meal because even in its youthful state it offers all of the pleasure and subtle nuances of scent and savor that an entire table of food can offer. Nonetheless, combining great Carmenère with fine food can more than make one's day. Consequently, we suggest pairing the 2005 Casa Silva Los Lingues Gran Reserva Carmenère with gastronomic delights. Certainly, classics, such as Beef Wellington, Duck à l'Orange, and Rack of Lamb would be in order. However, Churrasco, an Argentine or Nicaraguan-style Grilled Beef Tenderloin has earned our nod as the ultimate dish for the best Carmenère. The rich flavors and spicy sauces of the Churrasco complement the Los Lingues Gran Reserva perfectly. However, almost any grilled meat, even those with moderately spicy sauces, will find an indulgent partner in Casa Silva's most flamboyant wine. Mediterranean style dishes rich in fresh tomatoes, olive oil, and garlic pair nicely with this wine, too. And if you are not a cook, just invite a friend over, open a bottle of Mario Geise's magic, and let the good times roll. Enjoy!
As recent reviews will attest, Casa Silva continues to astound critics and consumers alike with the quality as well as the variety of the wines it produces. Casa Silva is a very modern, clean, well-run winery that is not afraid to push the quality envelope with each passing vintage, which qualifies this esteemed property as one of South America's top wine estates. Located some two hundred kilometers south of Santiago, in the heart of Colchagua, an area many are now calling Chile's Napa Valley, Casa Silva has garnered more recognition and awards at international wine competitions than any other Chilean winery. Furthermore, Catad'Or Hyatt, Chile's most prestigious wine competition, has named Casa Silva "The Best Chilean Producer" three consecutive times. And that's not all: the International Wine & Spirit Competition recently named Casa Silva as "The Best South American Producer." Kudos to the Silva family, father Mario and sons Mario Pablo, Gonzalo, and Francisco, as well as to Mario Geise, the winery's outstanding consulting enologist, for taking this beautiful property to such lofty heights in just ten years' time. Surprisingly, Casa Silva's inception dates back to only 1997, the year this property began bottling premium wines under its own name. However, historical accounts tell us that the Silva family's predecessors were pioneers in Colchagua more than a century ago, when they brought the first grape varieties from France to their Angostura estate at the base of the towering Andes. Today, the Silvas remain pioneers: they are Colchagua's foremost experts on Carmenère, Chile's emblematic red grape variety, and they produce the finest Sauvignon Gris and Viognier in South America. Moreover, this great property is at the vanguard of South America's success with many other grape varieties, including Sauvignon Blanc, Semillon, and Cabernet Sauvignon. Casa Silva contains many old vines, some approaching 100 years of age, which helps account for the quality and intensity one finds in the estate's wines. The Casa Silva estate is located at the northern edge of the Colchagua Valley at the foot of the Cordilleran Andes. This is a magical place that is steeped in sheer physical beauty as well as Chilean tradition. Colchagua's natural climatic conditions and terroir make it an extraordinary place to produce wine, which in no small way accounts for the great number of award-winning wineries now in Colchagua. This pioneering Chilean valley actively promotes its appellation and was the first to establish a bona fide wine route for visitors. Today, it is Chile's most important wine region, and nearly all of its grapes are premium varietals. So, is there any longer a doubt as to why the wines of Colchagua are the most highly acclaimed in South America? As pioneers in viticulture, the Silvas, along with their masterful winemaker Mario Geisse, have established several vineyard estates in Colchagua, each specializing in the production of one or more varietals that are especially suited to that estate's terroir. From these individual estates, single vineyard offerings are produced that reflect the best that Casa Silva produces, and that is saying a lot. From Los Lingues comes a very flavorful and sophisticated Cabernet Sauvignon as well as the estate's classic Carmenère, which has been deemed South America's finest. Meanwhile, Los Lingues specializes in a big, chewy Syrah that has only recently been released in North America.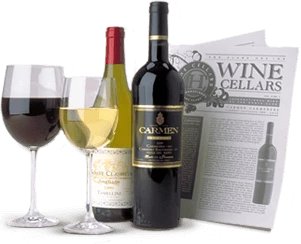 Enjoy Limited Production Estate
Bottled Wines
Discover limited production estate bottled wines such as Vergenoegd's internationally
acclaimed 2005 Cabernet Sauvignon, imported exclusively for our members.
DISCOVER OUR FOUR CLUBS