Casa Silva consistently works magic with the mercurial Carmenère variety. How Mario Geise manages to turn out balanced, robust Carmenère every year remains a mystery, but one doesn't argue with the result. The 2014 Casa Silva Cuvée Colchagua Carmenère continues the winery's great success with full-flavored Carmenère, earning 90 Points from Wine Spectator and elsewhere. A blend from estate vineyards, including those from the Angostura estate at the base of the Andes, the 2014 Casa Silva Cuvée Colchagua exhibits Carmenère's deep purple color with ruby highlights, and it provides a feast for the nose as well as the palate. From the moment it splashes into the glass, it offers up a heady bouquet of rich red fruits, ripe blackberries, red bell peppers, woodland herbs, and subtle spices that prepare the palate for the cornucopia of flavors which will soon grace the mouth. In the flavor, essences of forest berries mingle with subtle earth tones and delicate notes of coffee and dark chocolate, all wrapped in ripe tannins. Although immediately gratifying and seemingly medium-bodied upon first opening, the 2014 Casa Silva Cuvée Colchagua will build in the glass with a bit of aeration – a hallmark of the finest Carmenère and the reason we never judge a Carmenère by the first few sips. Afford the 2014 Casa Silva Cuvée Colchagua 15-20 minutes of aeration to collect itself and reveal its many layers of flavor. Bold but not brazen, this Carmenère's robust flavors are balanced by ripe tannins and a fine patina of oak, which will allow it to age gracefully and concentrate its flavors for another 7-8 years. For optimal enjoyment we suggest serving the flamboyant 2014 Casa Silva Cuvée Colchagua at cool room temperature (59º-64º F), after a bit of aeration.
Carmenère, a Bordeaux varietal in origin, thrives at table like Cabernet Sauvignon and its Bordeaux counterparts. Although the 2014 Casa Silva Cuvée Colchagua Carmenère is a balanced ebullient Carmenère that many will enjoy on its own, it truly excels at table in the company of all types of meats, spicy vegetable dishes, and often difficult to match foods such as asparagus, artichokes, and hummus. So whether it is an elegant dinner party in which Pressed Duck Breast or Loin Lamb Chops constitute the main attraction or a simple midweek meal in which meatloaf, pizza or an Eggplant Parmigiana sub serves as dinner, Casa Silva's 2014 Cuvée Colchagua Carmenère will rise to the occasion. A thin-crusted Three Cheese and Mushroom Pizza provides a tasty accompaniment as readily as Slow Roasted Pork Shoulder with lentils. For those who prefer something even grander to accompany Casa Silva's flavorful Carmenère, Beef Wellington makes a fine companion. And if one's culinary arts or ability to take out are limited, we suggest pairing Casa Silva's comely Cuvée Colchagua Carmenère with a selection of gourmet cheeses or dark chocolates. Imagine a world in which all three pillars of gastronomic pleasure, cheese, chocolate and wine, reside at table. Enjoy!
For a moment, just allow yourself the unmitigated pleasure of three of the world's finest foods: wine, cheese, and chocolate. Savor the flavor and texture of each and marvel at the affinity they have for one another. Then imagine what life would be like to have an expertly chosen selection of these three pillars of gastronomic pleasure brought directly to your door each month. For more information on how you can enjoy cheese and chocolate with the 2014 Casa Silva Cuvée Colchagua Carmenère, contact us at www.cheesemonthclub.com and www.chocolatemonthclub.com, and enjoy the best in life!
Casa Silva consistently astounds with the quality as well as the variety of the wines it produces. Casa Silva is a spotless modern winery that continues to ratchet up quality with each successive vintage and undoubtedly ranks among the finest wine estates in South America. It is located two hundred kilometers south of Santiago, in the heart of Colchagua, an area many are now calling Chile's Napa Valley. Casa Silva has garnered more recognition and awards at international wine competitions than any other Chilean winery. It has also been awarded Winery of the Year from numerous sources many times over. Furthermore, Catad'Or Hyatt, Chile's most prestigious wine competition, has named Casa Silva the "Best Chilean Producer" three consecutive times. However, it is not the past that matters, but the present. The Silva family and consulting enologist Mario Geise, dubbed the King of Carmenère, continue to take this beautiful property that sits at the base of the towering Andes to even loftier heights.
Casa Silva's present inception dates back to only 1997, the year this property began bottling premium wines under its own name. However, historical accounts tell us that the Silva family's predecessors were pioneers in Colchagua more than a century ago, when the Silvas brought the first grape varieties from France to the Angostura estate they still occupy on the slopes of the Cordillera of the Andes that loom above the vineyards. Today, the Silvas remain pioneers: they continue as Colchagua's foremost experts on Carmenère, Chile's emblematic red grape variety. Moreover, this great property is at the vanguard of South America's success with other traditional French grape varieties, most notably Cabernet Sauvignon, Syrah, Sauvignon Blanc, Sauvignon Gris, and Semillon. Can there be any doubt as to why the wines of Casa Silva are among the most highly acclaimed in South America?
Colchagua is a magical place that is steeped in sheer physical beauty as well as Chilean tradition, and the wines of Colchagua are among the most highly acclaimed in South America. Colchagua's natural climatic conditions and terroir make it an extraordinary place to produce wine, which in no small way accounts for the great number of award winning wineries now in Colchagua. This pioneering Chilean valley actively promotes its appellation and was the first to establish a bona fide wine route for visitors. Today, it is Chile's most important wine region, and nearly all of its grapes are premium varietals, including Chile's emblematic red grape, Carmenère. Native to Bordeaux, Carmenère was almost wiped out by the phylloxera infestation of the mid-1800s and is today grown only in small amounts in France. But, the grape enjoyed the good fortune of being mistaken for Merlot, leading to its unintentional importation to Chile, where it thrives. Chile is now the largest producer of Carmenère wines worldwide, much of it emmanating from the Colchagua Valley where it is often crafted into bold, single-varietal wines – which is quite a departure from its traditional role as a blending grape in Bordeaux.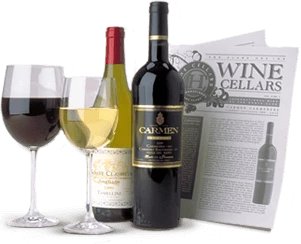 Enjoy Limited Production Estate
Bottled Wines
Discover limited production estate bottled wines such as Vergenoegd's internationally
acclaimed 2005 Cabernet Sauvignon, imported exclusively for our members.
DISCOVER OUR FOUR CLUBS