From the moment the cork exits the bottle, the 2005 Carmen Reserve Carmenere Cabernet Sauvignon fills the room with its breath. At first sniff, it is all Carmenere one breathes with its earthy, berry spice coming to fore; but after fifteen minutes or more in the glass, a second seductive wave caresses the nose. A potpourri of blackberry, wild blueberry, bramble, and roasted coffee well up in this wine to complement Carmenere's forward thrust. On the palate this wine continues to work its charm, coating the mouth with rich textured fruit that is redolent with blackberry, cassis, and wood smoke. Each sip begs to be savored, pleading the gullet not to swallow and end the interlude, but alas . . . the goodness doesn't end when the wine slips down the throat. The finish on this Carmen Reserve combines consummate flavor with ripe tannins that linger to haunt the senses. A medium- to full-bodied wine, the 2005 Carmen Reserve Carmenere Cabernet Sauvignon aptly demonstrates how well the finest Chilean reds combine the best attributes of fine Bordeaux with the ripe textured feel of a New World wine. We suggest serving the Carmen Reserve Carmenere Cabernet after at least twenty to thirty minutes of breathing time. Actually, a half hour in a decanter would work absolute magic with this wine, so be sure not to cheat yourself.
For Carmenere fans, food will be strictly optional with the 2005 Carmen Reserve Carmenere Cabernet Sauvignon. However, this 2005 Carmen Reserve has the ability to elevate fine cooking to the level of "haute cuisine." Perhaps better still, good everyday fare becomes a memorable meal in the company of this excellent offering from Carmen, so why not serve it with food? Veal Medallions served over caramelized onions, and artichoke heart risotto with sweet peas, mushrooms, and sweet peppers in Madeira wine sauce provide a particularly fine accompaniment to this wine. Prosciutto Wrapped Chicken Breasts stuffed with fresh herbs and Manchego cheese offer another opportunity to enjoy the 2005 Carmen Reserve Carmenere Cabernet Sauvignon. Duck and lamb are two other favorite pairings, but spicy eggplant dishes and a midweek meatloaf will do nicely, as well. We can also endorse the Carmen Reserve Carmenere Cabernet with hard cheeses and rich, potentially artery-clogging sauces. This unfiltered wine has a way of cutting through fat and grease, thereby assuaging the fear of instant cardiac arrest.
Carmen is an amazing property. Furthermore, this great Chilean estate has the uncanny ability to consistently turn out top-notch wines from each of its premium varietals, and the 2005 Carmen Reserve Carmenere Cabernet Sauvignon is indeed another great effort from Chile's "grande dame" of exquisite properties. Carmen is Chile's oldest wine brand, dating back to 1850. A century-and-a-half ago Christian Lanz founded Viña Carmen and lovingly named the estate's beautiful vineyards for his wife. Today, Viña Carmen remains the showpiece Lanz envisioned more than a century-and-a-half ago. Combining tradition, superb vineyards and a state-of-the-art winery that was constructed in 1992, Viña Carmen is currently South America's leading winery. In the 1990's, winemaker Alvaro Espinoza, a proponent of organic viticulture, moved Carmen to the forefront of South American producers and brought international renown to this venerable property, a position it retains today under winemaker María del Pilar González. Wine & Spirits magazine has named Carmen "Top Winery of the Year" at least four times, and current offerings look to be some of the finest this winery has produced to date. Presently, the more than 500 acres of Carmen Vineyards spread across several valleys and many microclimates surrounding Chile's capital, Santiago. This constellation of microclimates allows Carmen to select the best grape varieties for each area and to excel with many different grapes and styles of wine. The winery has been extremely successful with French varietals, including the unique, lesser-known Bordeaux varietals, which includes Chile's own "indigenous" grape, Carmenere. Internationally renowned winemaker Alvaro Espinoza, who joined Carmen in 1993 and helped establish the winery's stellar reputation, was instrumental in isolating and identifying Carmenere as a unique grape variety. He then went on to produce some of South America's most exciting Carmenere-based wines. Alvaro also instituted organic farming at Carmen. Beginning the endeavor with a 50-acre vineyard for Cabernet Sauvignon and Chardonnay for the winery's luxury "Nativa" label, Carmen's mission each year has been to increase the vineyard parcels grown under environmentally sustainable standards. Under María del Pilar González, Carmen has continued to expand its use of organic methods of viticulture and reduce Carmen's impact upon nature. Presently, Carmen uses no pesticides in their vineyards and is leading the way in Chile toward more environmentally sensitive viticulture. In addition, many of Carmen's wines are bottled unfiltered. The winery has also made the commitment to use lighter bottles in an effort to cut waste and reduce the environmental impact of transport. Carmenere (car-men-yehr) Belonging to the Cabernet family, Carmenere is one of Bordeaux's six permitted varietals for red wine, but it is now typically used only in small amounts, if at all, by the winemakers of that region. During the phylloxera infestation of the mid-1800s, Carmenere vines were hit especially hard, and the varietal was thought to have been almost wiped out. As the vineyards of Bordeaux were replanted, Carmenere was largely forsaken in favor of varietals that produced more consistent yields and were less prone to disease. Luckily for Carmenere, over the years it had enjoyed the good fortune of being mistaken for both Merlot and Cabernet Franc, leading to its unintentional importation to other countries. This occurred in Italy, New Zealand, and most notably in Chile, where cuttings believed to be Merlot were imported and widely planted prior to the Bordeaux phylloxera outbreak of the mid-1800s. Only in the 1990s were these "Merlot" vines discovered to be, in fact, Carmenere. Chile is now the largest producer of Carmenere wines worldwide, and the grape is used both in blends as well as in pure varietal wines, the latter being quite a departure from its traditional role in Bordeaux. The warmer, drier climate of Chile is much more favorable to the healthy growth and production of Carmenere, which when handled properly produces wines with intense red fruit, earth, smoke, and spice flavors. However, Carmenere's tannins are softer than those of Cabernet Sauvignon, making it easier to drink and enjoy in its youth and a great companion to Cabernet Sauvignon in blends such as the Carmen Reserve.
With its propensity for fat busting, the 2005 Carmen Carmenere Cabernet Sauvignon is a natural accompaniment to many cheeses. Like mature red Bordeaux, this wine complements Cantal, Port Salut, and other fine French cheeses with aplomb. It also holds up beautifully to a wide array of hard and crusted cheeses. For more delicious cheese selections and details on our outstanding international gourmet cheese club, please visit our website at www.cheesemonthclub.com and enjoy all that life has to offer.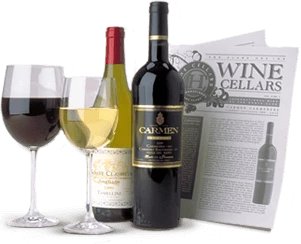 Enjoy Limited Production Estate
Bottled Wines
Discover limited production estate bottled wines such as Vergenoegd's internationally
acclaimed 2005 Cabernet Sauvignon, imported exclusively for our members.
DISCOVER OUR FOUR CLUBS