Although Carmen has been fashioning world class wines for decades, Petite Sirah is a relative newcomer to Carmen's formidable portfolio. With that said, no one in South America and few in California can match Carmen's 2011 Gran Reserva Petite Sirah in either quality or value. At a recent panel tasting, the 2011 Gran Reserva took on a field of challengers costing twice the price and came out on top. The splendid 2011 Carmen Gran Reserva Petite Sirah provides a deep purple robe that beguiles the eye. But as attractive as this Petite Sirah appears in the glass, it's the wine's majestic aroma and deep profound flavors that earn it top marks. The 2011 Carmen Gran Reserva Petite Sirah offers up heady aromas of black cherry, raspberry and plum coupled with tantalizing touches of spice and vanilla. But the best is yet to come; Carmen's Gran Reserva Petite Sirah follows through on the palate with explosive black fruit, dark chocolate, and woodland flavors, all wrapped in a patina of smooth new oak. "Bold and beautiful" is how one tasting panelist described this wine, but just as attractive is the balance of fruit, tannin, acid and alcohol that makes this wine an absolute pleasure to drink and lets it go down ever so easily, perhaps too easily given the wine's 14.5% plus alcohol. We suggest you afford Carmen's world class Petite Sirah 15-20 minutes of aeration before serving at cool room temperature (60°-65° F). Enjoy!
Petite Sirah, also known Durif in Europe, has long been a favorite of Italian immigrant families who migrated to North and South America. And with good reason – the grape's rich, hearty flavors and high alcohol pair beautifully with spicy tomato sauces and highly charged Mediterranean dishes. Consequently, game, thick meaty cassoulets, herb roasted leg of lamb, and a dish called Penne a la Siciliana (penne pasta in a very thick fresh tomato sauce, with roasted garlic, eggplant, and herbs) are just a few of our favorite dishes to serve with Carmen's 2011 Gran Reserva Petite Sirah. Grilled hot Italian sausage, lasagna, and Neapolitan style Eggplant Parmigiana all make wonderful companions to Carmen's full throttle Petite Sirah, too. Short ribs, pork barbecue, brick oven meat or vegetarian pizzas, and flavorful cheeses also provide outstanding accompaniments to Carmen's well endowed Petite Sirah. And some of us just like to sit and sip this deep, dark potion. Why not? It tastes just fine all by itself. Buen Provecho!
Carmen is Chile's oldest wine brand, dating back to 1850. A century and a half ago, Christian Lanz founded Viña Carmen and lovingly named the estate's beautiful vineyards for his wife. Today, Viña Carmen remains the showpiece Lanz envisioned more than a century and half ago and a pioneer in sustainable agriculture. Combining tradition, superb vineyards and a state of the art winery that was constructed in 1992, Viña Carmen is currently South America's leading winery as well as its oldest. In the 1990s, winemaker Alvaro Espinoza, a proponent of organic viticulture, moved Carmen to the forefront of South American producers and brought international renown to this venerable property, a position it retains today under the current regime. Wine & Spirits magazine has named Carmen "Top Winery of the Year" at least four times, and current offerings are some of the finest this esteemed winery has produced to date.
Although located in Maipo Valley, Chile's most fashionable wine address, Carmen's vineyards spread across several valleys and include many micro-climates surrounding Chile's capital, Santiago. This constellation of microclimates allows Carmen to select the best grape varieties for each area and to excel with many different grapes and styles of wine. The winery has been extremely successful with French varietals, including Cabernet Sauvignon, Carmenère, and Petite Sirah. Recent releases of Chardonnay and Sauvignon Blanc have been exceptional as well.
Internationally renowned winemaker Alvaro Espinoza, who joined Carmen in 1993 and helped boost the winery's stellar reputation, was instrumental in isolating and identifying Carmenère as a unique grape variety. He then went on to produce some of South America's most exciting Carmenère based wines and left a legacy that endures at Carmen. Alvarez also instituted organic farming at Carmen and greatly improved the estate's white wines. Currently, Carmen uses no pesticides in its vineyards and is the leading force in Chile toward more environmentally sensitive viticulture. In addition, many of Carmen's wines are bottled unfiltered to retain freshness and flavor. The winery has also made the commitment to use lighter bottles in an effort to cut waste and reduce the environmental impact of transport.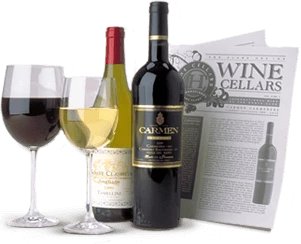 Enjoy Limited Production Estate
Bottled Wines
Discover limited production estate bottled wines such as Vergenoegd's internationally
acclaimed 2005 Cabernet Sauvignon, imported exclusively for our members.
DISCOVER OUR FOUR CLUBS