A robe of deep violet red glints in the glass and hints at the warmth and sparkle of Carma's 2007 Colchagua Carménère. The aroma of freshly picked raspberries and mulberries, along with notes of cherry, herb, and roasted coffee beans, confirm the initial impression. However, it is not until one sips and savors the 2007 Carma Carménère, with its mélange of fruit, spice, and dark chocolate tones that conviction sets in. Indeed, this wine is unique: it is after all authentic Carménère and an excellent example at that. While the exaggerated, flamboyant flavors of Carménère can sometimes be too much of a good thing for the uninitiated, the Carma minds its manners. Having been brought up well, it's a real crowd pleaser. A ripe, medium-bodied rendition of Chile's most exemplary varietal, the 2007 Carma Carménère offers up plenty of flavor as well as a silky smooth body and a fine-grained, satisfying finish. Drink this charismatic Carménère at cool room temperature (no more than 66º F), and don't forget to give it a little aeration! It will repay the courtesy with a politeness all its own. Enjoy!
Carménère is the most versatile of all Bordeaux varietals, and the 2007 Carma is a case in point. Given the Carma's friendly nature, even uninitiated Carménère drinkers will likely admire its easy drinkability and opt to consume it au naturel. However, a wide array of foods only enhances the stature of Carménère. Consequently, we have enjoyed the 2007 Carma Carménère with everything from red pepper hummus with pita chips to spicy empanadas. One of our favorite mid week pick-me-ups is a bottle of Carma Carménère paired with sizzling chicken or steak fajitas, sautéed with plenty of red and yellow peppers. This simple, healthy dish draws rave reviews, but then so does more elaborate fare. Veal medallions served over caramelized onions and artichoke heart risotto with sweet peas, mushrooms, and sweet peppers in Madeira wine sauce provides a wonderful dinner party companion for the Carma. Prosciutto Wrapped Chicken Breasts stuffed with fresh herbs and Manchego cheese offers another opportunity to enjoy this wine. Duck and lamb provide equally gratifying accompaniments. And no need to eschew spice or avoid butter, cheese, or rich sauces when Carménère comes to town: the 2007 Carma has a propensity for cutting through fat and grease to add a heart healthy dimension to recipes, so enjoy!
Carma comes from a prominent estate vineyard in Palmilla, an area of Colchagua Valley renowned for the production of Carménère. In the Palmilla sector of Colchagua, Chile's most notable variety ripens to perfection. The summer days are hot and sunny, while the nights are exceptionally cool – the ideal scenario for Carménère. The tremendous daily swings between high daytime and low nighttime temperatures afford Carménère an exceedingly long hang time, and impart to the resulting wine a profound aromatic profile, exceptional flavor, and ripe, racy tannin. No wonder Carménère is quickly becoming one of the world's most sought after wines. Carménère (car-men-yehr) Belonging to the Cabernet family, Carménère is one of six permitted varietals for red wine in its native Bordeaux. Nevertheless, Carménère is relatively rare today in Bordeaux where it is typically used only in small amounts, if at all, by most châteaux. During the phylloxera infestation of the mid-1800s, Carménère vines were hit especially hard and the varietal was nearly wiped out. Consequently, as the vineyards of Bordeaux were replanted in the late 19th century, Carménère was largely forsaken in favor of varietals that produced higher, more consistent yields and were less prone to disease. Luckily for Carménère, it had for many years enjoyed the good fortune of being mistaken for both Merlot and Cabernet Franc, leading to its unintentional importation to other countries. Carménère traveled to Italy, New Zealand, and most notably to Chile prior to the Bordeaux phylloxera outbreak of the mid-1800s, when Carménère cuttings were believed to be Merlot. Only in the 1990s were these "Merlot" vines discovered to be, in fact, Carménère. Chile is now the largest producer of Carménère wines worldwide, and the grape is used in blends and bottled as a pure varietal wine, the latter being quite a departure from its traditional role in Bordeaux. Fortunately for Carménère as well as for consumers, the warmer, drier climate of Chile is much more favorable to the healthy growth and production of Carménère, which when handled properly produces wines with intense red fruit, earth, smoke, and spice flavors, than its native Bordeaux ever was. Moreover, Carménère's tannins are softer than those of Cabernet Sauvignon, making it easier to drink and enjoy in its youth and a great companion to Cabernet Sauvignon and Merlot in meritage blends.
With an affinity for cheese and a propensity for cutting through fat, the 2007 Carma Carménère doubles as an ideal accompaniment to cheese. Like most fine red Bordeaux, the Carma Carménère complements many gourmet cheeses, including the finest Gouda, Cantal, Munster, Port Salut, and aged hard cheeses such as Parmesan. It also holds up beautifully to goat and sheep's chesses. For more delicious cheese selections and details on our outstanding international gourmet cheese club, please visit our website at www.cheesemonthclub.com and enjoy the best that life has to offer.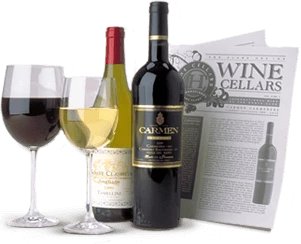 Enjoy Limited Production Estate
Bottled Wines
Discover limited production estate bottled wines such as Vergenoegd's internationally
acclaimed 2005 Cabernet Sauvignon, imported exclusively for our members.
DISCOVER OUR FOUR CLUBS