Pale in color but not in character, the 2008 Cape Rock Sauvignon Blanc displays an amplifying nose of herb, mineral, citrus, and freshly cut grass. Bright and refreshing from the first sip, this Sancerre-style Sauvignon Blanc offers a lot to like. It fills the mouth with clear vibrant flavor, including hints of tropical fruit and a gentle herbal twist that made the tasting panel beg for more. Ripe, juicy, and sporting a mélange of crisp acidity, the Cape Rock Sauvignon Blanc finishes superbly and lingers in the mouth on a refreshing note. In short, this is one tasty, eminently drinkable Sauvignon Blanc that knows who it is — no oak, no smoke, and no mirrors. This is the style of Sauvignon Blanc we wish more New World producers could provide consistently, if they were not so obsessed with acid balancing and the taste of oak rather than the natural flavors of the grape. We suggest serving this bright, friendly Sauvignon Blanc well chilled (35°- 40° F), and often.
The 2008 Cape Rock Sauvignon Blanc makes an excellent aperitif, as it provides a great opening act to nearly any affair. And as light and easy as the Cape Rock Sauvignon Blanc appears, one may be tempted to relegate it to the venial position of aperitif or party wine extraordinaire. However, we suggest that you not miss the opportunity to pair this South African beauty with some interesting and worthy food companions, as it is not the least bit recalcitrant in providing escort service to a large array of seafood dishes. Clams, mussels, oysters, shrimp, lobster, and just about anything that swims offer natural pairings with this wine, but that's not all. The 2008 Cape Rock Sauvignon Blanc is equally outstanding with salads, poultry, and a host of Asian dishes. A light salmon mousse, pecan encrusted salmon, and expertly prepared California rolls provide other exemplary pairings with this wine. A mixed green salad with caramelized walnuts, poached pears, tomatoes, and fresh, crumbled blue cheese; and Seared Sea Scallops tossed with a Thai nut relish make other noteworthy accompaniments. Enjoy!
Cape Rock is grown and produced at the venerable Van Loveren Estate. In fact, Cape Rock and Van Loveren are synonymous. Van Loveren is located on the banks of the Breede River in Robertson, South Africa's premier white wine producing region. Two brothers, Nico and Wynand Retief, own this stunningly beautiful property, which lies just 100 miles from Cape Town. Yet it is not just the physical splendor of the place that captivates — its lanes are lined with rare red canna lilies — Van Loveren consistently fashions wines that are in every way as exquisite as the landscape. In the days of yore, Van Loveren was a large farm affectionately called Goudmyn (Goldmine). Today, it is a 330-acre wine estate that is highly regarded for its picturesque beauty and liquid gold, mostly in the form of delicious white and red wines. Van Loveren is currently one of the leading producers of premium Chardonnay and Sauvignon Blanc in South Africa and a driving force behind the recent success of Robertson as a prime viticultural area. The region's limestone-rich soil is perfect for white wines, which have led some critics to compare Robertson's wines, and Van Loveren's wares in particular, to the renowned wines of France's Pouilly-Fuissé (Chardonnay) and Sancerre (Sauvignon Blanc). Specifically, this property's Sauvignon Blanc is world-class wine, a hypothetical cross between a bright, herbal New Zealand-style Sauvignon Bland and an elegant, mineral rich, pinpoint Sancerre from France's Loire Valley. However, with these pundits in mind, it is important to note that the Retief brothers fashion an entire portfolio of high-quality wines at their estate, including a knockout Gewurztraminer and several superb reds. In addition to Chardonnay and Sauvignon Blanc, Van Loveren crafts excellent Colombard, Pinot Gris, and Riesling, along with two fine dessert wines and a delicious sparkling wine they call Papillon. Since the early 1990s the Refief brothers have also been working with premium red varietals, most notably Cabernet, Merlot, Shiraz, and Pinotage — South Africa's own unique varietal. Most assuredly, we will be hearing a lot more about this property in years to come, and tasting many more of its wine wares as well. Sauvignon Blanc (so-vee-n'yohn blahn) Sauvignon Blanc is a premium white wine grape that for all intents and purposes is indigenous to Bordeaux. Yet in Bordeaux, Sauvignon Blanc is traditionally blended with Semillon to make a rich, stylish wine with a flavor profile all its own. This stands in contrast to the 100% varietal offerings from France's Loire Valley, most notably from Sancerre, Pouilly-Fumé, and increasingly Menetou-Salon, whose wines remain some of the world's truest expressions of the grape. In California, Sauvignon Blanc is sometimes called Fumé Blanc, a relic of a marketing ploy that popularized the grape, but confused the consumer, since there is no clear-cut difference in California between wines labeled Sauvignon Blanc and Fumé Blanc. Recently, Australia, New Zealand, and South Africa are proving to be equally adept at producing premium Sauvignon Blanc. What nearly always distinguishes this grape is a distinct "freshly cut grass" aroma that can range from barely noticeable to nearly intoxicating.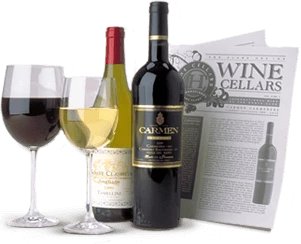 Enjoy Limited Production Estate
Bottled Wines
Discover limited production estate bottled wines such as Vergenoegd's internationally
acclaimed 2005 Cabernet Sauvignon, imported exclusively for our members.
DISCOVER OUR FOUR CLUBS