Despite the spate of excellent Vermentino wines from Sardinia that have begun to lap upon our shores, Vermentino and Sardinian wine in general remain mysteries to most Americans. Hopefully, the 2016 Cantina del Mandrolisai DOC Vermentino di Sardegna will help dispel some of that mystery. Blessed with a rich straw color, a beguiling floral bouquet of spring and summer flowers girded with a gentle, sophisticated minerality, Cantina del Mandrolisai's beautiful 2016 Vermentino engages the nose from the moment it is poured. The wine's clean scented bouquet carries onto the palate, where pure ripe fruit flavors fill the mouth and the wine's exceptional texture tantalizes the licentious palate, making subsequent sips nothing short of obligatory. To complement the wine's sleek textured fruit, crisp acidity imbued with hints of citrus provide length and a long refreshing finish to the 2016 Cantina del Mandrolisai DOC Vermentino di Sardegna. For optimal enjoyment we suggest chilling this unique and refreshing Vermentino to about 38-40° F, then allowing it to slowly emerge in the glass as it sheds the chill. Enjoy!
As Sardinia is an island surrounded by a sea rich in the delicacies of the deep, seafood provides many of the favored accompaniments to the 2016 Cantina del Mandrolisai Vermentino di Sardegna. Grilled or sautéed calamari in the company of a heady sauce makes a wonderful starter and a delightful companion to Cantina del Mandrolisai's tasty Vermentino. Pan seared halibut, sea bass, or rockfish served with a cheese or mushroom risotto also earns two thumbs up from our tasting panel. Wood-fired oysters served with sautéed spinach, naturally cured bacon, and a creamy cheese sauce over a bed of organic greens provides another winning accompaniment. Seafood lasagna with delicate layers of pasta, swordfish, salmon, mussels, cured tomatoes, spinach, and fine herbs in a saffron seafood broth also wins the day. For those not beholden to seafood, seared pork medallions topped with brie and served with wilted greens and white beans, make tasty pairings, too. Buon appetito!
"For all Sardinians, Mandrolisai means wine. It is a name that stays with you because the wines that originate here are special." — Cantina del Mandrolisai
In the rugged hinterlands of Sardinia, Cantina del Mandrolisai perches high upon hills in the shadow of Sardinia's tallest mountains. Founded as a cooperative in 1950, Cantina del Mandrolisai has earned a reputation for fashioning exceptional wines that include a world-class Vermentino del Mandrolisai (this month's feature) and several excellent red wines, not the least of which is Mandrolisai Rosso, a blend of Cannonau and other local varietals.
The wines of Mandrolisai draw their character from the dry, sunny hills and unique terroir of Mandrolisai, a Denominazione Origine Controllata (DOC) renowned throughout Sardinia for its wines. Here at a high altitude with perfect sun exposure and an enviably long growing season, grapes ripen fully, even in the coolest of years. We invite you to come and take part in one of Sardinia's many delights – Mandrolisai's unique, superbly crafted wines.
Set afloat from the rest of Europe, Sardinia lounges in the middle of the Mediterranean Sea surrounded by emerald colored seas and fringed with white sandy beaches and sequestered coves. Rugged and dry, this mountainous island is second only to Sicily in size among the islands of the Mediterranean, and like its larger sibling, Sardinia has known the world's conquerors and the ever shifting currents of world power. What have endured are wine and an ancient culture born of millennia amidst the crossroads of the world's most traveled sea.
Home to thousands of nuraghi, ancient structures built by a Bronze Age civilization that dates from the 15th and 16th centuries B.C., as well as an abundance of wilderness populated by flora and fauna that exist nowhere else in Europe, it would be easy to overlook the viticultural treasures of Sardinia. Although an autonomous region of Italy since the 18th century, Sardinian wines bear little resemblance to their mainland counterparts. Italy's most important and ubiquitous grapes (Barbera, Sangiovese, Nebbiolo, Pinot Grigio, and Trebbiano among others) hardly make an appearance in Sardinia. Instead, Malvasia, Muscat, and Vermentino dominate Sardinia's white wine scene, with Vermentino di Gallura the only Sardinian wine awarded DOCG status. Connonau (Grenache), Carignano (Carignan) and Spain's Bobal proliferate among the red varietals on the island. Cabernet Sauvignon is also currently finding favor. Although one would think that red wines would be Sardinia's enological claim to fame, Vermentino, crisp, white, and flavorful, has come front and center to serve as Sardinia's oenological ambassador to the world.
Vermentino is one of Italy's finest, yet least known, white grape varieties. Although not nearly as ubiquitous as Pinot Grigio, Trebbiano, Malvasia, and other white-skinned varietals, Vermentino flourishes along Italy's Mediterranean coastline where it produces fine, floral wines with crisp finishes. This is especially true in Liguria, where it often takes the name Pigato, and on the island of Sardinia. Corsica and the south of France are also good sources of Vermentino, though one would hardly guess that Vermentino thrives in France, as Vermentino is almost exclusively known as Rolle in France where it figures in many of the white wines of southern France.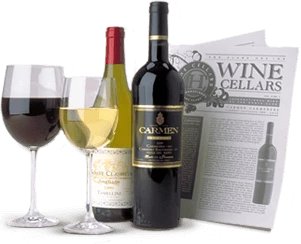 Enjoy Limited Production Estate
Bottled Wines
Discover limited production estate bottled wines such as Vergenoegd's internationally
acclaimed 2005 Cabernet Sauvignon, imported exclusively for our members.
DISCOVER OUR FOUR CLUBS