Born in an outstanding vintage in California, the 2007 Cannonball Cabernet Sauvignon truly makes a splash. Imbued with a deep ruby red color and a haunting aroma as attractive as its velvety robe, Cannonball combines the deep down flavors of Cabernet Sauvignon (85%) and Syrah (12%) with a touch of the satiny sheen of Merlot (3%). The scent of fresh berries, cassis, spice, cocoa, and pepper permeate the nose and saturate the mid palate of this comely wine. In the mouth, Cannonball is predictably rich and full-bodied, but surprisingly well-behaved. A patina of oak and smooth, ripe tannins focus this lively beauty and add grace, charm, and a delightfully layered feel and finish to Cannonball. In other words, Cannonball won't rip your mouth out or jump all over your palate; it will just make you smile and come back for more. Although Cannonball can be enjoyed straight away, we suggest decanting youthful bottles of this Cabernet Sauvignon for an hour before serving. Enjoy!
The 2007 Cannonball California Cabernet Sauvignon is the rare young Cabernet that many of us can just sit around and sip. It brings a smile and a welcome, with or without food. Yet, for the record we would like to second Cannonball winemaker Dennis Hill's suggestion that his Cabernet is the ideal accompaniment to "quality red meat, a great burger, short ribs, and barbecue." Moreover, this Cabernet's plush body and smooth profile lend themselves to a party and offer a crowd pleasing Cabernet that is both approachable and utterly appealing. Chicken, lamb, pork, and plenty of Mediterranean style dishes pair well with Cannonball, too. Grilled sweet and hot Italian sausages, casseroles and cassoulets, and even lightly curried dishes shine in Cannonball's company, and let's not forget cheese.
Cannonball may not sound like a serious name for a wine, but anyone who has ever jumped off a diving board, tucked his or her body into a ball, and made the biggest splash ever knows how much fun it is. With that kind of thrill in mind, legendary California winemaker Dennis Hill has created Cannonball Cabernet Sauvignon from outstanding vineyards in Napa, Sonoma, and Mendocino Counties, and what a wine it is. While Cannonball's label captures Dennis Hill's philosophy that wine should be fun, enjoyable, and make you smile, the Cabernet in the bottle delivers all that is promised and more. Presently, Cannonball fashions only Cabernet Sauvignon, but already Cannonball may consistently produce the best Cabernet Sauvignon in America for under $20.00 – testament to Dennis Hill's consummate craftsmanship.
Cabernet Sauvignon is one of the most widely cultivated of the world's noble red grape varieties. For centuries it was thought to be an ancient varietal, but DNA studies conducted in the 1990s revealed that Cabernet Sauvignon is not nearly as old as was once thought. Moreover, what is even more startling is that Cabernet Sauvignon is actually the offspring of Cabernet Franc (a red variety) and Sauvignon Blanc (a white variety). The origin of Cabernet Sauvignon has traditionally been attributed to Bordeaux, where it holds court with Merlot, Cabernet Franc, Malbec, and Petit Verdot. The combination of any three or more of these varieties is what is known in Europe as the Bordeaux Blend or in California and elsewhere as a Meritage selection. Some evidence suggests that northern Spain, just south of the Pyrenees, may one day lay legitimate claim to being an original site of the planet's most important red grape variety as well. However, Bordeaux rightly claims to be the disseminator of this noble red grape because from Bordeaux, Cabernet Sauvignon has traveled the world far and wide. In Bordeaux, Cabernet Sauvignon is the heart and soul of the finest Médoc wines and a leading player in nearly all of the finest red wines of Graves. First Growths such as Châteaux Haut-Brion, Margaux, Latour, and Lafite are all Cabernet Sauvignon based wines. However, even in Bordeaux appellations where Cabernet is King, it is usually blended with Merlot and or other traditional Bordeaux varietals. By nature, Cabernet Sauvignon is a thick skinned grape that requires a longer maturation than most red grape varieties, which makes blending it a natural choice in winemaking regions such as Bordeaux where climate conditions are variable. In general, Cabernet Sauvignon thrives under warm, even hot, semi arid conditions, which is one reason why this noble variety has been extensively and successfully cultivated in Australia, California, Chile, South Africa, and elsewhere. Today, Cabernet Sauvignon is unquestionably California's most prestigious red varietal, both in consummate quality as well as price. California's Alexander Valley and parts of Napa and Sonoma are generally acknowledged to produce the New World's finest Cabernet Sauvignon. Select areas of Australia, Chile, and South Africa also fashion world class Cabernet Sauvignon. In flavor profile Cabernet Sauvignon can vary considerably, depending upon climate and terroir. However, blackberry and blackcurrant (often referred to as cassis) flavors are most often associated with this premium variety. Earthy and herbaceous aromas, such cedar, eucalyptus, graphite, and tobacco are also common. Moreover, of all the world's red grape varieties, Cabernet Sauvignon has the greatest propensity for successful ageing. Cabernet Sauvignon also contains high amounts of antioxidants and resveratrol, which make its wares some one of the most healthful of all wines. Enjoy!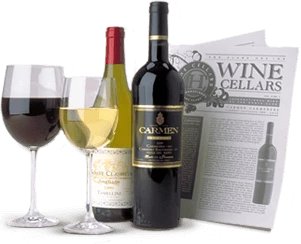 Enjoy Limited Production Estate
Bottled Wines
Discover limited production estate bottled wines such as Vergenoegd's internationally
acclaimed 2005 Cabernet Sauvignon, imported exclusively for our members.
DISCOVER OUR FOUR CLUBS