Monterey is one of California's best sources for top notch Chardonnay – pure mineral-driven Chardonnay that reflects the appellation's cool, distinctive terroir. In the 2013 Cambridge Cellars Limited Chardonnay, one gets to experience superlative Monterey Chardonnay as well as Douglas Danielak's deft hand with one of the world's great grape varieties. Reflecting Danielak's respect for Monterey's distinct terroir and love of white Burgundy, the 2013 Cambridge Limited Chardonnay offers up savory scents of Golden Delicious apples, dried pineapple and soft mineral tones, which are so often missing from California Chardonnays from warmer climates. Medium-bodied but nicely balanced, the wine enlivens the palate with a mélange of apple, apricot, and creamy mineral tones edged with hints of toasty vanilla and spice. And after its play on the palate, the 2013 Limited Chardonnay exits with a crisp refreshing finish that leaves the mouth clean and ready for more. Enjoy this beautifully crafted Chardonnay moderately chilled (40°-45° F) after a few minutes of aeration.
The fresh mineral-driven 2013 Cambridge Cellars Limited Chardonnay performs double duty. It provides a wonderful accompaniment to food, especially seafood, and it also makes an ideal thirst quenching aperitif. However, our vote is to enhance the pleasure of both wine and food with just the right complement. Consequently, soft-shell crabs, Alaskan King Crab legs, and a whole steamed lobster with drawn butter provide, for our tastes, unrivaled companionship to this wine. And for all but the most stalwart of carnivores, sautéed clams, oysters, or scallops in the company of the 2013 Cambridge Cellars Limited Chardonnay won't disappoint either. Moreover, the 2013 Limited Chardonnay complements such classic dishes as Escalloped Chicken with avocado and Chicken in Parmesan Cream Sauce. And if you are into minimal preparation, we suggest a plate of soft, rich cheeses that includes Pont l'Évêque, Port Salut, or St. André along with some fresh-cut Bartlett pears or Golden Delicious apples. The fruit and cheeses provide a simple, tasty way to enjoy Cambridge Cellars' eminently drinkable Limited Chardonnay. Enjoy!
Cambridge Cellars' story begins at the corner of Cambridge and Sunset in Novato, California at the southern end of Napa Valley. Australian transplants Kim and Bruce Cunningham launched Cambridge Cellars there in 2014, though their story begins long before then.
What began years ago as RNR (Revitalizing Neighborhood Recreation) among wine industry friends who enjoyed a bottle or more of wine together has turned into a full-fledged family affair in Cambridge Cellars. Kim and Bruce Cunningham have been in the wine industry for decades, but Cambridge Cellars is their first family winery, although they have represented wineries and made or purveyed wine, too, from Australia, California, Chile, Spain and elsewhere. They are also the proprietors of AW Direct, a successful importing company of premium wines from around the world. Unabashedly, their aim in founding Cambridge Cellars in Novato is to build a better future for the next generation, for their own children and the community at large, and to celebrate the positive momentum of their community of wine country farmers, artists and entrepreneurs. And it is safe to say that Kim and Bruce are off to a fine start with their new venture, which includes recent releases of the 2013 Cambridge Cellars Limited Monterey Chardonnay (this month's feature) and the 2013 Cambridge Cellars Limited Central Coast Cabernet Sauvignon. Both wines were made in small lots, 827 cases and 1,198 cases respectively, from individual appellations.
Although adept at making and selling wine, Kim and Bruce have wisely brought veteran winemaker Douglas Danielak along as Consulting Winemaker to Cambridge Cellars. For the past twenty years, Douglas has made wine for a number of the Napa Valley's most respected wineries. Douglas started his winemaking career completing the Professional Winemaking Program at the Lycée Agricole et Viticole de Beaune in Burgundy. Influenced by all things French, Douglas's initial passion upon returning from France in the late 1980s was to continue his pursuit of perfection in Pinot Noir and Chardonnay. Unfortunately, neither grape was as much in vogue in California at it is now, so in 1989 Douglas aligned himself with a tasting group of like minded souls that included Helen Turley, Mark Aubert, David Ramey and Ted Lemon – presently some of California's most influential winemakers.
In addition to his studies in Burgundy and independent work with his peers, Douglas earned a degree in Viticulture and Enology at U.C. Davis and began a successful wine consulting business in Napa Valley. Early in his career, Douglas founded the Jade Mountain label with Jim Paras and was recognized as one of the first Rhône Rangers and innovators with Rhône varietals in America. Over the years, he has expanded his repertoire, crafting fine Cabernet Sauvignon and other Bordeaux based wines, and Chardonnay and Pinot Noir, too, for a long list of clients. He has also recently launched the Pont Neuf label. All of Douglas's wines are made to reflect and speak clearly of their place of origin. Under Danielak's direction, Cambridge Cellars is not only off to a great start with its releases of the 2013 Limited Chardonnay and Cabernet, it is soon to become a formidable source of many other California varietals as well. In recognition of Douglas's many accomplishments, Wine Spectator magazine named Cambridge Cellars' Douglas Danielak Winemaker to Watch in July 2014.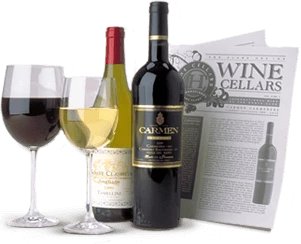 Enjoy Limited Production Estate
Bottled Wines
Discover limited production estate bottled wines such as Vergenoegd's internationally
acclaimed 2005 Cabernet Sauvignon, imported exclusively for our members.
DISCOVER OUR FOUR CLUBS