It has been said that "Opening a bottle of Caldora wine is one of the most predictable hedonistic experiences known to humankind," and the 2005 Caldora Colle dei Venti Pecorino certainly won't refute that statement. Yet, this unique medium-bodied wine is more than a mere fleshpot: it is winemaker Mario Ercolino's finest Pecorino to date and the ultimate expression of the rare indigenous Pecorino variety. From the moment the cork exits the bottle, an intense aroma of fruit and haunting spice caress the nose, and immediately one knows that Ercolino has worked his magic; he has captured the glory of the Abruzze sun and the softness of the sea breeze from the azure Adriatic in each and every bottle. Scents of fresh apricot and almond blow from the glass and linger on the palate, where they entwine with haunting spice and a dry, freshness that recall the splendor of a sunny afternoon at the beach. Unique and unto itself, but in the finest sense of the expression, the 2005 Caldora Pecorino is a special wine that simply must be tasted to be believed as it can more than speak for itself. We suggest moderate chilling (40°-45° F), and a second bottle nearby . . . just in case one bottle is not enough.
Seafood, fresh from the gleaming Adriatic, is of course the locals first choice of companionship with the 2005 Caldora Pecorino, but one doesn't have to be sitting in a trattoria overlooking the Adriatic to appreciate the joys of Pecorino. Almost any fresh fish or shellfish will pair well with the Caldora Pecorino, a fresh, scented wine with enough spice to hold up to a steaming pot of Bouillabaisse or Cioppino. Swordfish, calamari, and lobster, prepared in a variety of ways, provide other splendid accompaniments to Caldora's Pecorino. Full flavored hors d'oeuvres provide wonderful pairings with this wine, too. Crab Stuffed Porcini Mushrooms, Grilled Scallops Nacho, and Chicken Satay offer wonderful starters that merit a bottle or two of Ercolino's heady Pecorino. Steamed Green Lip Mussels in a white wine, herb, and lemon butter sauce over linguine is another winning accompaniment. The freshness and haunting flavors of the Pecorino complement simple grilled seafood, while these same scents and savors provide excellent counterpoint to earthy, more savory dishes. Consider, too, that the 2005 Caldora Pecorino is also an aperitif extraordinaire that offers comfort and pleasure all by itself. A large clean glass and a sunset over the sea might be more than one person can bear. Enjoy!
Caldora is a new winery that began in 2003, as a partnership between Valentino Sciotti and renowned winemaker Mario Ercolino. This dynamic duo launched Caldora when they rented one of the largest cooperative wineries in the Abruzzo, outfitted it with new custom made technology specified by Ercolino, a winemaker obsessed with attaining the maximum expression of fruit in his wines, and then began fashioning the region's most prodigious wines from autochthonous varietals. To push Caldora's wines to an even higher level of quality, Sciotti and Ercolino have established an avant-garde vineyard management system, which compensates grape growers who agree to adhere to rigidly specified agricultural standards, a set amount of money according to the size of the vineyards under production, rather than according to the quantity of grapes produced. The combination of excellent grapes and outstanding wine making have yielded results that speak volumes. In just a few short years, Ercolino's taste for intense, deep fruit in his wines has won many friends and transformed how the wine drinking world views the wines of the Abruzzo as well as the rare indigenous vines of the region. The Caldora production area is located in Ortona, mostly in the splendid Moro River Valley. Here a unique ribbon of land lies between the gleaming Adriatic and a precipitous 10,000 foot ridge of the Apennine Mountains. This special land possesses a microclimate that is ideal for Pecorino and the region's other indigenous grape varieties, which explains why winemaking has been prized in this region since the 3rd century AD. Pecorino is one of the best known local varietals. Its name comes from the shape of the grape's bunches or clusters, which locals say resembles the head of a sheep. This special varietal is renowned for its complexity and outstanding aromatic profile. Yet, Pecorino is little known outside of Ortona as the grape is notoriously low yielding. Consequently, production is meager and most Pecorino is made for home and personal consumption by select growers. Caldora's Pecorino comes from Colle dei Venti (meaning hill of the wind), a 33-acre vineyard with an ideal location. Colle dei Venti experiences warm summer days, but the heat of the day quickly fades when the cool breeze that springs each evening from the Adriatic flows over the vineyard. Such swings between day time and night time temperatures help preserve the balance between acid and sugar in the grapes and add immeasurably to the aromatics of the ensuing wine. Caldora's Pecorino is fermented at low temperatures in both stainless steel vats and large oak barrels made of the finest Austrian oak. .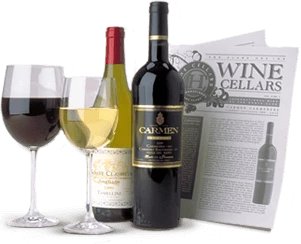 Enjoy Limited Production Estate
Bottled Wines
Discover limited production estate bottled wines such as Vergenoegd's internationally
acclaimed 2005 Cabernet Sauvignon, imported exclusively for our members.
DISCOVER OUR FOUR CLUBS