Exuberant and fresh like spring, Ca' di Prata's Brut Prosecco DOC (85% Glera, with the remainder being Pinot Bianco and Pinot Nero) embodies all that is magical about spring, an awakening land, and the ephemeral blossoms that will soon bear fruit. The Ca' di Prata Brut Prosecco offers delicate scents of apple, pear, and white peach within its crystalline fine stream of bubbles. In the mouth, it is lively and sprite with delicate fruit flavors and a lithe elegance. Although dry and refreshing on the palate, Ca' di Prata's Brut Prosecco never slips into austerity, nor does it pretend to be champagne or chardonnay or anything else but Prosecco, an elegant countess of conviviality. This is a clean, pure, lightly sparkling wine that is plain fun to drink and easier on the head than champagne, which is sure to tempt many to open a second bottle. We suggest you enjoy the Ca' di Prata Brut Prosecco well chilled (38°-40° F). Anticipated maturity: 2023-2025. Enjoy!
Ca' di Prata's Brut Prosecco DOC is the perfect anytime sparkler. In the Veneto, sparkling Prosecco remains an afternoon tradition to usher in a fine lunch or to simply toast to the end of a busy day. It also makes a splendid aperitif before dinner. As an added treat, consider placing a Luxardo cherry and a drop of Luxardo juice into the glass before filling the glass with Ca' di Prata Brut Prosecco, and enjoy the aromatic fireworks. This delightful Prosecco also makes a fine accompaniment to charcuterie, hors-d'oeuvres, fish, shrimp, scallops, sautéed oysters, and lightly fried tempura dishes. Poultry, risotto, pork, and veal cutlets all make fine companions to this wine too. With such an eminent drinkability and friendly welcoming spirit, the Ca' di Prata's Brut Prosecco aspires to be the ultimate crowd pleaser. Buon Appetito!
Ca' di Prata hails from the historic village of Prata di Pordenone in the Friuli-Venezia Giulia region of Italy's Veneto. Prata di Pordenone lies at the very heart of the Valdobbiadene DOCG. Ca' di Prata fashions wines of distinct quality made by careful selections of the local Glera grape and other local grapes, such as Pinot Bianco and Pinot Nero, which are blended and vinified using the traditional Martinotti method to make several unique styles of Prosecco, including Brut and Extra Dry Rosé Prosecco DOC, and a special Extra Dry Valdobbiadene DOCG Prosecco.
Glera (aka Prosecco) is a native northern Italian grape variety, which justly deserves the beloved status it has long been accorded in Italy as well as the attention it now garners abroad. Glera is the heart and soul of the lithe, lightly sparkling Prosecco, which by DOC regulation must contain at least 85% Glera and up to 15% other local or international grape varieties. In its native Veneto, Prosecco is the symbol of Venetian conviviality and a staple in every welcoming home. It is routinely offered to houseguests and served at nearly every wedding and Sunday luncheon. From an afternoon affair to the wee hours of the morning to the occasional sip before lunch, life in the Veneto would simply not be the same without Prosecco. From Venice to the Dolomite Alps, Prosecco is undeniably the wine of the Veneto.
Although Prosecco can be made sparkling or still, white or rosé, the emphasis throughout most of the Veneto is on dry, lightly sparkling versions. However, it is with Prosecco's predominance as a sparkling wine that the inevitable comparisons to champagne or other sparkling wines ends. Although Prosecco can be made using the traditional Champagne Method, whereby secondary fermentation occurs in the bottle, most Proseccos sparkle as a result of the Martinotti Method in which fermentation starts and finishes in a tank. Moreover, Prosecco DOC regulation allows for a wide range of styles and techniques, resulting in a host of fresh, delicious bubbly that is meant to be consumed young, and with abandon. Alcohol levels, too, for Prosecco are typically lower than for champagne and other traditional method sparklers, with ABV levels for Prosecco commonly in the 10.5%-11% range. With Prosecco, the mousse (bubbles) is also intentionally soft and non-aggressive, to heighten rather than mask natural fruit flavors. Although austere, bone-dry examples as well as sweet sparkling versions of Prosecco can still be found, such extremes are very much the exception today rather than the rule. Today, most Proseccos are light and pleasantly dry (Brut) or off dry (Extra Dry) and without the high acidity of champagne or the gunflint flavors of some of the New World's cheap, poorly made sparkling wines served at banquets.
Prosecco is a sparkling wine that is under pressure. It should always be well chilled before opening (38° F). Always exercise caution when opening a bottle of sparkling wine. Point the bottle away from people and objects. Use a clean towel or cloth to firmly grip the bottle. Gently remove the wire stopper while firmly holding the cork in place. Then with thumb and forefinger, remove the cork slowly from the bottle. Do not let the cork fly. Enjoy!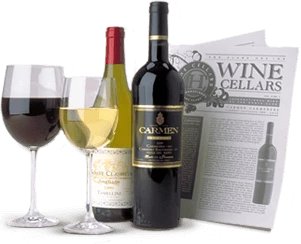 Enjoy Limited Production Estate
Bottled Wines
Discover limited production estate bottled wines such as Vergenoegd's internationally
acclaimed 2005 Cabernet Sauvignon, imported exclusively for our members.
DISCOVER OUR FOUR CLUBS