The 2004 Ca dei Frati I Frati Lugana is the finest I Frati Lugana we have ever tasted, and when one considers the quality and consistency of this estate that is no easy task. We attribute this distinction to exemplary winemaking and the blessings of the 2004 vintage; the 2004 vintage produced quintessential white wines throughout northern and central Italy. The 2004 Ca dei Frati I Frati Lugana brings all of the beautiful characteristics of Lugana to fore: breed, elegance, flavor, and a tremendous visual appeal. The 2004 I Frati sports a pale yellow robe that glows like the luminescent aura of dawn. In the nose the I Frati's aromatic profile is typically redolent with the fresh heady scents of early spring, a mélange of flower blossoms and the first fruits of an awakening land. In the mouth, satiny textured fruit caress and coat the palate and nearly explode with the infusion of mineral and subtle earth, all of which adds to the wine's complexity and disarming depth of flavor. Concentrated and complex, the expressive 2004 I Frati finishes with true panache. We suggest serving it around 40° F, and as often as you can find it.
"The 2004 Ca dei Frati I Frati Lugana is joy in a glass. It speaks to all that is comforting and good in life… and more," commented one salacious member of the tasting panel with a gleam in her eye. "Moreover, it conjures the romance of the terraced, flower-bedecked balconies above Lake Garda, not to mention the charm and allure of nearby Verona – the city that provided the world the lore of love in the guise of Romeo and Juliet, " reminded one of the panel's more scholarly members. Considering these endorsements, food accompaniments with the 2004 Ca dei Frati Lugana are optional for most. Nonetheless, the Ca dei Frati complements a variety of light fare, especially fish and lighter fruits of the sea. Fresh water fish, including perch and trout provide excellent choices.& From the sea, flounder, fluke, grouper, halibut, and sea bass provide superlative companions, too, to one of the world's most charismatic white wines. Canapés, light hors d'oeuvres, stuffed mushroom caps, grilled vegetables, salads, and most quiche and vegetable pies offer other superlative choices. Although full-flavored and ready to stand up to more robust cooking, the glory of this Lugana remains in our opinion its subtle complex flavors and haunting charm, which are most evident in the company of simple, uncomplicated fare. Buon Appetito!
Editor's Note: Ca dei Frati I Frati Lugana is the most esteemed named in Lugana and one of the wine club's most acclaimed estates. This month we are proud to present this wonderful property's outstanding 2004 Lugana I Frati. We wish that all of our club members could have the opportunity to taste this remarkable wine from the outstanding 2004 vintage, but Ca dei Frati's wines are available only in strictly limited quantities, so that we can only offer it to our faithful white wine only members. Enjoy! For four generations the Dal Cero family has grown premium grapes and fashioned wines of legendary status from their modest 44-acre estate in northern Italy that lies nestled in the stunningly beautiful hills above Lake Garda. From these sunny shores, Igino, Franco, and Ana Maria Dal Cero run this impeccable azienda agricola. They combine the joys of tradition with the benefits of modern viticulture. Recently, the family has modernized the old cellar and introduced new equipment. They have also developed a new trellis system for their grapes, which has further improved the estate's impeccably tended vineyards. Moreover, the present Dal Cero trio has consented to selling a small portion of their outstanding Lugana outside of Italy, which happily allows us to offer club members one of the wine world's most unique and venerable white wines. And like most Lugana producers who work along the precipitous shores of Lake Garda, Ca dei Frati makes a small amount of charming red wine and a tiny bit of Chardonnay and Sauvignon Blanc, too, to complement its more famous offerings of Lugana. Nevertheless, it is the estate's legendary Lugana I Frati, made from low yields of the Lugana grape (the local name for the region's particular clone of Trebbiano), that has bestowed nearly cult status upon this otherwise modest family run winery. In addition to Ca dei Frati's hallmark Lugana I Frati, the Dal Ceros also fashion another outstanding but less traditional Lugana: Brolettino. Unlike the I Frati, the cru Brolettino is aged in small 225 liter oak barrels, which gives it an international style and an almost Burgundian character. It is fully mature upon release, but it will retain its rich intense flavor for many years. Not surprisingly, it, too, is produced in very small quantities.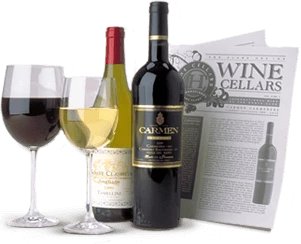 Enjoy Limited Production Estate
Bottled Wines
Discover limited production estate bottled wines such as Vergenoegd's internationally
acclaimed 2005 Cabernet Sauvignon, imported exclusively for our members.
DISCOVER OUR FOUR CLUBS