The 2005 Burford & Brown Amador County Barbera continues the great success these two guys have had with Barbera. This recent offering from Burford & Brown is a bacchanalian delight; it is a plush, juicy Barbera that highlights the rich fruit of the very fine but sometimes persnickety Barbera varietal. Red fruits, soft vanilla tones, and oodles of seductive flavor are the keys to this wine's success. One panel member aptly described the Burford & Brown Barbera as "possessing an abundance of riches." And we would add that if ever a wine could be called sexy or possess a certain je ne sais quoi as the French are fond of saying, it would most certainly be the 2005 Burford & Brown Barbera. It is almost a sin to drink this wine, it tastes so good. Moreover, Peter Burford's latest creation is sure to improve further in bottle, so no need to drink it up in a hurry: rich fruit, good acidity, and supple tannins add zip to its finish and years to its life. Enjoy it at cool room temperature straight away out of the bottle or after a half hour of aeration!
When you have that certain je ne sais quoi, you don't have to put on airs or rely on fancy props to be a star, and so it is with the 2005 Burford & Brown Amador County Barbera. It shines on its own and in the company of good down home cooking – American or Italian. So fire up the grill and put on some burgers or steaks, and no need to forego the fried or caramelized onions either, they won't detract from this wine's gig. And what about all those favorite pizzeria specialties such as Calzones, Strombolis, Spaghetti Bolognese, and Veal Marsala, the plain, delicious extra cheese pizza or better still the classic pepperoni pizza, accompanied by none other than a bottle of 2005 Burford & Brown Amador County Barbera? And why stop there? Ribs, hickory smoked pork barbecue, and just plain old-fashioned fried chicken work well, too.
Burford & Brown is a bodacious venture starring Peter Burford and Adam Brown. Peter Burford, an Australian graduate of Roseworthy, Australia's premier School of Oenology, is perhaps best known as the recent impetus behind the renaissance and the rising consumer popularity enjoyed by Alexander Valley Vineyards. He has also been the vitality and driving force behind many of California's premier Zinfandel producers, including the world renowned Renwood Winery. The other half of this equation is Adam Brown, the former Sales and Marketing Manager extraordinaire for Alexander Valley Vineyards. Burford and Brown are characters, but two very talented and fun loving characters. Their venture was really born the first night they met. Burford, on hiatus from the great D'Arenberg Estate Winery in South Australia, had just finished his first California crush at Alexander Valley Vineyards when Adam Brown spotted him alongside Highway 101 in Healdsburg, California puffing a cigar – a very fine cigar at that. Earlier, Burford had attended the company Christmas Party and was out "relaxing." Adam Brown spotted Peter and decided to stop and pick up the poor bloke he had eyed at the edge of the road. He figured that anyone out at 1:00 A.M. in Peter's condition needed a ride home, so he stopped and picked him up (it wouldn't be the last time, we're told), and after a late night of talking, a friendship was born. That was in 1995. Both "boys" have grown up since then, but they still enjoy a good glass of wine. Soon after arriving at Alexander Valley Vineyards, Peter was appointed winemaker at this well-established Sonoma County estate and the fortune of this outstanding property was on the upswing. Its offerings went from strength to strength as Burford perfected his craft working with the very same varieties he had mastered in Australia: Chardonnay, Cabernet Sauvignon, Merlot, and Syrah (Shiraz). But at Alexander Valley Vineyards, Burford also had the opportunity to work with Pinot Noir and Zinfandel, with which he became enamored. He eventually left Alexander Valley Vineyards and went to the Renwood Winery where he was able to work exclusively with Zinfandel. Not long after, Barbera, the great Northern Italian varietal, became his next love. Subsequently, in typical Australian fashion, Peter was soon up for a new challenge and a taste of exotica, so by 1999 he found himself literally in the hot spot of winemaking – Thailand. Yes, Thailand. It was there in ancient Siam that Peter gained worldwide renown. There, he was able to harvest two crops a year, without traveling, one in the spring and another in the fall, not the customary single harvest that occurs in the fall everywhere in temperate climates. Although he had worked at prestigious wineries in both Australia and California, it was his work in Thailand that landed Peter as the feature of a three-page article in the Wine Spectator, and brought him ultimately to the attention of the wine world. And all this time, judging by the proximity of Thailand to Australia, we all thought Peter had just gone out on one of his famous walkabouts and got a little lost. Upon Peter's return to California, he re-united with Adam Brown and the topic of "doing their own thing" was re-visited. Their first endeavor was in 2001 when they produced a three hundred case lot of a knockout Barbera. In 2002 they crushed another small lot of superb Barbera, with the help of their wives and Adam's three children, and followed that with an excellent North Coast Zinfandel that they made from grapes they snatched from Ravenswood, completing the hat trick. In November 2003, the first bottle of Burford & Brown inched along the bottling line, and we are happy to say that we procured nearly all of the 2002 Burford & Brown Private Selection Zinfandel and we are still receiving requests for more, but as Mom were so fond of saying: "you can't have your wine and drink it." Alas, that first Burford and Brown Private Selection Zinfandel is now history, but wait until you try this dynamic duo's 2005 Amador County Barbera! We think your thirst will be assuaged, at least until your last bottle runs out.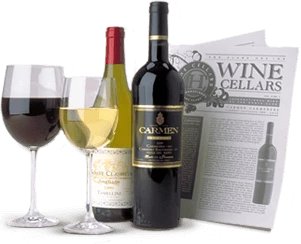 Enjoy Limited Production Estate
Bottled Wines
Discover limited production estate bottled wines such as Vergenoegd's internationally
acclaimed 2005 Cabernet Sauvignon, imported exclusively for our members.
DISCOVER OUR FOUR CLUBS