Composed of a unique blend of 69% Riesling, 24% Viognier, 4% Chardonnay and 3% Chenin Blanc, the 2014 Bouchard Finlayson Blanc de Mer provides enormous drinking pleasure. Without prior experience with this wine or knowledge of the blend, we thought by the name it might be just a light, simple wine suitable to accompany the Western Cape's abundant seafood. We were wrong. What we found in the 2014 Blanc de Mer is a complex white wine for seafood and almost everything else. The 2014 Bouchard Finlayson Blanc de Mer offers a fragrant aroma that is nothing short of entrancing. It is best described as a blend of pear, plum, raspberry and wild herbs born of the nearby fynbos. In the mouth, the wine displays beautiful complex fruit flavors along with distinctive mineral tones and vibrant acidity that lend both balance and depth. With all of the blend's varietals harmoniously making their appearance in the 2014 Bouchard Finlayson Blanc de Mer, this wine displays a myriad of facets and flavors that will keep you coming back for more, sip after sip. Enjoy this unique blend moderately chilled (38°-40° F).
There isn't much that we wouldn't pair with the 2014 Bouchard Finlayson Blanc de Mer, though seafood, poultry, ham and other cured meats all make excellent accompaniments. Shellfish earns a strong endorsement, especially clams, oysters, and mussels. Mussels Fra Diavola with heirloom tomatoes, roasted pepper, garlic, scallions and spinach offers a tasty complement to the 2014 Blanc de Mer, as does Grilled Sea Bass on a bed of spicy vegetables and cellophane noodles. Roast Turkey served with onion, bread and sage stuffing and roasted root vegetables also makes a compelling complement to Bouchard Finlayson's complex 2014 Blanc de Mer, as does Glazed Virginia Ham served with mashed sweet potatoes and baby carrots. Asian stir fries, sushi, sashimi, and Low Country Shrimp and Grits with plenty of cheese and Andouille sausage provide other tasty complements, but we also see no reason not to enjoy the 2014 Bouchard Finlayson Blanc de Mer on its own as an aperitif. Enjoy!
Bouchard Finlayson lies near the southernmost point of Africa in a valley named Hemel-en-Aarde (meaning Heaven and Earth). It should more accurately read Heaven on Earth as Bouchard Finlayson's 54 acres of vines are framed by mountains and within sight of the Southern Ocean where frost never penetrates nor high summer heat intrudes. Established on clay and shale vineyard soils ideal for the cultivation of cool weather varietals, Bouchard Finlayson cultivates outstanding Pinot Noir and a bevy of white varietals that include Riesling, Viognier, Chardonnay, Sauvignon Blanc and Chenin Blanc.
In order to preserve the unique flora of Africa's southern cape called fynbos, which has earned South Africa the distinction of being the only country on the planet with its own individual floral kingdom, only a small portion of the Bouchard Finlayson property is devoted to vineyards and farming. The remaining 450 acres of the Bouchard Finlayson property remain natural mountain land, covered by the spectacular flora indigenous to South Africa's Western Cape. These untouched lands contain a significant number of endemic species associated with the fynbos vegetations, a colorful, fine–leaved sclerophyllic shrub land well adapted to the Western Cape's Mediterranean climate and periodic wildfires. This surrounding natural environment adds to the health of Bouchard Finlayson's vines and ensures conservancy of the area's rich biodiversity for future generations.
The folks at Bouchard Finlayson invite all who enjoy their wines to visit their sustainable farm. In addition to the abundance of fine wines that await those who make the trek to Bouchard Finlayson, spectacular scenery laced with hiking trails abound in the environs of the property, and the surrounding coastal town of Hermanus lures tourists and locals alike to participate in a variety of exciting adventures. Hermanus is renowned for whale watching as well as shark cage diving; the latter is reputed to be the best in the world in the waters around Hermanus. We think we'll stick to drinking Bouchard Finlayson's beautiful Blanc de Mer blend of Riesling, Viognier, Chardonnay and Chenin Blanc for our excitement and leave the shark cage diving to those who tempt never again having the pleasure of enjoying a glass of Bouchard Finlayson wine. For an extra kick, we may even try the estate's flagship red, Galpin Peak Pinot Noir, which has earned Bouchard Finlayson numerous awards.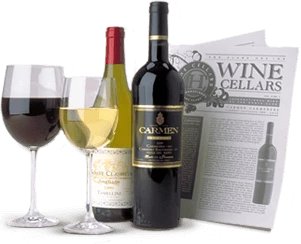 Enjoy Limited Production Estate
Bottled Wines
Discover limited production estate bottled wines such as Vergenoegd's internationally
acclaimed 2005 Cabernet Sauvignon, imported exclusively for our members.
DISCOVER OUR FOUR CLUBS