The 2012 Boschendal S&M (70% Shiraz, 30% Mourvèdre) boasts a beautiful deep robe and voluptuous body of dark plum, trimmed with ruby highlights. With just a few minutes of aeration, sensual notes of dark cherries, wild berries, plum, white pepper and wood smoke waft from the glass. In the mouth, lush mulberry and plum flavors meld with hints of sizzling bacon and char grilled notes to tantalize the taste buds. Add in touches of dark chocolate, soft spice, and a touch of oak and the 2012 Boschendal S&M unfolds as a smooth, balanced wine with a complex finish. The wine's soft integrated tannins and deft touches of earth and smoke truly make this a unique offering that is both thought provoking and easy to drink and enjoy. However, the wine possesses ample tannin to carry it for another 3-5 years. For optimal enjoyment, we suggest 15-20 minutes of aeration before consuming. Enjoy!
The lush flavorful 2012 Boschendal S&M provides the ideal wine to serve with all kinds of beef, poultry, pasta, smoked meats and spicy foods, some of which are difficult to pair with other wines. For starters, a salad of organic greens, goat cheese, candied walnuts, and crisp bacon that is tossed with mild peach vinaigrette offers a fun way to start a meal with Boschendal's S&M. Why not follow with roast chicken or turkey accompanied by a bread, onion, sage and sausage stuffing? The lush berry and subtle smoke flavors in the wine pair nicely with the heady flavors in the stuffing. Virginia style ham and scalloped potatoes is another winning combination with this wine. And yet another tasty complement to the 2012 Boschendal S&M is grilled steak over a bed of organic greens with grilled squash, corn, cilantro aioli and a dollop of poblano puree. And if some of these dishes sound like too much trouble, good old-fashioned meatloaf comes alive in the company of Boschendal's food friendly 2012 Shiraz Mourvèdre. A votre santé!
If you have never spent time on the Western Cape of South Africa it is difficult to imagine just how beautiful, even captivating, are the wine lands of South Africa. The mountains soar high into the distilled, rarified air and stand majestic above carpets of the most splendid green vineyards and photogenic vistas imaginable that no postcard can replicate. It is amid these wine lands in the Drakenstein Valley, below towering mountains near Franschhoek that Boschendal was founded in 1685.
Little is known of Boschendal's original owner, except that he was a French Huguenot named Jean Le Long and that Boschendal was one of the earliest farms and vineyards in the valley. Le Long sold the farm to fellow Huguenot Abraham de Villiers in 1715. Abraham and his brother Jacques, who subsequently acquired land that is still part of the estate, are credited with giving life to the dynasty that is Boschendal today. However, the farm and adjacent house remained small until Jacques' son Jean initiated the construction of the now famous Manor House. As the father of twenty two children it is likely the construction of the house was a labor born of necessity and it was no doubt a protracted affair, too, since it was Jean's son Paul that actually completed the Manor House and its now famous gable. The de Villiers family presided over Boschendal until 1879. Boschendal's Manor house is now a national monument and museum that is open to the public. It has retained its original 1812 appearance, including period pieces.
With the advent of phylloxera in the late 19th century, Boschendal and nearly all of the wineries on the Western Cape lost their vineyards and went bankrupt. Fortunately for the historic Boschendal property, Cecil Rhodes, DeBeers, and a succession of businessmen purchased the property, refurbished the Manor House and began successful fruit farming, which continued until Boschendal was taken over by another group of investors in the 1960s who replanted the vineyards and re-opened the winery.
Since 2003, Boschendal has been owned by a group of investors who are dedicated to South Africa's Sustainable Development Initiative and have formed the Boschendal Treasury Trust with long-term benefits for the community and the surrounding valley. Boschendal is committed to the conservation, preservation and restoration of the area's environment by implementation of biological farming practices that promote a habitat of biodiversity both in the vineyards and surrounding area. Nearly half of the estate's total land, too, has been set aside for conservation with a dedicated investment in an environmental management strategy. Such initiatives have not only made Boschendal a leader in sustainable agriculture, they have helped propel Boschendal to the upper echelon of South African wine producers.
In the past decade, Boschendal has garnered copious awards for its wines, including awards from the International Wine and Spirits Competition, which in 2004 named Boschendal as South African Wine Grower of the Year, and Decanter magazine and other leading wine publications.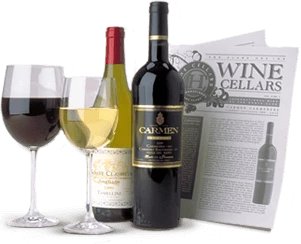 Enjoy Limited Production Estate
Bottled Wines
Discover limited production estate bottled wines such as Vergenoegd's internationally
acclaimed 2005 Cabernet Sauvignon, imported exclusively for our members.
DISCOVER OUR FOUR CLUBS