"Ohhh . . . my." "Wow"! "What a nose"! "Great wine," are just a few of the panel's comments regarding the 2004 Montecastro Ribera del Duero. Indeed, this is a superb, intense Ribera del Duero and an outstanding example of just how appealing and complex Tempranillo can be from a great appellation in a classic vintage like 2004. The 2004 Montecastro is as deeply colored as any Spanish wine we have encountered. Its robe is nearly opaque and recalls the greatest examples of Cahors, "the black wine of France." Aged 17 months in small oak barrels, this hedonistic delight contains all the elegance, breed, and explosive fruit one could ask for and then sets them amid a sea of firm, ripe tannins. A testimony to low yields and fine wine making, the 2004 Montecastro is a delight to drink now, especially with a little aeration, but it will continue to improve in the bottle. In fact, it should age beautifully for many years to come. We suggest decanting this blockbuster offering at least an hour before drinking, and then allowing it to open slowly in the glass. Serve this majestic dinner party wine at cool room temperature (62°-66° F). Anticipated maturity: 2007-2018.
An elegant dinner party may be the only requisite for optimal enjoyment of the 2004 Montecastro Ribera del Duero. Although charming, elegant, and plenty satisfying on its own, this aristocratic red will positively shine in the company of well prepared cuisine. A Rack of Lamb, served with a savory stuffing; Filets of Beef Tenderloin, covered with an herb infused medley of mushrooms, and accompanied by pearl onions; and Spit Roasted Quail, prepared with a wild rice risotto, are just a few of the more tempting dishes we suggest with the lovely 2004 Montecastro Ribera del Duero. Chicken, veal, and pork provide additional opportunities for gastronomic pleasure with the ebullient 2004 Montecastro. A Crown Roast of Pork offers an especially pleasing match for this wine as the sweet, succulent qualities of the pork compliment the juicy, velvety underpinning of this wine with aplomb. Enjoy!
Bodegas Y Viñedos Montecastro was founded in 2001 by a group of Madrid professionals led by the prominent publisher Alfonso de Salas, the Marqués de Montecastro y Llanahermosa. Since its inception, Montecastro has fashioned outstanding Ribera del Duero from established vineyards. This impeccably run property has built a modern bodega and modeled itself after the finest estates in Ribera del Duero, which is unquestionably one of Spain's top red wine producing appellations. From the beginning, Montecastro has done things right. They have focused on Tempranillo, the Ribera del Duero's most important varietal. Moreover, they have retained Jean-Francois Hébrard (of the famous Château Cheval Blanc) as technical director. Hébrard has overseen the acquisition of the property as well as all of the subsequent planting. He has also helped the estate select a small group of growers with old vines, who can appropriately augment the estate's 55 acres. Presently, Montecastro's vines range in age from 8 to 100 years of age; and all are subject to highly restricted yields and are situated at various altitudes and soils in order to add complexity to the ensuing wine. Montecastro is dedicated to sustainable methods of agriculture. Even the modern bodega emulates the region's traditional medieval subterranean chimney (zarcera), which serves a dual purpose: it provides natural ventilation and daylight illumination without resorting to the use of additional fossil fuels. Natural fermentation is the order of the day at Montecastro, too. Only new and second year barrels are used, and the results are remarkable. Come and taste the difference a little pride and hard work can achieve. Bravo!
Ribera del Duero by Stephen Metzler, President, Classical Wines from Spain, Ltd. Editor's Note: Steve Metzler is one of the nation's foremost authorities on the traditional wines of Spain. He has written this piece exclusively for our membership. We first arrived in Ribera del Duero in 1983, in time to witness the finishing of that region's first officially-controlled vintage, the great 1982. Having founded Classical Wines upon the assumption that Spain's high-altitude, non-Mediterranean wine districts offered classic quality potential second to none, Alejandro Fernández and his Tinto Pesquera became an early and powerful affirmation. Following the international discovery of Pesquera, much has changed in Ribera del Duero. After decades of vineyard reduction in favor of irrigated crops such as sugar beets, the region's sudden rise to fashion attracted investment from within the industry and from prominent personalities, much in the Napa manner. While many are busy turning large fortunes into smaller ones (to paraphrase the famous one-liner), the basis for quality is real. Ribera del Duero boasts soils quite similar to Burgundy, with a wide range of chalk, clay, marl and gravel, combined and in varying degrees of prominence, with clay and chalk predominating. Whereas Burgundy's soil complexity results from plate tectonics, in Ribera del Duero this results from the river's erosion through the sedimentary layers of the Castilian meseta. Vineyards range from 2500 to over 3300 feet, altitude serving to delay ripening of the short-cycle Tempranillo variety (locally: Tinto Fino and Tinta del País). Extreme diurnal temperature variation at extreme altitude also serves to maintain a healthy level of acidity, minimizing the need for adjustment or inclusion of compensating varieties. Meanwhile, the intense luminosity of the meseta thickens and darkens the skins of the grapes, producing wines with concentrated phenolic structure. The hallmark of Ribera del Duero is monovarietal Tempranillo. The best producers have learned to combine lots from heavier and lighter soils as well as earlier and later harvests as a means of obtaining complexity and balance. In Pesquera, Alejandro Fernández has designed his vineyards to cover the full range of terroirs. Montecastro, under the direction of Jean-Franéois Hébrard, has undertaken a similar approach upon search and acquisition of mature plots sourced beginning with his début 2002 vintage.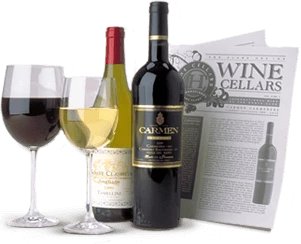 Enjoy Limited Production Estate
Bottled Wines
Discover limited production estate bottled wines such as Vergenoegd's internationally
acclaimed 2005 Cabernet Sauvignon, imported exclusively for our members.
DISCOVER OUR FOUR CLUBS