An intense young red from 100% Tempranillo vines the 2006 Emperador de Barros provides a mouthful of wine, and more. For starters, this purple potion offers luscious scents of red currant, kirsch, and plum that literally pour from the glass. With patience and a little aeration, these heady scents seep inextricably into the center of the wine and emerge full throttle on the palate. Aromatic, heady, and vibrant, the 2006 Emperador de Barros epitomizes the quality that has emerged from heretofore unsung wine producing regions such as the Ribera del Guadiana. The metamorphoses or in some cases the total transformation of Spain's country wines into exciting, internationally appealing wines is no more evident than in Bodegas Viticultores's 2006 Emperador Tempranillo. The only caveat is this: let it breath, let it breathe. The 2006 Emperador is charming from the outset, but by affording it thirty minutes to unfold in a decanter or glass before drinking it will repay more than its share of dividends and be well worth the wait. Furthermore, as good as the 2006 Emperador Tempranillo is now, it will only get better. Enjoy this forceful, personality filled red as often as you can, but don't forget to lay at least an extra bottle or two away for next year.
The 2006 Emperador Tempranillo is built for good old-fashioned drinking, so hearty, stick to your ribs kind of foods are its best mates. Besides, Emperador is not your typical "sit around sipping" kind of wine, so fire up the grill and stir the pot. Beef and pork barbecue, thick country stews, and rotisserie cooked chickens with plenty of herbs and seasoning get our nod, but then so do traditional southern Italian specialties like grilled Italian sausage with peppers and cheese and prosciutto stuffed calzones. We can also recommend this wine with marinated flank steak, meatloaf, pork chops, and almost any young, cow or sheep's milk cheese: the youthful 2006 Emperador Tempranillo has enough fruit and tannic backbone to cut through the fat in meat and cheese and offer a bit of heart assurance. Furthermore, it carries a good bit of flavor and a touch of class, so it can go high brow when the occasion arises. So, if fancy fare or complex sauces are in the offering, the 2006 Emperador will not let you down. Enjoy!
The Bodegas Viticultores de Barros was founded in 1983 by 35 quality growers from Extremadura's Tierra de Barros region. They pooled their resources to launch the venture. Their aim was to revitalize viticulture in the Tierra de Barros, which had long languished in the shadow of the Rioja and other more celebrated appellations to the north, and develop the full potential of their vineyards and winemaking. Thus, the Bodegas Viticultores de Barros was at the forefront of the vitcultural renaissance in Spain that began more than two decades ago. Today, Bodegas Viticultores de Barros encompasses 1,250 acres of vines. All of the bodegas' vineyards are grown in the typically deep red clay/chalk soils of the region, which retain the needed moisture for producing balanced fruit in one of Spain's most arid climates. Vintage consistency is nearly a given in the Tierra de Barros and viticulture is organic out of necessity as well as tradition. The dry continental climate of the Barros area of Extremadura and the vineyards' relatively high altitudes (ranging from 1000 and 1700 feet) help to assure structure and elegance in the wines and limit the need for any chemical intervention. Bodegas Viticultores' specialty is fashioning wines to be drunk within the first few years of life by using the latest technology and following precise and selective harvesting techniques. Macabeo (also known as Viura) is the preferred varietal for white wines here; while Tempranillo is the varietal of choice for all of the bodegas' reds. Under the expert guidance of the Bodegas Viticultores de Barros winemaking team, this winery fashions only two wines, a white and a red, both of which are rich in flavor and freshly aromatic. Although juicy and delicious when first released, the bodegas' Tempranillo improves considerably with an additional year or more in bottle, which renders it one of the finest red wine values on the market today. Extremadura Extremadura, once part of the ancient Roman Province of Lusitania, is the most rural and least populated wine region of Spain. Located in the far west of the country along Spain's border with Portugal, Extremadura is an autonomous region that has traditionally been known more for its National Parks (Monfragűe and the Tagus River Natural Park) and its long list of famous sons than for wine. Extremadura sired many of Spain's most famous conquistadores: Vasco Nunez de Balboa, Hernán Cortés, Francisco Pizarro, and scores of others. Consequently, the region's administrative capital Merida has lent its name to numerous towns and cities in North and South America. Nonetheless, wine has been an important part of Extremadura's economy for centuries. Since the 1980's fine wine production has soared in the region, due largely to the viticultural renaissance sweeping Spain. Ribera del Guadiana (DO) is Extremadura's most important appellation for fine wine production.
Youthful Spanish reds such as the 2006 Emperador Tempranillo make ideal accompaniments to the world's finest gourmet cheeses. Full flavored cheeses such as Roncal from Spain's Navarra region or Mahon from the Balearic island of Minorca offer plenty of flavor and the ideal texture to complement the Emperador Tempranillo. Roncal's rich olive like flavor provides an excellent companion to Tempranillo, and Mahon, one of the world's finest cheeses, is always a crowd pleaser with young Spanish wines. For more information on outstanding gourmet cheese and wine selections or to order a monthly subscription to In Pursuit of Cheese, contact us at www.cheesemonthclub.com and enjoy the best of both worlds.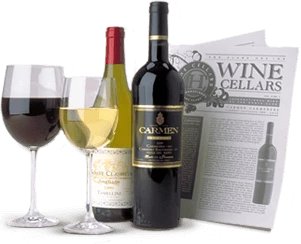 Enjoy Limited Production Estate
Bottled Wines
Discover limited production estate bottled wines such as Vergenoegd's internationally
acclaimed 2005 Cabernet Sauvignon, imported exclusively for our members.
DISCOVER OUR FOUR CLUBS